Yesterday Ian Rapoport of the NFL Network reported that there are four teams interested in trading for Andre Johnson. Though he never mentioned which teams were interested, many speculated that the Patriots were one of the four teams -- Rapoport himself even said that New England was one location that would make a lot of sense. However, Houston Chronicle writer John McClain says, "No way!" He believes there is virtually no chance Johnson gets traded and even guaranteed he will be playing for the Texans in Week 1 of the regular season.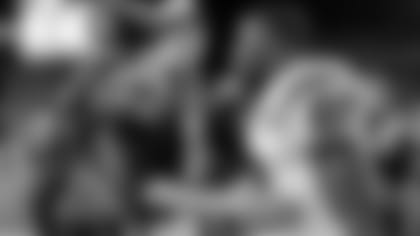 Nevertheless, it's fun to discuss the possibility of Johnson in a Patriots uniform. Mark Daniels of the Providence Journal explained whether it's realistic to believe that Andre Johnson could come to New England. Additionally, Andy Gresh and Michael Holly joined Gary Tanguay on Comcast SportsNet's Early Edition to discuss the very same topic.
The biggest issue that everyone's pointing out is money. From Houston's perspective, trading Johnson doesn't make much sense. If the Texans were to ship Johnson to New England, they would have to endure nearly $12-million in dead money on this year's salary cap. Not to mention, the Patriots don't have enough cap space to take on Johnson's contract at the moment. NESN's Anna Fogel highlights the salary cap issues and explains why the trade seems unlikely.
To me, it all comes down to whether Houston is willing to take on $12-million in dead money -- which I don't think they're willing to do. The only way they would part ways with that much money, would be if they're getting a lot in return. Based on the way Bill Belichick has operated in the past, I wouldn't expect him to "break the bank" so to speak and give up enough to make Houston pull the trigger on a Johnson trade.
Even without an elite player at wide receiver, the Patriots will always have a chance to win a Super Bowl because of one player: Thomas Edward Patrick Brady. ESPN Boston's Mike Reiss says that Brady is the team's biggest key to success and he believes he will remain at an elite level over the next three years.
"Anyone here willing to bet against Brady?" asks Reiss. "This reporter isn't. Those who watched all or some of the Patriots' 13 spring practices would be hard-pressed to say anything looked different with Brady, whose arm strength still looks to be top-notch."
Boston.com's Obnoxious Boston Fan took it one step further saying that Brady is all that stands between Boston sports dominence and a return to the bad days in Boston sports. He believes the pressure's all on #12 to lead the Patriots back to the promise land, but also admits that the team's improved defense will certainly make things easier.
"All signs point to Brady, who turns 37 in less than a month, having another brilliant season. The good news is he doesn't have to do it for 60 minutes a game over 16 weeks. This Patriots' team resembles more the team that won in 2003 and '04, rather than the team that won 18 games and nothing more in '07."
As with the past few new blitz's, we'll end with Masslive's latest update to their Top 10 Patriots list. Nick Underhill revealed this morning that Darrelle Revis earned the No. 2 spot just ahead of Rob Gronkowski at No. 3. I'll give you one guess who comes in at No. 1 tomorrow morning...
"While it has been a few years since we've seen him at his peak, Revis possesses the ability to wipe away an entire side of the field with his coverage skills," writes Underhill. "There are few defensive players who possess that kind of ability."