BOCA RATON, Fla. – "I don't know."
"We'll do what's best for our football team."
Bill Belichick's breakfast session with media at the NFL Annual Meeting Tuesday was much like those the coach has conducted in the past. The coach wasn't looking to elaborate on much, and he didn't during his 40-plus-minute briefing.
The topic Belichick gave us to chew on most this year was his first course: the recent retirement of linebacker and co-captain Jerod Mayo, about whom the head coach was effusive in his praise.
"There have been very few players in my career that I've had the opportunity to coach that have had more of an impact on our team than Jerod has," declared Belichick. "From Day 1, which is unusual, the first day he walked in the facility, which was his pre-draft visit, he's been a pleasure to coach, a great addition to our team, both on and off the field. I'm sure I learned a lot more from him than he did from me."
The coach added that Mayo and his family brought a special "glow" to the Patriots organization.
"Although Jerod will always be part of the team, he'll be missed on a daily basis, his attitude and work ethic and love for football that he brought was special. He was very special."            
Belichick acknowledged the changes in both his coaching staff and the personnel department, but refused to elaborate much, other than to say that offensive line coach Dante Scarnecchia's coming out of retirement "just worked out." Regarding the promotion of Belichick's son, Stephen, from coaching assistant to safeties coach, the elder Belichick paused for a few moments before saying, "I'm proud of all my kids. He's done a good job and earned what he's received."
With respect to all the free agent activity and trades involving the Patriots this month, Belichick remained consistent ragardless of the individual in question. "There's movement in free agency every year … We're happy to add all the players … All players have good qualities. That's why we add them."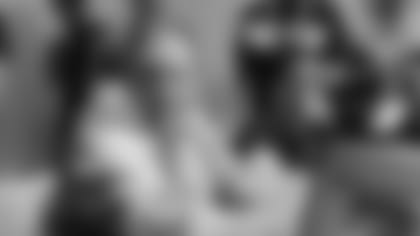 Sporting a powder blue Johns Hopkins lacrosse hooded sweatshirt, the lax-loving Belichick said that free agent wide receiver Chris Hogan's background in that sport had nothing whatsoever to do with New England's interest in him. And when asked if defensive end Chandler Jones' mysterious medical emergency at the end of last season had any impact on the team's decision to deal him to Arizona last week, Belichick would only say, "Chandler was a good player for us."
The Patriots recently made a dual announcement about free agent safety/special teams contributor Nate Ebner, whom they re-signed to a two-year contract and whom they are allowing to take a leave of absence from the club while he pursues his dream of playing Olympic rugby this summer. Belichick called it "a unique situation" and left it at that.
This year marks a change in recent Annual Meetings, where Belichick has previously offered proposals to change the rule book in certain areas. That's not the case at the 2016 meeting, but other clubs have submitted ideas similar to one Belichick has espoused: Allowing all plays during a game to be subject to a coach's challenge and replay review.
"We'll wait and hear what the discussion is on all those," Belichick remarked. "We'll talk to Robert [Kraft] and decide what we want to do [in terms of voting on them]."
Kraft mentioned Monday, in a 1-on-1 chat with patriots.com, that Belichick has been lobbying him to have the Patriots become the first NFL team to play in China. The league has stated its intent to expand its International Series to cities in addition to London, where New England last played in 2012.
"Should be interesting," Belichick somewhat smirked when the topic was broached. "Wherever they schedule them, we'll play them."
So many other subjects were on the table – Kraft's letter to NFL Commissioner Roger Goodell (detailed Monday here on patriots.com), Tom Brady's contract extension, Rob Gronkowski's playfully serious "pay cut" Tweet, rehabbing players like Dion Lewis and James Develin – but Belichick barely nibbled on any of them.
Which eventually prompted one local reporter to question sarcastically where this yearly breakfast ranks on Belichick's priority list.
"Part of the exciting week of the owners' meetings," the coach deadpanned.