ORLANDO - Nothing accomplished at this week's NFL annual meeting here in vacation-land will match the importance of the league finally taking steps to fix the catch rule, that confusing word salad that has bedeviled the game and mystified all parties for a couple decades now.
Have no fear football fans, the NFL's simplified and streamlined definition of a catch is going to garner the necessary 24 votes of support from team owners to gain passage, everyone agrees. And a significant improvement in the rule has been achieved on behalf of common sense. But this being the always newsworthy NFL, and the results of a replay review still being in the eye of the beholder, don't expect to never again hear the words "catch rule'' used in connection with a controversial ruling.
"I don't think this ends everything in terms of debate. It's not a panacea,'' said former NFL vice president of officiating Dean Blandino, who is now an NFL and college football rules analyst for FOX Sports. "You're still going to have debate, because there's still that subjective element, a time element involved in a catch. Did he perform an act common to the game?
"But I think the goal of the competition committee was to make some of these plays that people think are catches, make them catches. And I think that's what they did.''
If that sounds like the league's rule makers caved to public pressure it's only because the league's rule makers caved to public pressure. And that pressure started at the very top, with commissioner Roger Goodell making it clear at the Super Bowl that he wanted to see a new and simpler catch rule that he and everyone else in the NFL could be proud of. Or at least defend and explain. When team owners (Baltimore's Steve Bisciotti called the catch rule "stupid'') and coaches (Pittsburgh's Mike Tomlin called for the rule to be "re-visited'') joined the chorus calling for change, the writing was on the wall. The rule was getting a makeover, in the form of forced intervention.
After a 2017 season in which the vagaries and brokenness of the catch rule seemed to dominate the NFL's news cycle every other week — from Austin Seferian-Jenkins to Zach Miller to Kelvin Benjamin to Jesse James and beyond — the league had to act on the hardened perception that absolutely no one had a great handle any more on what constituted having a handle on the football.
"Nothing is going to be perfect, and you're always going to have some part of it be a somewhat subjective judgment,'' said New York Giants co-owner John Mara, a member of the league's competition committee. "But I think we've dealt with the rule's major issues, and I don't think it'll be something we'll be talking about all next season like we were in the past. I think it's going to pass, and I like where we've ended up on the rule.''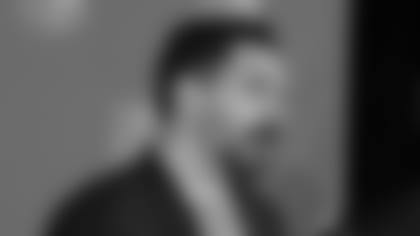 The league finally relented and realized the pivotal part of the rule that involved a receiver going to the ground, or "surviving the ground'' to complete the catch wasn't worth the headaches and hardships it created, and it also didn't line up with the reality of what the fans, players and coaches had historically perceived as a catch. It's more than fair to ask what took so long for the obvious to be acted upon, but any way you slice it, progress has been made on a topic that proved so frustrating to so many.
"The way the rule is now written it's a little bit closer to supporting a catch that passes the eyeball test,'' Blandino said. "But you're still going to have those plays that are debated. Because you're still going to have to perform an act common to the game if you're going to the ground as you make a catch. If you lose the ball before doing that, it's still an incomplete pass. So that's subjective and I think we're going to be talking about that next year.
"But they've accomplished what they set out to accomplish. They looked at some of the more controversial plays we've had and they said, 'Okay, we want those to be catches. How do we write the rule to make those catches?' And I think that's what they did. It remains to be seen how it'll play out, but they did what they did what they set out to do and we'll see how it goes.''
The new definition of a catch will be control of the ball, with two feet (or another body part) down, and the player making a football move, whether that be taking another step, or reaching the ball forward toward the goal line or first-down marker, or even tucking the ball away. No such football move would be necessary for a catch in the end zone, because control and two feet down would constitute a touchdown.
So it turns out you did score, Calvin Johnson. At least by the NFL's 2018 standards. Imagine that.
"In the case of the catch rule the way it was, any change is a positive,'' said one longtime NFL club executive. "Sometimes these types of changes take several iterations before they really get 'solved.' But everybody wanted a rule that was simpler to define. Any time you can make things simple, it's better. A catch is still not simple, but it's more simple. This is a good step.''
Could the catch rule still get bogged down in the replay review process, with that necessary third stipulation, the football move being made, becoming wildly subjective depending on whose eyes were doing the reviewing? Sure, but the rule can't possibly be more complicated and convoluted than it was the rest of this century. Less really is more in this instance.
"As long as it's administered consistently, I think it'll work,'' Blandino said Saturday night, before the anticipated vote on the rule's new wording on Tuesday. 
"It'll come down to how it's officiated on the field. This is a rule actually which is somewhat of a philosophy change, in that it's really a rule change written for replay more than the on-field officials officiating in real time. We've finally gotten over that hump and that's the reality of where the committee is today.''
When it comes to fixing the league's confounding catch rule, whatever it took was time and effort well spent. Upon further review, the NFL might have finally gotten it right.