INDIANAPOLIS — Musings, observations and the occasional insight as the draft prospects started talking on Thursday at the NFL's Scouting Combine...
They say Saquon Barkley has an exceptional sense of timing as a runner, and boy, does he ever. Barkley is entering the NFL at seemingly the ideal time, given that four or five years ago, running backs had ceased to be considered first-round prospects, let alone top-five picks.
But then came Todd Gurley and Melvin Gordon in 2015, Ezekiel Elliott in 2016, and Leonard Fournette and Christian McCaffrey in 2017, first-rounders all and productive players who have been worth the price paid for them. Gurley went 10th overall, Elliott fourth, Fournette and McCaffrey fourth and eighth, respectively.
So, yeah, Penn State's Barkley has every right to feel at home in the elite class of this year's draft, to the point where some believe he's the best prospect in the 2018 lottery. NFL Network draft analyst Mike Mayock thinks so, and said this week he can make the case that Barkley is the best of all the recent first-round running backs entering the league.
"I would be absolutely stunned if this kid doesn't go in the top five,'' Mayock said.
Barkley met the media Thursday and he was as smooth and polished behind the podium as he is between the lines on game day. He peppered his comments with references to the teams choosing in the top six of this year's draft, revealing he grew up a Jets fan from the age of 2, and never flinched at the prospects of winding up with struggling teams such as Cleveland, the Giants, the Colts or Jets.
"That'd be awesome, something bigger than you,'' said Barkley, of joining the Browns, they of the 1-31 record the past two seasons. "Obviously, they've had some rough years. But I think they're just a couple of pieces away. They do have a lot of young talent. They've brought in a new offensive coordinator…. You want to be a part of something like that. Something that's bigger than yourself. Something that will leave a legacy. Being a part of something special.''
The Jets are going to have to move up to get Barkley, who measured 6-0 and 233 pounds on Wednesday, with many expecting him to run a sub-4.5 time in the 40-yard dash at the combine. Maybe even a sub-4.4.
It's the No. 2 Giants who seem particularly intrigued with Barkley, especially if the Browns should happen to take the quarterback they're most interested in at No. 1. New Giants general manager Dave Gettleman on Wednesday scoffed at the notion that the top five is too high to take a running back in the pass-happy NFL, even though the league featured no rushers drafted in the first round as recently as 2013 and 2014.
"The bottom line is: Is the guy a football player?'' said Gettleman, who drafted McCaffery for Carolina at No. 8 in the first round last year. "This whole myth of devaluing running backs, I find it kind of comical. At the end of the day, if he's a great player he's a great player. It doesn't matter what position it is.''
This much is clear: However fast Barkley runs later this week, his timing couldn't be better. He's entering the league just as running backs are again making big moves in the first round of the draft.
Every time you see 49ers head coach Kyle Shanahan or general manager John Lynch here at the combine, they still both look like the cat who ate the canary, as the feel-good vibe of the stunning Jimmy Garoppolo trade continues to linger. They both wear little grins that seemingly won't go away, at least not until Garoppolo loses a game as an NFL starter.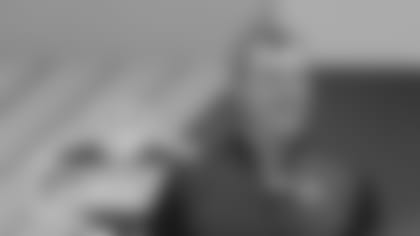 And for the record, Shanahan still doesn't know the answer to the mystery of why Bill Belichick made the trade any more than anyone else does. Shanahan was asked why Belichick "chose'' Garoppolo's destination last fall, and did so to San Francisco's benefit?
"I don't know if he chose his destination,'' Shanahan said to reporters. "He gave us a chance to get him and we strongly appreciated that. You'd have to ask him that. I don't know. We just talked and it was a heck of an opportunity for us, so we didn't want to pass at that.''
With Garoppolo under center, the 49ers closed the season with a five-game winning streak, becoming the most celebrated 6-10 team in NFL history. Or thereabouts.
"It's always nice to end the year on a positive stretch,'' Shanahan said. "I've said this to a number of people: I learned the way to get people to feel good about 6-10 is just to start 0-9. Glad we didn't do it the other way around. It'd probably be a totally different feeling. But (6-10), that still was
our record. We've got a lot of work to do.''
We've already detected some wiggle room between the draft-day visions of new Browns general manager John Dorsey and holdover head coach Hue Jackson. On Wednesday, Jackson was asked if he's tired of the Browns' penchant for trading down in the draft, which was the speciality of former Cleveland GM Sashi Brown. The Browns own four of the top 35 picks in this year's draft in part due to those moves, but enough is enough on the dealing front, Jackson said. Cleveland needs players, not picks.
"Yes, I am (tired of trading),'' Jackson said. "Let's draft players.''
But on Thursday, in his mid-day cat-and-mouse session with the media, Dorsey claimed to be open to anything, including trading down from Cleveland's No. 1 slot (not happening) or taking someone other than a quarterback atop the draft (bet you anything it's a passer).
"There's a lot of things I can do at No. 1, and not just get a quarterback," Dorsey said, with a straight poker face. "My door is wide open if somebody wants to come up and talk to me about a trade, I'm willing to trade. But also I'm going to do what's best for this organization, and I will do that."
Naturally no GM in his right mind is going to honestly tip his hand on March 1 when he owns the top of the draft, so take Dorsey's words with a whole shaker of salt. But I could foreseen a scenario where the Browns might deal out of the No. 4 overall pick they got last year from Houston in the deal that landed the Texans quarterback Deshaun Watson.
If Cleveland nabs its quarterback of the future at No. 1, and doesn't love anyone by the time its turn comes around again three spots later, why not listen to a QB-starved team that wants to get up ahead of No. 5 Denver or the No. 6 Jets? If it's not the Broncos or the Jets trading up to No. 4 themselves. 
"Any good GM wants to field phone calls from all of his peers,'' Dorsey said, stopping short of sounding needy. "Why wouldn't I? That's why I say, 'Give me a call and see what's up.' ''
The Browns, with those two picks in the the top four spots, aren't going to make history, but they will be a relative rarity if they sit tight and make both selections. According to Dorsey, who said he'd done his research, Cleveland will be the 17th team with two top-five picks in the draft, dating from 1946 on.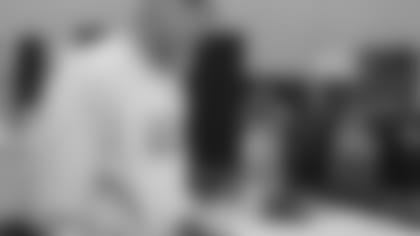 We'll take his word for it, but we did go back as far as the NFL-AFL merger in 1970 and there's five such examples we found, with the Colts strangely having three different entries on that list. Alas, no team hit a pair of grand slams with their twin picks, and in some cases it meant double trouble.
The most recent team before Cleveland to make two picks in the top five was Washington in 2000, the ill-fated "Dream Team'' season in D.C. The Redskins selected Penn State linebacker LaVar Arrington at No. 2, and then came right back with Alabama offensive tackle Chris Samuels at No. 3. You'd have to give that one a thumbs up, even though Arrington's career in Washington wasn't a long one (six seasons).
The 1994 Colts took Hall of Fame running back Marshall Faulk out of San Diego State at No. 2, but then pretty much whiffed with the oft-injured Nebraska linebacker Trev Alberts at No. 5. The 1992 Colts didn't fare well at all, selecting Washington defensive tackle Steve Emtman (remember him?) at No. 1 and Texas A&M linebacker Quentin Coryatt at No. 2. Emtman lasted just three seasons in Indy, and Coryatt only six.
The 1982 Colts were dismal as well on the two-fer front. They selected Mississippi State linebacker Johnie Cooks second overall, and then took Ohio State quarterback Art Schlichter at No. 4. Cooks made it five-plus seasons as a Colt, but wasn't anything special, while Schlichter had a gambling problem that eventually led to his incarceration.
The fifth team I found that owned the top five of the draft like the Browns do this year were the 1979 Bills. Buffalo selected Ohio State linebacker Tom Cousineau at No. 1, and followed up with Clemson receiver Jerry Butler at No. 5. Cousineau never played for the Bills and instead signed with Montreal in the CFL. He didn't make the NFL until 1982 with Cleveland. Butler played seven seasons in Buffalo, making one Pro Bowl.
You can't beat hand-size day for quarterbacks at the combine. You just can't beat it. It's when football really does boil down to a game of inches. More like fractions of inches. Oklahoma's Baker Mayfield throwing hand measured at 9 1/4 inches, which was actually a quarter inch smaller than it came in at the Senior Bowl in January.
This is all vitally important of course because Mayfield is on the shorter side for an NFL quarterback, and shorter passers generally have smaller hands, and thus struggle a bit more to grip the football. In an interesting twist, Mayfield's height was measured at 6-foot and 5/8's on Thursday, which was a quarter-inch taller than he was at the Senior Bowl. How he got that quarter-inch from his hand tacked on to his height, the world may never know.
Browns GM John Dorsey said he thinks hand size is important for a quarterback, especially when you "play in Cleveland in December'' and have to deal with the elements. But take a breath Browns fans who might be rooting for Mayfield to end up wearing an orange helmet, Dorsey blessed all of this year's top-rated quarterbacks when it comes to the size of their mitts.
"The hand sizes that were read off today, I think all of them of them acceptable,'' Dorsey said.
Wyoming quarterback Josh Allen is known for his big arm. He's not accurate enough by NFL standards, but he apparently can really throw the rock. To the point where a sports performance coach Allen has worked with predicted his client will approach throwing the ball 70 miles per hour at the combine, which would be a record for this annual event that some call the Underwear Olympics. Allen will also chuck it almost 90 yards at his pro day next month, said Ryan Flaherty, his performance coach.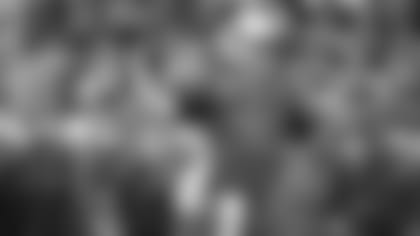 Said Flaherty on the NFL Network, via Pro Football Talk: "Josh Allen has one of the most incredibly gifted arms I've seen in my life and I've been around a lot of quarterbacks. He'll break the record miles per hour here at the combine. He'll go high 60s. I think the record's 66 or something. I think he'll go 69, 70 miles an hour. And just wait until his Pro Day. He'll throw the ball 89 or 90 yards."
Ninety yards, huh? And 70 miles per hour. I guess I'm going to have to see it to believe it when it comes to Allen's gun of a right arm. It might make for some freakish accomplishments in terms of his speed and distance, but until he adds touch and accuracy to his game, Allen might still be seen as an iffy proposition in the NFL.
What if this year's first round featured a running back and a guard in the top five? Would that be a sign of the football apocalypse or something? But it could happen, with Barkley as the runner and Notre Dame's Quenton Nelson considered a threat to crack the top five despite playing the offensive line's least valued position.
Mike Mayock this week even went so far as to name Nelson as the second-best player in this draft, regardless of position, trailing only Barkley. Mayock dropped that bombshell to Peter King of the **TheMMQB.com**.
Guess who agrees with him about Nelson belonging in the top five? Nelson does, despite only three guards having gone in the top 10 in the past 18 years, with the most recent being Jonathan Cooper to the Cardinals at No. 7 in 2013. Atlanta's Bill Fralic was the most recent top-five guard, going No. 2 in 1985, 33 years ago.
"I think I should be talked in that regard, the top-five conversation,'' Nelson said Thursday. "Because you have guys who are dominating the NFL right now in (defensive tackles) Aaron Donald, Geno Atkins, Fletcher Cox, that have just been working on interior guys.
"You need guys to stop them, and I think I'm one of those guys. You talk to quarterbacks, and they say if a D-end gets on the edge, that's fine. They can step up in the pocket and make a throw…. So that's what I give is a pocket to step up in, and I think I also help the offense establish the run through my nastiness.''