"Don't just be in the game. Win the game."
The No.1 U.S compression wraps and tapes manufacturer, Healit™, has joined forces with the New England Patriots to bring fans health, fitness and Patriots-inspired content throughout the 2017 season.
Healit™ systems are the next generation of therapeutic sports and medical compression wraps. Their unique self-adhesive compression wraps and tapes are designed to prepare the body, prevent injury, protect against re-injury and enhance performance. Healit™  wraps and tapes help to reduce swelling, improve blood flow and increase oxygen and nutrient delivery to damaged tissues so you can go faster, work harder and last longer.
The "Patriots Wrap-Up presented by Healit™" will be available on Patriots.com and Patriots social media channels throughout the season. Additionally, Healit™ will have a monthly series published right here on the Lifestyle section of Patriots.com, in which Patriots fans are provided with beneficial health and fitness tips.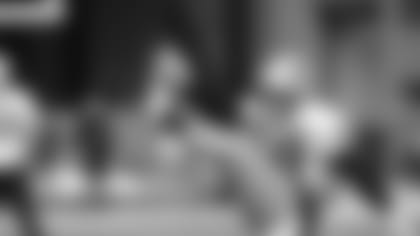 At some point or another we have all experienced that excruciating sensation that runs from the back of the heel up to the top of our calves, where our Achilles tendon has become strained or inflamed. There is nothing more irritating and few things more painful, but when treated the right way using Healit Compression Systems, there shouldn't be any reason that you can't stay in the game.
Thanks to players becoming bigger, stronger and faster, Achilles injuries have become one of the most common and highest-profile injuries in the NFL. While an Achilles tendon strain can hamper performance, an Achilles tendon tear can spell months on the sidelines and in some cases lead to the end of a player's career.
A 2012 study found that about two-thirds of injured NFL players (64 percent) returned to play after an average of about 11 months, but that their post-injury performance tended to be significantly lower than pre-injury levels.
If you think 11 months out and reduced post-injury performance seems to be a high price to pay for not supporting your body through compression wrapping then maybe you will think twice before taking to the field. Take our advice and compress for success.
Achilles Tendonitis – Condition & Symptoms:
Inflammation of the Achilles tendon manifests itself as pain at the back of the lower leg caused by overuse, tight calves or a lack of appropriate support when it comes to your running shoes.
Healit Products: ProFoam, EasyRip Trainers Tape and SelfGrip
Application:
1. Lie face down with the lower leg and foot relaxed
2. Apply HealIt ProFoam onto leg at the base of the calf and wrap about three to four times around going down the leg about 4 inches
3. Apply three 'anchors' of Healit EasyRip Trainers tape on top of the ProFoam overlapping the tape by half
4. Apply a strip of HealIt Healit EasyRip Trainers Tape around the middle of the midfoot (directly to skin, No ProFoam)
5. Take two pieces of HealIt SelfGrip (about 8 inches long), place one end of the first piece of HealIt SelfGrip to the anchor at the midfoot and stretch the tape to the top anchor. Repeat with second piece of SelfGrip
6. Take two pieces of Healit EasyRip Trainers tape and secure the anchors at the top and SelfGrip another one around the midfoot    
So go forth, get wrapped and "Don't just be in the game. Win the game"
Buy it now. Don't forget, Healit™ compression wraps and tapes are available at www.healitwrap.com. Patriots fans get 10 percent off all orders and FREE shipping when you enter the code PATRIOTS10 at checkout.