Super Bowl Sunday will see old friends go head-to-head, but football fans at the Microsoft store in the Mall of America got a sneak peek of the Patriots and Eagles matchup. 
Rob Gronkowski and LeGarrette Blount faced off in a game of Madden on Tuesday night with a crowd of eager fans cheering on the old friends. It was supposed to be a fierce competition, but it was mostly smiles, laughing and light jabbing between the former teammates. 
The event, hosted by Deion Sanders, lets the Super Bowl competitors let loose before the big game, like last year when Martellus Bennett took on Vic Beasley. Marty took an L last year, and unfortunately, so did Gronk on Tuesday. LeGarrette showed no mercy against Gronk, and the Eagles won 33-13. 
"He always challenged me to Madden the past few years. I finally got to do it," Gronk said after the defeat.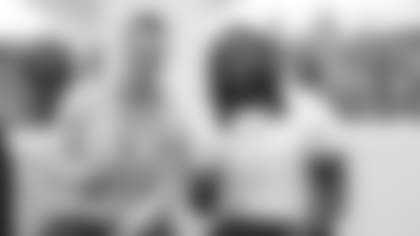 Though the guys will be on opposing sides come Sunday, for a little bit they were able to relax and hang out as friends. 
"Obviously, we are not teammates anymore, but we have been boys. We have been great friends since we met on the Patriots," Gronk said. "[He's] a great dude to play video games with."
Luckily for Patriots fan, the Super Bowl is played in real life, not in a video game. You can watch Gronk and LeGarrette play each other in Madden in the video below.