Rob Ninkovich has made a name for himself in New England and throughout the league as a dedicated player with a friendly persona. While he has talked about how shadowing his father as an ironworker shaped his drive both on and off the field, he also learned life's crucial lessons from another source. From keeping Rob's playground competitiveness in check to cheering him on at the Super Bowl, his mother Debbie has been right beside her son through the ups and downs. 
In an exclusive one-on-one interview, we talked to Debbie about Rob as a father, last year's Super Bowl victory and, of course, his beard. 
What was Rob like as a kid, especially growing up with an older sister?
He and his older sister got along very well. We were just talking about this. She is four and a half years older, so she was like a little mother hen. They really got along well, and I think it was because she was a little bit older. There wasn't any of that, "My little brother is bothering me." Of course there were times when things didn't go as smoothly, but for the most part they did. 
Rob is known around the league for his work ethic. How did he develop this drive and when did you start seeing it?
As far as athletics go, I started seeing it when he was fairly young because I would have a teacher call me every once and a while and say Rob was a little too competitive during recess. I used to tell him, "You know Rob, you're just playing right now. You don't really have to win or it really doesn't matter who wins." He was fairly young when that was happening. If he was going to do something, he wanted to practice so he was doing it the best. It just continued as he went into high school, especially when he got into high school. He was very focused and put in a lot of work and extra effort to get what he wanted.
Rob has talked about ironworking while at junior college and how that shaped him. Why was it important for you to help him understand the value of hard work?
Well his dad was an ironworker and his grandfather was an ironworker. And as a teacher, he saw me bringing home bags of schoolwork every day and he just saw that it took a lot of hard work to attain certain things. I think when he was able to [go to work] with his dad when he was older, I think it made him see exactly what his dad did. He actually went with him and saw, hey this is kind of tough. I think that gave him a new appreciation for us working. Things don't just come to you. You have to work for it. I really think that opened his eyes a lot as far as looking at parents a little bit. They work hard, which we had been telling him all along. 
What is something that might surprise fans to know about your son?
Oh, boy. I could get in trouble. Rob is not a fan of spiders. You would think things like that wouldn't rattle him, but he would have his mother or someone else kill the spider. 
Anything else?
Robert is very considerate about things. I don't know if it would surprise people or not, but he works hard but he's very happy to be with his family. There have been times, especially since he's been playing with the Patriots, where I have run into people who are meeting me for the first time. We were in a department store and the girl said, "Oh, you're Rob's mom," and she went out of her way to tell me my son is really a nice guy and that's happened more than once. It makes you feel good, it really does. 
He has some great facial hair. What is your take on the beard?
I will say what I've always said to him. "Rob it's your face. You can have whatever you want on your face." I'll love his face no matter what. I like his beard, I do like his beard. I just wish it wasn't *such *a beard because I think he's really handsome. But he loves it. I've kind of accepted it. Now I actually think it would be a shock to see him without it. It's growing on me. It's definitely growing on me.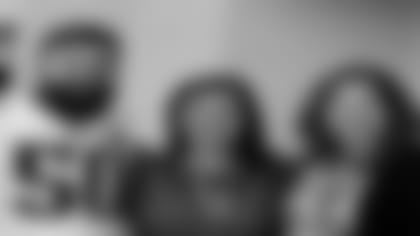 Last year, being able to watch him win Super Bowl XLIX on his birthday, that had to have been special. What was that like for you?
It was unbelievable. The whole thing of being there right around his birthday, and actually all my life I've been a football fan. I watched the Super Bowl every year and I kept thinking to myself, "I am really here, first of all. My son is out on the field playing and it's his birthday! It can't get any better than this." It was just something that we'll never forget. I was so happy for him because [winning the Super Bowl] was his goal. For so many players, that's what they aspire to, what they're playing for. They want to win a Super Bowl and win a ring and so many of them don't. It was just the best day. You can't write a script like this.
He's expecting his second child any day now [at the time of the interview]. What's it been like for you to see him as a father?
He's a great dad. He gets down on his daughter's level and they just play together. He rough and tumbles with her, but he also will pretend he's having a tea party and they'll color together. With his personality, he's always been just go with the flow. I love seeing him as a dad.
Off the field, what about Rob are you most proud of?
I am most proud of the fact that he did set his sights on a goal and he had that goal in his mind when he was very young and he really focused on achieving what he wanted to do. There are a lot of people that say, "I wanted to do this, I dreamed I'd do that," very few are able to do it. There are things that stood in the way. Things didn't go smoothly. When he first went into the NFL even, he had an injury and he had to come back from that. I think that shows what kind of person you are if you can stay focused. That focus was on football. That's what he wanted to do, but as he goes on now I think he's prepared. He has that with him. It's part of who he is. I've seen him do that for his whole life, doing whatever he needs to do to reach a goal. I am proud of it. 
Do you have any memorable Mother's Day moments?
I would get the breakfast made for me, so they would come in with whatever they decided would be a good breakfast. They used to make homemade cards. Rob used to sign a lot with his last name. On Mother's Day he'd be on his very best behavior all day. That's what I really remember, the two of them coming in with breakfast, and they'd come home with whatever they made in school. I have a lot of [the cards]. Sometimes when I go through things and see the little hand prints on cards signed with his last name.