With the start of New England's offseason strength and conditioning program just two weeks away, the Patriots are still very much in team-building mode. However, the club might have to wait until the NFL Draft in early May before it can address some of the most pressing needs it still faces with regard to its roster – both starters and depth.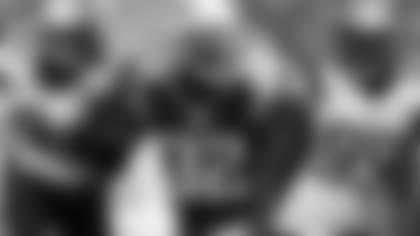 Here's a look at the highest priorities that remain for the Patriots:
Chandler Jones and Rob Ninkovich are very good players, but they can't be expected to play ever snap the entire season, like they virtually did in 2013. They need pass-rush help. And while I would have preferred that such help come in the form of a premier player (Jared Allen, Julius Peppers, DeMarcus Ware), at this point, they just need someone who can come in and be a third member of the pass rush rotation. Veteran options are getting slimmer in number and less and less exciting – Will Smith is a name that's reportedly been in for a visit (meh).
Is Michael Buchanan ready to emerge with a year-two jump? It's possible, but I'm not holding my breath. I'd like New England to add one more veteran and perhaps invest a high draft pick in a defensive end to assuage my concerns about this critical area.
Re-signing Chung is either a good move or not, depending on how the Patriots utilize him. If is expected to return to his old staring position alongside Devin McCourty, then I'm not thrilled with this signing. If Chung were that valuable a piece of the defense, the team wouldn't have allowed him to walk away last year during free agency.
If, however, the Patriots can find a suitable rookie in the NFL Draft next month, then the Chung move makes more sense to me. I'd rather have a player like Chung, whose experience in this system should not be undervalued, as my emergency backup option as opposed to Tavon Wilson or Nate Ebner. In a pinch, I'd take Chung, who also has considerable special teams experience, making Wilson and/or Ebner expendable.
But it all comes down to the Patriots drafting the right rookie to complement McCourty. Short of that, New England still has a hole to fill at this position.
We're going to be playing the "When Will Gronk Return" game again like we did last year, I'm afraid. Which means if he's out for any extended period of time, this position, which has become so vital to the New England offense, is going to suffer, along with the offense in general.
Veteran free agents aren't the answer at this point. The draft is where the Patriots are going to have to find a complement to Gronk that can have a significant impact.
Where do you think the Patriots still need to beef up their roster? Let us know with a comment below!