Por ter acontecido muito perto da tenda destinada aos jornalistas e restante media, o incidente envolvendo Malcolm Butler, e posteriormente a saída por lesão de Rob Gronkowski foram os temas mais discutidos durante o primeiro treino de conjunto entre o New England Patriots e o Chicago Bears. Mas o dia foi longo e os desenvolvimentos foram extensos.
Assim, os jogadores na PUP continuam a ser: Dion Lewis (joelho), Tre' Jackson (joelho), Sebastian Vollmer e Danny Amendola (joelho/tornozelo). Jackson e Amendola estiveram em campo, equipados com as suas camisolas habituais. Amendola mudou-se para o campo de treinos do Revolution, juntamente com alguns colegas que estão a recuperar de lesão, e até fez alguns passes aos que treinavam as jogadas de desmarcação (routes).
A lista de jogadores que não participaram no treino inclui: Malcolm Mitchell (cotovelo), D.J. Foster, Donald Brown (tendão), Brock Vereen, Nate Ebner, Bryce Williams, Rob Ninkovich (tríceps), Shea McClellin, Jonathan Cooper (pé), Keshawn Martin e Jabaal Sheard.
Mitchell esteve em campo, com uma cinta preta no braço esquerdo. Tanto ele como Ninkovich foram também para o campo de treinos do Revolution e fizeram corrida juntos. Foster, Brown e Martin também trabalharam no campo dos Revs, recebendo passes lançados por Amendola.
Depois de concluída a sua participação nos Jogos Olímpicos do Rio de Janeiro, Ebner foi ativado oficialmente da lista reserve/did not report na segunda-feira.
Logan Ryan continua a vestir a camisola vermelha, que não permite contato.
Depois do aquecimento, os Bears juntaram-se em grupo a bater palmas e a gritar como normalmente fazem antes dos jogos oficiais.
Durante a fase dos exercícios para os special teams, alguns dos que normalmente trabalham como bloqueadores receberam pontapés vindos da máquina JUGS. O grupo incluiu Geneo Grissom, Clay Harbor e Josh Kline.   
Alguns dos kickoff returners também receberam pontapés vindos máquina JUGS, incluindo Cyrus Jones, DeAndre Carter e V'Angelo Bentley.
Os cornerbacks fizeram um exercício coletivo em que recuaram diretamente da linha inicial (line of scrimmage) em direção a um dos bonecos enormes de bloqueamentos. Quando passaram pelo boneco, mudaram de direção e colocaram-se à frente do 'alvo' para a interceção. Na maior parte dos casos sentiram imensas dificuldades em segurar a bola, com Ryan e Darryl Roberts entre aqueles que tiveram as piores falhas na receção.
Antes de sair lesionado, Gronkowski teve mais uma má tentativa de receção num exercício de cruzamento coletivo (crossing pattern). Neste momento a sua segurança na receção está muito longe daquilo a que nos habituou.
As equipas dividiram-se em quatro diferentes grupos para exercícios de cobertura homem-a-homem, com os* pass defenders* (defesas) num lado, os pass catchers no outro. Chris Harper deu início à sessão ao bater o DB Jacoby Glenn dos Bears. Chris Hogan ultrapassou Taveze Calhoun, enquanto Bennett ganhou a melhor sobre Harold Jones-Quartey. Butler levou a melhor sobre Kevin White no seu exercício.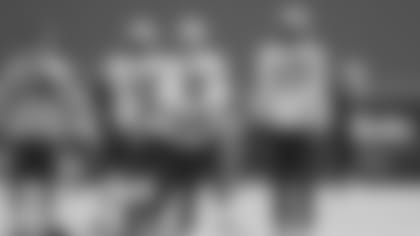 Harbor teve um mau falhanço de receção nos exercícios de 1-contra-1. No trabalho de 'oportunidade' na ponta final do treino não conseguiu apanhar uma bola aparentemente bem lançada por Jacoby Brissett. O veterano tight end não tem tido um estágio nada bom, especialmente considerando o tempo que ele falhou devido a uma lesão desconhecida. As receções foram inconsistentes pelo que o seu papel na equipa está duvidoso.
Edelman participou nos 1-contra-1 mas não esteve presente nos exercícios de 11-contra-11. Fez sprints sozinho num dos campos laterais na ponta final do treino. Durante os exercícios de 1-contra-1demonstrou algumas falhas de comunicação nas rotas com Garoppolo.
Na batalha entre os linebackers e os running backs, Tyler Gaffney fez um bom trabalho ao desfazer-se de John Timu.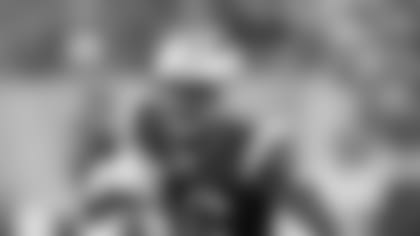 Muito antes de ser expulso, apesar de estar muito bem coberto, Jeffery saltou mais alto e lutou contra Butler pela posse de bola, na linha lateral esquerda, antes de conseguir completar a receção. 
Nate Washington foi segurado violentamente por De'Vante Bausby nos exercícios de 1-contra-1, algo que irritou visivelmente o veterano receiver da Nova Inglaterra.   
A certa altura, Meredith Cameron bateu Cyrus Jones de tal forma que o rookie cornerback pareceu desistir da jogada.
Depois dos exercícios de 1-contra-1 todo o grupo que incluiu receivers e quarterbacks foi obrigado a fazer flexões, aparentemente por castigo relacionado com o fato de não terem mostrado desempenho adequado durante o exercício.
A primeira equipa de kickoffs a entrar em atividade consistiu de, da esquerda para a direita, Patrick Chung, Brandon Bolden, Ramon Humber, Matthew Slater, Jonathan Freeny, Jordan Richards, Duron Harmon, Grissom, Brandon King e Devin McCourty.
Anthony Johnson foi castigado com corrida de uma volta ao campo.
O proprietário dos Patriots Robert Kraft esteve em campo para assistir à segunda parte do treino de conjunto. Quando atravessou o campo, foi cumprimentar o quarterback Brian Hoyer, antigo jogador dos Patriots.
O primeiro grupo a treinar kickoff returns inclui uma linha frontal de bloqueadores, da esquerda para a direita, consistindo de Harmon, Freeny, Humber, Bolden, Richards e Kamu Grugier-Hill. A linha que se seguiu incluiu Kline, King e Grissom, com Harbor e Markus Kuhn a treinarem nos lugares do exterior.
O primeiro grupo de linemen ofensivos trabalhou principalmente com Tom Brady, e incluiu, da esquerda para a direita, Nate Solder, Joe Thuney, David Andrews, Shaq Mason e Marcus Cannon.
Fez-se algum trabalho nos lances de bola corrida durante a segunda parte do treino, com os exercícios a concentrarem-se principalmente em Tyler Gaffney e LeGarrette Blount.
O segundo grupo de* linemen* consistiu de, da esquerda para a direita, LaAdrian Waddle, Kline, Bryan Stork, Ted Karras e Cameron Fleming. Karras pareceu estar a coxear depois de completar um dos exercícios e saiu a andar muito cuidadosamente do treino.
Cyrus Jones fez vários exercícios a cornerback direito, no lado oposto a Butler. Depois de Butler ter sido expulso, Justin Coleman jogou como cornerback esquerdo. Depois da briga, o secundary da Nova Inglaterra pareceu ter aumentado um pouco a intensidade e levou a melhor sobre os Bears na maioria dos lances de passes. Aliás, a intensidade aumentou em termos gerais depois da briga.
Num teste à profundidade do plantel nas laterais, pois Ninkovich, Sheard e McClellin ficaram de fora nesta sessão, Trey Flowers continuou a estar ativo na direita, lado oposto a Chris Long.
Kuhn tornou a estar em atividade na linha defensiva, ao lado de Malcom Brown, um lugar que recentemente e na maior parte das vezes tem sido preenchido por Terrance Knighton e Alan Branch de tarde.
Todos os jogadores de ambas as equipas fizeram trabalho de preparação física após o final do treino. Enquanto a maioria dos jogadores fazia sprints no canto mais distante do campo, denominado The Hill, a defesa dos Patriots fez repetições de empurrão ao chamado trenó-de-7-homens.
Altos e baixos 
Em Alta: Trey Flowers – embora por vezes pareça em desvantagem a defender jogadas de bola em corrida, o defensive end tem demonstrado uma regularidade consistente a pressionar o quarterback e viu aumentar a participação nos exercícios devido às lesões de Rob Ninkovich e Jabaal Sheard 
Em Baixa:Rob Gronkowski – OK, continua a ser uma força dominante quando quer, mas mesmo antes de sua lesão o veterano tight end tem deixado cair pelo menos um passe que normalmente é rotina para ele. Nem parece ele.
Jogada do dia: no final do período de 11-contra-11, o QB Jimmy Garoppolo recebeu a bola na zona vermelha e atirou com grande força mesmo por debaixo da barra transversal. O rookie receiver Devin Lucien bateu o defesa dos Bears, elevou-se, apanhou a bola ainda no ar, e conseguiu tocar com a ponta dos pés no relvado, antes de sair da linha, assegurando assim o touchdown.