After taking the weekend off, Bill Belichick put the Patriots through a busy workout on Monday, running a lot of plays and getting a lot of work done. Tuesday's practice was at a much slower pace with a heavy emphasis on instruction and situational work.
"We're going to kind of tempo things down a little bit here today," Belichick said before practice. "We had a good day yesterday, a big day yesterday. Did some teaching, got some situations handled that we feel like we need to get handled today, and then push it back up on Thursday. Trying to put one foot in front of the other here, move forward every day, and take it one day at a time. Long way to go, but moving forward."
As a result, there wasn't as much in the way of standout plays or evaluations to be found. Making matters worse was the absence of several wide receivers, including DeVante Parker, JuJu Smith-Schuster, Kendrick Bourne and Tyquan Thornton. That meant a lot of two tight end looks with Hunter Henry and Mike Gesicki, plus plenty of mixing and matching of personnel on both sides of the ball.
The latter is a staple of spring football in Foxborough, and Belichick talked a lot about the value to figuring out potential roles for various players at different positions. Versatility is always a virtue in New England and there were signs of players moving around from spot to spot with a variety of groups.
One such example was rookie Marte Mapu, who spent last week's session at linebacker but went through drills with the safeties on Tuesday. During one 11-on-11 period he was lineup up with a group that included Brad Hopkins, Joshuah Bledsoe, Jack Jones and Isaiah Bolden.
Rookies in general were heavily involved in the proceedings. First-round pick Christian Gonzalez, who didn't take part in last week's session that was open to the media, lined up with Jonathan Jones on the outside with Jalen Mills in the slot and Kyle Dugger and Jabrill Peppers on the back end.
Another area that saw plenty of movement was the offensive line. Groups included, from left to right, Calvin Anderson, Cole Strange, David Andrews, Antonio Mafi and Riley Reiff as well as Andrew Stueber, Kody Russey, Jake Andrews, Bill Murray and Sidy Sow. James Ferentz also rotated in at center with the latter group while Jake Andrews showed some potential versatility by sliding to right guard.
So, while the practice didn't offer many memorable moments and standout performances, there were plenty of opportunities to check out the rookie class as we start to figure out how some of them might fit into the equation once training camp arrives next month.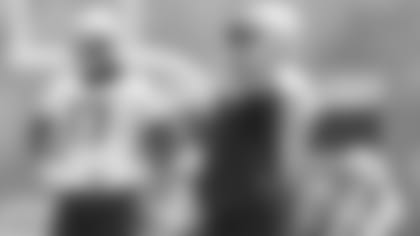 Here are one man's observations from Tuesday's OTA in sunny Foxborough.
There were a number of players not spotted during Tuesday's workout. Nick Folk, Matthew Judon, Smith-Schuster, Thornton, Adrian Phillips, Cody Davis, Bryce Baringer, Mike Onwenu, Conor McDermott, Trent Brown, Bourne and Lawrence Guy were not seen while Parker, Scotty Washington and James Robinson worked on the lower rehab field before joining their teammates midway through practice. None took any reps during team drills.
There were more moments of sloppiness during the early portions of team drills than were evident during last week's workout. Several defensive players jumped offside and were sent on subsequent laps as a result. That group included Sam Roberts, Deatrich Wise and Anfernee Jennings, who all jumped during the same period. Wise's infraction elicited a mild celebration from David Andrews, who enthusiastically signaled for a first down.
The offense wasn't without its issues in terms of execution as there were several instances where players were initially lined up incorrectly. Interestingly, undrafted rookie free agent Malik Cunningham was seen helping out in this regard on more than one occasion. Cunningham remained at receiver and helped situate Raleigh Webb a couple times, which was impressive considering he's learning a new position after playing quarterback at Louisville.
Mac Jones once again took the first reps in all periods and drills. While the offense wasn't quite as sharp and crisp as it appeared last week, Jones had some nice moments working in two-minute drills and other situational reps. There was a minor scare after one completion when Jones appeared to turn his ankle after a throw and limped around momentarily, but he didn't miss a snap and soon was moving without any limitations. A couple of plays later Hunter Henry appeared to be shaken up and he struggled to get to the sideline but motioned to the training staff that he was OK with a thumbs up. Henry missed a play but was soon back in the lineup with no signs of any ailment.
Tempers flared at one point following a running play. Cole Strange and Anfernee Jennings started pushing and shoving as several members of the defense got involved. Christian Barmore came over toward the end of the fracas and things settled down soon thereafter.
Recently signed tight end Anthony Firkser, who is likely vying for a role behind Henry and Gesicki, made a nice adjustment to grab a pass near the sideline. Bailey Zappe's throw was over the wrong shoulder and Firkser did a nice job contorting his body before securing the pass with strong hands.
Another recently signed player, wide receiver Ed Lee, turned in a terrific diving catch on an out route from Zappe along the sideline. The 5-10, 185-pounder out of URI was signed earlier in the week and saw plenty of action on Tuesday.
Peppers made an excellent play when he dove to break up a pass across the middle on a short hook during the same period. Peppers broke on the ball and arrived with perfect timing, knocking the pass to the turf before celebrating with teammates.
With Baringer not taking part in the workout it gave second-year punter Corliss Waitman plenty of chances to show off his strong leg. Waitman did not disappoint as he unleashed several impressive kicks with great hang time. His punts seemed to be difficult to field as well as Peppers, Bolden and Demario Douglas all muffed kicks during the early-practice work. Myles Bryant, Kayshon Boutte and Lee also handled kicks from Waitman during the drill.
Jourdan Heilig, an undrafted rookie free agent out of Appalachian State, spent much of the practice working with Matthew Slater on the opposite field. Slater often provides his tutelage on the finer points of special teams work and has been seen with various players already this spring.
Rhamondre Stevenson, Dugger, Mills, Josh Uche, Wise and Gesicki all spoke with the media after practice.
The Patriots will practice in front of the media once again on Friday with mandatory minicamp scheduled for June 12-14. All of those sessions will be closed to the public.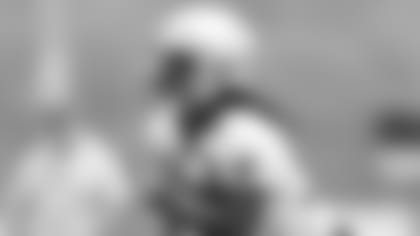 DISCLAIMER: The views and thoughts expressed in this article are those of the writer and don't necessarily reflect those of the organization. Read Full Disclaimer