On March 30, 2009, the Hall of Fame nomination committee gathered at The Hall at Patriot Place presented by Raytheon for their annual meeting to nominate three finalists for the Patriots Hall of Fame. In addition, the committee of media, alumni and staff were charged with selecting four all-decade teams as well as a 50th Anniversary Team. Players were discussed and debated. A closed ballot vote determined each of the five teams. The 50th Anniversary Team and each of the all-decade teams are listed below.
50th Anniversary Team
HEAD COACH: Bill Belichick
OT Bruce Armstrong
OT Matt Light
G John Hannah
G Logan Mankins
C Jon Morris
TE Ben Coates
WR Stanley Morgan
WR Troy Brown
WR Irving Fryar
QB Tom Brady
RB Jim Nance
RB Sam Cunningham
DE Julius Adams
DE Richard Seymour
DT Houston Antwine
DT Vince Wilfork
OLB Andre Tippett
OLB Mike Vrabel
ILB Steve Nelson
ILB Nick Buoniconti
CB Mike Haynes
CB Ty Law
S Fred Marion
S Rodney Harrison
K Adam Vinatieri
P Rich Camarillo
SPT Mosi Tatupu
KR/PR Kevin Faulk
1960s
OT Charlie Long
OT Tom Neville
G Billy Neighbors
G Lennie St. Jean
C Jon Morris
TE Jim Whalen
WR Jim Colclough
WR Art Graham
QB Vito "Babe" Parilli
RB Larry Garron
RB Jim Nance
DE Bob Dee
DE Larry Eisenhauer
DT Houston Antwine
DT Jim Lee Hunt
OLB Tom Addison
OLB Ed Philpott
MLB Nick Buoniconti
CB Chuck Shonta
CB Daryl Johnson
S Don Webb
S Ron Hall
K Gino Cappelletti
P Tom Yewcic
Ret. Larry Garron
SpT Don Webb
1970s
OT Leon Gray
OT Tom Neville
G John Hannah
G Sam Adams
C Bill Lenkaitis
TE Russ Francis
WR Stanley Morgan
WR Randy Vataha
QB Steve Grogan
RB Sam Cunningham
RB Andy Johnson
DE Julius Adams
DE Tony McGee
NT Ray Hamilton
OLB Steve Zabel
OLB Steve King
ILB Steve Nelson
ILB Sam Hunt
CB Raymond Clayborn
CB Mike Haynes
S Tim Fox
S Prentice McCray
K John Smith
P Mike Patrick
Ret. Mack Herron
SpT Mosi Tatupu
1980s
COACH: Coach Raymond Berry
OT Bruce Armstrong
OT Brian Holloway
G John Hannah
G Ron Wooten
C Pete Brock
TE Lin Dawson
WR Irving Fryar
WR Stanley Morgan
QB Steve Grogan
RB Tony Collins
RB Craig James
DE Julius Adams
DE Garin Veris
NT Richard Bishop
OLB Andre Tippett
OLB Don Blackmon
ILB Steve Nelson
ILB Johnny Rembert
CB Raymond Clayborn
CB Ronnie Lippett
S Roland James
S Fred Marion
K Tony Franklin
P Rich Camarillo
Ret. Irving Fryar
SpT Mosi Tatupu
1990s
OT Bruce Armstrong
OT Pat Harlow
G Todd Rucci
G Max Lane
C Dave Wohlabaugh
TE Ben Coates
WR Terry Glenn
WR Shawn Jefferson
QB Drew Bledsoe
RB Curtis Martin
RB Leonard Russell
DE Willie McGinest
DE Brent Williams
NT Tim Goad
OLB Andre Tippett
OLB Chris Slade
ILB Vincent Brown
ILB Ted Johnson
CB Maurice Hurst
CB Ty Law
S Willie Clay
S Lawyer Milloy
K Adam Vinatieri
P Tom Tupa
Ret. Dave Meggett
SpT Larry Whigham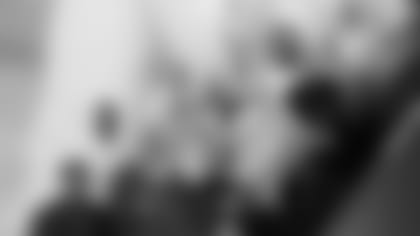 About the Patriots Hall of Fame nomination committee
In 2007, the New England Patriots created a hall of fame nomination committee consisting of a panel of tenured media, alumni and staff to annually discuss candidates for consideration in the Patriots Hall of Fame. Each year, the committee gathers to discuss and debate each nominated former player and head coach. A vote determines the three finalists. Once the finalists are announced, fans have an opportunity to vote for the person they feel most deserving to be inducted into the team's hall of fame. The Patriots are the only team that includes their fans in the process of selecting their hall of famers.