Tyrone Poole already has two Super Bowl rings to his name, but this weekend, he's going for yet another victory -- on "American Ninja Warrior."
The former Patriots cornerback, who was part of the Super Bowl XXXVIII and Super Bowl XXXIX championship teams, took his lifelong passion for fitness into yet another competitive outlet. "American Ninja Warrior" is a show that features super-fit competitors racing through an extreme obstacle course, finishing with a run up the infamous "Warped Wall," a 14.5-foot curved wall.
He is set to compete in the top 25 for a chance to go to Las Vegas over the weekend in Atlanta.
Though running, swinging and climbing through an obstacle course on national TV is a far cry from football, Tyrone said his dedication to staying in shape helped in both worlds.
"I remember when I first got to the Patriots, I sat down in Coach [Bill] Belichick's office, and I said, 'Coach, I've been training in Atlanta,'" Tyrone recalled. "Bill said, 'We already know about you. I'm not worried about you in that area.' Even the trainer, he would tell me to go home. 'Tyrone, go home. You're doing too much.' I've always been into training."
Though the strength was already there, the techniques to compete in "American Ninja Warrior" took work. Tyrone put in the time to learn the techniques at Ninja Quest, a gym specializing in training ninja warriors, and said the training was reconnecting with his childhood in a lot of days. The swinging and the jumping from one thing to the next is reminiscent of goofing around on the playground.
"When we were kids we swing from one rod or rope to the next. When I went to Ninja Quest, [owner Glenn Davis] and some of his workers there began to familiarize me back with my childhood," he said. "This is how you want to swing and grab. There's a technique in it. it still centers around principles of body structure and becoming familiar with your childhood."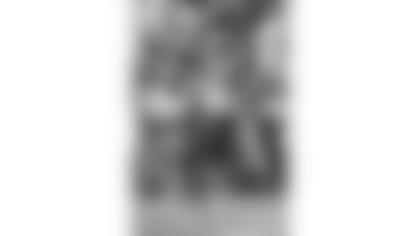 But to excel on the "American Ninja Warrior" course, he said, it isn't just pure strength.
"What has surprised me is the fact that you don't have to really be muscular. If you look at the obstacles, you would think a person has to be a total Lou Ferrigno or Arnold Schwarzenegger. They have to have some big muscles, but no, not really," Tyrone said.
That may be true, but Glenn said Tyrone has transitioned seamlessly to the ninja warrior world, even climbing the Warped Wall with little trouble.
"We blinked, and he was at the top of the wall like, 'That's it?" Glenn said with a laugh. "It was so cool to see him up there, just hanging out, standing on top of the wall. I told him, you know, that's not going to be a problem. This is one thing we're not going to worry about."
The physical aspects are only one part of the battle. The mental aspect of the game, just like in football, can be the downfall for competitors, Glenn said, but Tyrone said his experience playing in front of thousands of fans in NFL stadiums will help him keep a clear head in front of the crowd.
"I'm used to learning how to block images and distractions, so it doesn't distract me. I think I'll still use the same kind of mentality. I'll know people are there, but not to the point where I'm distracted by them," he said. "I'll probably be more distracted by the water that's on the bottom than the people on the side. I don't want to fall in that water."
But when it comes to getting into the right state of mind, it's all about a winning mentality.
"I won two Super Bowls and now I have the opportunity to win a championship as a ninja warrior on that course," Tyrone said. "You know how we do it as Patriots. We're only in it to win it."
You can catch Tyrone on "American Ninja Warrior," airing June 5.