HOUSTON -- Jimmy Garoppolo opened his third NFL season with much success as the fill-in starter for a suspended Tom Brady in the Patriots Sunday night win in Arizona.
This Sunday night the potential offseason trade commodity could earn his second Super Bowl ring without playing a single snap in the big game at NRG Stadium.
From start to finish, Garoppolo's role has changed dramatically but he's remained a key cog in New England's drive for a fifth Lombardi Trophy.
"He's been awesome, man," Patriots assistant quarterbacks coach Jerry Schuplinski said. "What a good guy to have on your team. Just always what we look for. He's a great worker. He wants to do his job really well, whatever that is. And he's a great team player. So whatever's good for the team, that's what he's going to do. If it was good for the team for him to go in and start because Tom was out, then he was going to do that to the best of his ability. If it was good for the team for him to take a back seat when Tom got back, he was still going to prepare hard to do what he can in case the opportunity came up for him to go again."
Initially that value was measured in completions and victories – a 2-0 mark in September to open his career as a starter with four touchdowns and no interceptions before leaving the Week 2 win over Miami with a shoulder injury.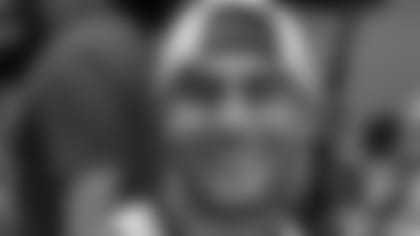 This week in practice action at the University of Houston, his worth comes running the Patriots scout or "show" team, doing his best impression of Falcons presumed MVP quarterback Matt Ryan.
"Bit of a whirlwind at times," Garoppolo said from the Patriots team hotel, summarizing his unique year. "But it's the NFL season. It's a long season. It's a grind. It's been a fun year. Hopefully we finish it off on a good note on Sunday."
The former second-round pick enjoyed his shot to show his stuff in early-season game action.
"It was a good opportunity and I went out and tried to take advantage of it and do everything I could. It worked out pretty well. The injury obviously wasn't the best thing. But I think it was overall a good experience," Garoppolo said.
He's also enjoying his cameo in Kyle Shanahan's Falcons aerial attack, preparing the Patriots No. 1 scoring defense for the Super Bowl battle with NFL's top scoring unit.
"Oh yeah. It's a fun offense, actually," Garoppolo said. "They run a lot of different routes and deep stuff. It's fun for the quarterback. And having athletes like he has, I'm sure he enjoys it.
"Really quarterback-friendly. I'm sure that's part of the scheme. Matt's a tremendous player as well. Obviously those things go well together."
While Garoppolo has contributed to New England's current situation doing many positive things for the squad both on the game and practice fields, one thing he's not doing at this point is spending any time looking ahead to the offseason and persistent trade rumors.
Even this week reports out of Cleveland indicate that the Brown remain interested in dealing for Garoppolo. It also bears watching Shanahan as he takes over the 49ers given the interest he showed when working with the Browns the year that Garoppolo was drafted out of Eastern Illinois.
"To be honest, I really haven't thought about it much. It's kind of not even in the back of my mind," Garoppolo declared. "We're focused on the Falcons this week. It's a big week for us, the biggest game of the year. That's kind of where my mind is at."
While one might find it hard to believe that Garoppolo could avoid thoughts about getting his own starting job and potentially the massive contract to go with that role, his teammates and coaches back up the backup's proclaimed focus.
"I think you should (believe him)," third-string rookie passer Jacoby Brissett said. "We never talk about it, so I would assume…I don't think he thinks about it."
"I think especially when you get to an opportunity like you have now playing in a Super Bowl, if you are thinking about other stuff you are crazy," Schuplinski said. "This is why all our guys do all their work and why we put in the long hours we do to get to this point. That's really what's important. I'm sure there is time to evaluate after. But I know this, he's been very focused on everything we ask him to do."
Whatever the future holds for Garoppolo – either in New England, where he's under contract for one more season, or elsewhere – the young, affable backup is enjoying the present. He's helping his team any way he can, and is a more invested contributor in the team on the cusp of collecting a second Super Bowl ring.
Life is good. And the future is bright.
"I think I have a greater appreciation for it this time," Garoppolo concluded of his second Super Bowl trip. "Just because rookie year you go from your senior season, to the Combine all that stuff. It's a long season. I think I appreciate it more this time."