Game day for any Patriots fan is special, but game day on your 100th birthday takes the cake. That was the case for Foxborough resident Jo Guenard this past Sunday as the lifelong Patriots fan celebrated her 100th birthday with friends and family at the Maples Rehabilitation and Nursing Center in Wrentham, Mass. Not far down the road, the Patriots were hosting the Los Angeles Rams at Gillette Stadium.
"I'm having a very fun day," Jo said. "I'm 100 today and the Patriots are playing. It's all very exciting."
Adding to the excitement was a special surprise from the Patriots. The team sent a birthday brigade to Maples to throw a game day bash worthy of Jo's milestone birthday. The team decked out the nursing home with Patriots birthday decorations and mascot Pat Patriot paid her a surprise visit to watch the game and cheer on the hometown team.
While the game broke for halftime in Foxborough, Pat Patriot surprised Jo with another surprise in Wrentham. Jo watched from a tablet as Patriots players Julian Edelman, Devin McCourty, LeGarrette Blount, Danny Amendola and Stephen Gostkowski each wished her a happy 100th birthday with personalized messages recorded before the game.
"That is so nice," Jo said with a huge smile. "Thank you so much."
Jo was born in Illinois in 1916 and moved to Foxborough in 1929. She was 43 years old when the Patriots played their first game and has been a fan ever since.
"My mom has always been a football fan," said her son, David Guenard. "I call her every weekend before and after the game and she's involved with it. It's amazing. She knows what's going on with the team."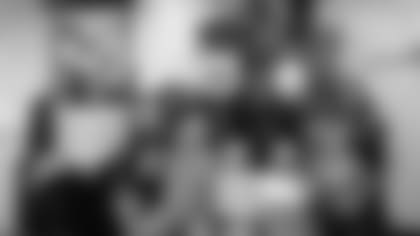 Jo makes sure to watch every game on TV. In fact, she recalled a time last season when she underwent surgery to repair a broken hip on the same night the Patriots were hosting the Buffalo Bills on Monday Night Football. She remembered coming out of surgery to find out the score was 3-3, but by the time she got to her hospital room, Tom Brady led a 33-second touchdown drive to put the Pats up 10-3 just before halftime. She willed herself to stay awake for the rest of the game and watched the Pats beat the Bills, 20-13.
Even on her 100th birthday, Jo was tuned in and the team delivered for her once more – earning a 26-10 victory over the Rams to give this lifelong fan a great ending to a perfect day.
"This was a wonderful day," Jo said. "So many surprises and my Patriots won. I couldn't ask for anything more."
RELATED LINKS