Just like they used to line up opposite each other in practice, New England Patriots center David Andrews and retired linebacker Rob Ninkovich once again sat across each other for a conversation in the studio at Gillette Stadium recently.
Back then, Ninkovich was a leader and two-time Super Bowl champion on a team Andrews hoped to have an impact on as an undrafted rookie free agent.
Optum reunited the two for a sit-down discussion in honor of World Mental Health Day. The two realized how much has changed over the years – in terms of their own personal lives and the conversation around mental health.
"I think it's always hard and stuff people don't want to talk about," Andrews told Ninkovich when asked about the stigmas around the topic. "Especially a football player, right? We're supposed to be tough. Macho. If you tend to bury things and you think you're okay, that sometimes leads to bigger problems. I think the biggest thing you can do is if something's bothering you, have somebody you can talk about it to – whether it's a friend, your parents, your wife – whoever it may be."
Andrews, as mentioned in the conversation, is now in the role he remembers Ninkovich playing back in the day: the "grumpy" veteran with a family of his own and upholding a culture in the locker room.
Back then, and especially when the two were growing up, mental health wasn't discussed openly. Andrews is grateful to be raising his son, Ford, at a time when there's less of a negative connotation in talking about anxiety and depression.
But still, 50% of mental illnesses begin by age 14, and more than 20% of children reported worsened mental health during the COVID-19 pandemic, according to Optum.
"I think it's a big thing," Andrews said. "I think back growing up, it wasn't talked about a lot, and it wasn't stressed. You've got a lot of people talking about this stuff now, which I think is good. If I was younger, having somebody that I looked up to or could talk to about this stuff would have maybe changed how I dealt with things and how I had to learn things the hard way. A lot of times, if you keep stuff in, it festers and festers and manifests in a way you don't want it to."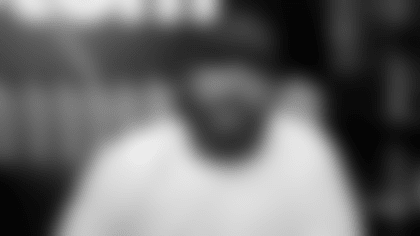 It wasn't long ago that Andrews himself had to dig deep to get through a difficult time.
During the 2019 preseason, the two-time Super Bowl champion experienced a pulmonary embolism and was ruled out for the season. The blood clots brought uncertainty about when he'd be able to get back on the field, if ever.
When asked by Ninkovich how he got through it, Andrews says he leaned on others while also trying to be a help to the team in other ways.
"I missed some time, the whole season in 2019, and for me it was important to still be here," Andrews shared.
"I didn't want to just go home. I was limited in what I could do, but I was still engaged. I went to practice. I wanted to be out there. For me, mentally, that was something that was important to me because I didn't know what else I could do to stay sharp, to keep challenging myself, if I wasn't engaged. I took on a different role to try to help guys and try to be not necessarily a coach, but a guy that could maybe pick up on some things for guys, do different projects film-wise, study things – stuff you don't have time to do necessarily all the time while you're playing and trying to get ready for a game."
Still feeling a part of the team was everything, he notes, and as Andrews realizes he has more playing days behind him than left to go, he's intent on continuing to be a man his teammates, friends, and son can always look up to for advice.
Andrews has partnered with Optum to share the message that your mental health is just as important as your physical health in support of a larger mission.
UnitedHealth Group, parent company of Optum, has invested more than $35 million in charitable partnerships in 19 states and Washington, D.C., all focusing on developing school-based partnerships to improve youth behavioral health, increasing access to behavioral health care services for young people, and growing and diversifying the behavioral health workforce.
To join the conversation and start talking to your kids about mental health, watch the full conversation between Andrews and Ninkovich and check out the resources on OptumConversation.com.