Just a few days before Halloween, late in the night, a fire broke out taking several trailers on the Joint Base Cape Cod with it. Housed in those trailers were thousands of presents that were donated to the Cape Cod Military Support Foundation that would have gone to the families that live on the base.
On Monday, Joe Cardona, an active-duty Navy ensign, announced that the New England Patriots Charitable Foundation, in partnership with WBZ-TV, would donate the toys collected from its annual toy drive to replace those lost in the fire. Joe mentioned how heartbroken they were when they learned of the fire.
The announcement, as well as a visit from Joe, Jordan Richards and Eric Rowe, received numerous smiles and cheers from everyone who attended. When president of the Otis Civilian Advisory Council, Tony DeMambro, asked the guys to return to see how their gift affected the children, without hesitation, Joe agreed to come back.
"I know it will be special that day," Joe said. "As an officer, you see things through and you make sure things get completed. So I'm going to take a lot of pride in getting these toys out here delivered."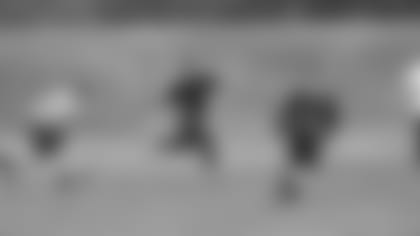 Despite the wind and cold, more than 70 service men and women came out to play a game of flag football with the Patriots as part of the league's Salute to Service initiative.  Joe, Jordan and Eric led their teams through warm-ups with jogging and stretching before they took their places on the field. The Patriots all got the chance to line up behind center and play quarterback for their teams.  After several snaps, Jordan switched to playing receiver to give his red team the edge, but Joe ultimately led his blue team to an 18-8 victory.
Eric was picked off a few times during his game, but still led his team to a victory. Despite the turnovers, he was a good sport and recognized it was all about balance.
"I threw a lot of picks, but I did throw a lot of touchdowns, so it goes a little hand in hand," Eric said chuckling.
While he didn't have a high passer rating, he appreciated every moment he was able to play with the men and women who serve and protect the country.
"It means a lot," he said. "The [chance] to come to a military base and play football, that's kind of goes hand-in-hand right there, especially backyard football. It means a lot to us, especially what they do for our country."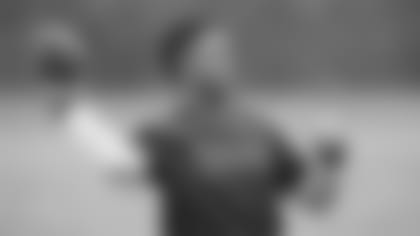 Between the playful trash talk, some strong passes and impressive touchdowns, there was plenty of time for people to snap photos and chat with the guys.
Jordan, who felt honored to play on the same field as the servicemen, thanked everyone for taking the time out of their day to spend time with them.
"I'm appreciative of your commitment to this country," Jordan told the crowd. "The sacrifices you guys make [for] the sake of your family, I don't have the right words or vocabulary to express how thankful I am for that."
Check out the gallery below to see all the fun your Patriots and their teams had.
FUN GALLERY
As part of Salute to Service month, Patriots players Joe Cardona, Jordan Richards and Eric Rowe met with active duty military personnel that are stationed at Joint Base Cape Cod and participated in a friendly flag fooball game with them on Monday, Oct. 7.