When Patriots cheerleaders talk about their fellow teammates, the word most often used is "sisters." They support each other through difficult times and celebrate in their accomplishments, so it's no surprise that when three of their cheerleading sisters landed in the top five of Miss Massachusetts USA competition on Nov. 20, the squad turned out to support them.
As Cheerleader Julia was crowned, earning the title of Miss Massachusetts USA, she was not alone on the stage representing the Patriots cheerleading squad. She shared the stage with current and former cheerleaders Allison and Amanda, making up more than half of the top five.
Julia, who is in her second season on the squad, has competed in Miss Massachusetts in the past, but never cracked the top five. Standing there as a finalist with two of her teammates was a "whirlwind," she said. 
"It was nice to have the support system of them, too. I was thinking, statistically if I don't win, I have two women that I would love to win," Julia said. "And it's true. If I didn't win, I would want it for one of them because I know how hard they've worked. I love them."
Allison is also in her second year on the squad, and Amanda was on the team last year. All three have competed in the Miss Massachusetts pageant together in previous years, so sharing the stage in the competition's final moments was especially sweet.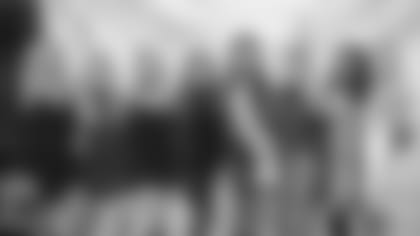 "As soon as they finished calling the top five and I realized all three of us were on there, I was extremely emotional," Allison said. "As I was telling Julia and Amanda, we took over the top five. Patriots cheerleaders took it over. It was a proud moment."
At Julia and Allison's last practice before the competition, the squad surprised them with "good luck" care packages filled with items that would remind them of their sisters in red, white and blue as they took the stage. That kindness, love and support did not go unnoticed.  
"I was overwhelmed with the support that they were giving us. There's a girl that's getting her masters. There's a girl that started her own watch company, and everyone is so supportive of each other on the squad," Julia said. "I will always thank [Cheerleading Director Tracy Sormanti] for that, for picking my best friends for the squad. To have them in the audience meant the world to me."
Allison said she was also overcome with emotion when she realized how many of her teammates came out to support her, Julia and Amanda. 
"It's honestly a family to me. It brought me to tears actually when I did see them [after the show]. I don't have any siblings, so for me that was huge, an emotional experience to say the least," Allison said. "One of your teammates and your sisters just won the title. All your friends are cheering you on. We just made top five. There was no lose-lose throughout the weekend." 
While it hasn't fully sunken in for Julia that she will be competing in Miss USA in 2017, she said her teammates are ready to plan their trips as soon as the dates are announced. This includes Allison.
"First things first is packing a bag and supporting Julia at Miss USA," Allison said. 
RELATED LINKS