In one epic weekend trip, Ediancley da Silva Costa knocked out several firsts.
His first trip out of his home country, Brazil? Check. His first trip to the United States? Check. His first time seeing snow, Gillette Stadium and Tom Brady in person? Check, check and check.
Through the Patriots international sweepstakes, Ediancley was one of five lucky winners from around the world who won a trip to Foxborough for the game against the Chiefs on Dec. 8. The contest was open to fans in Brazil, Germany, China, Mexico and Canada, and the winners were given tickets, field passes, flights and a hotel stay for two.
"I can't believe it," Ediancley said. "At first I thought it was some trick, then I realized it was true. I was going to the see [the Patriots]."
Ediancley is a student at Federal University of Maranhão, and he ultimately came to the United States by himself to attend the game. The kindness of the people he met, Ediancley said, was overwhelming.
"The people are so amazing -- at the hotel, all the places I've walked through," he said. "The people are so gentle, so kind, so nice. That's something I really enjoy here."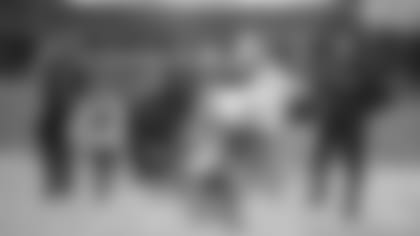 It only got better on Sunday. Ediancley stood on the sidelines, watching the Patriots warm up before the game, and when Tom Brady ran out of the tunnel onto the Gillette Stadium field, he was just feet away. As Jay-Z's "Public Service Announcement" blasted through the stadium's speakers, Ediancley reaction was nothing less than pure joy.
"That was Tom Brady!" he said in disbelief.
After the Patriots left the field, Ediancley and the other contest winners met Robert Kraft and took a photo on the field before heading to their seats for the rest of the game. While it was a quick weekend trip for Ediancley, it is certainly one he won't soon forget.
"It's awesome. I watch on TV," he said. "I'm really close to them [right now]. It's really amazing."