Brian Hoyer may be a veteran on the gridiron, but as it turns out, he's also experienced with a griddle. 
On Monday morning, Brian poured pancake batter in the shape of Mickey Mouse, patiently watched it bubble and didn't flinch as he expertly executed the perfect flip. 
"I'm just trying to keep my customers happy," Brian said with a smile. 
Brian, Joe Cardona and Deatrich Wise spent the morning at Boston Children's hospital making pancakes and hanging out with kids and their families for the Patriots Foundation's annual pancake breakfast. 
While Brian was landing all of his pancake flips, Deatrich and Joe started the day off rough. The flips started off messy but eventually the two got into a rhythm. 
"I have a lot of room for improvement. There's definitely a lot of technique to worked on and a lot of improvement to be had," Joe said.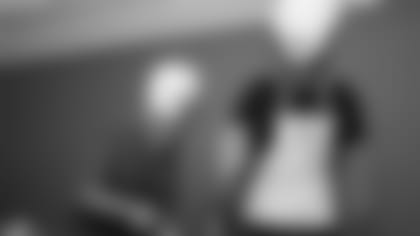 The quality of the pancakes mattered little compared to the reason they guys were there. Deatrich, Joe and Brian signed footballs, talked to kids and their families and even helped cut pancakes up for some of the younger patients. The morning was a chance for the kids to get out of their rooms, meet guys they watch every Sunday and have a good time. 
Gabe Colenback, 14, stopped by the breakfast with his family and he said it was a fun morning.
"It's awesome," Gabe said. Being in here isn't always fun but coming out and doing something like this makes it better."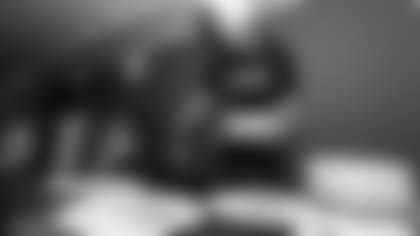 This significance wasn't lost on the Patriots, either. 
"It's so simple for us to come down here and spend some time. These kids are dealing with a lot of things and just to put a smile on their face even for half hour or hour, get them away and not have to think about what they're going through, it's all worth it," Brian said. "You talk about perspective ... They can come down here and enjoy some pancakes, get some Patriots stuff and meet us. It doesn't take anything away from us. It's very rewarding for us to come."
Check out more photos from the pancake breakfast in the gallery below.  
FULL GALLERY
Patriots players Deatrich Wise Jr., Joe Cardona and Brian Hoyer, along with Patriots cheerleaders, served pancakes and visted with patients during the annual pancake party at Boston Children's Hospital on Monday, March 5, 2018.