Through the Celebrate Volunteerism initiative and in partnership with WBZ, the New England Patriots Foundation is hosting their annual toy drive to benefit children in need during the holiday season.
Starting on Friday, Nov. 29 and running through Wednesday, Dec. 18, fans can bring new and unwrapped toys to the blue and white collection bins at the following locations:
Elevator lobby to Patriot Place
Entrance to the Patriots Pro Shop
Entrance to the Patriots Hall of Fame presented by Raytheon
20 & 22 Patriot Place – Brigham Health and Brigham and Women's/Mass General Health Care 
Faneuil Hall Marketplace
Donations will also be accepted prior to the Patriots vs. Kansas City Chiefs game on Sunday, December 8 at Gillette Stadium.
Collection bins will be at the following locations outside Gillette Stadium on game day:
Bank of America entrance gate
Enel Plaza entrance gate
uBid.com entrance gate
Empower Field House entrance gate
West Club entrance (between W2 and W3)
East Club entrance (between E2 and E3)
Entrance to the Patriots Pro Shop and the Hall at Patriot Place presented by Raytheon
Patriot Place elevator lobby
Please note that due to NFL security policies, these bins will be located at least 100 feet from each of the entrance gates to Gillette Stadium on Sunday, Dec. 8.
All toys donated by fans will be personally delivered by Patriots players, cheerleaders and staff members at upcoming holiday charitable events. Toy donations must be new and unwrapped. Toys will serve children ranging from newborn to 18 years old.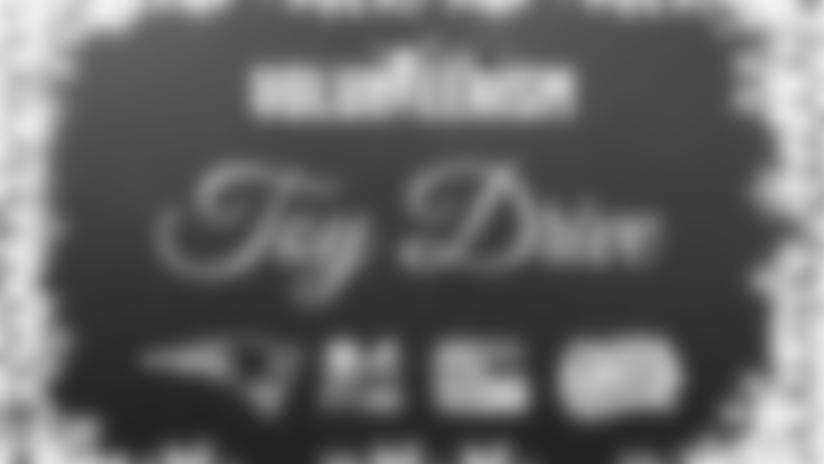 Suggested items to donate:
Action figures
Art supplies including markers, washable paints, colored pencils and drawing pads
Board games
Books
Building toys (blocks, etc.)
Dolls
Educational toys (science, math, reading, etc.)
Footballs, soccer balls and assorted sporting goods
Jewelry kits
Musical toys
New teddy bears/stuffed animals
School supplies
Toy cars and trucks
Winter clothing – gloves, hats, jackets and mittens
On behalf of the Kraft family and the New England Patriots Foundation, we thank you for your generous donation and for helping us spread some holiday cheer to children in need this holiday season!