Every summer, the Patriots Foundation celebrates local organizations by inviting them to training camp. They sit in a private tent with a different angle of practice, and in typical years, Patriots players always swing by to sign autographs after practice.
For the 2021 Patriots training camp, the foundation made sure to honor those who didn't have the option to stay home throughout the pandemic, inviting different groups of local frontline workers. From teachers to EMTs, it is a small way to say thank you for all they've done since March 2020.
Teachers from both Foxborough and North Attleboro each spent days at training camp. A year of virtual learning was trying, difficult and exhausting for teachers and families. North Attleboro High School Principal Peter Haviland said that in spite of the challenges, it was an inspiring year.
"It wasn't fun, but it was one of the most inspiring school years that I've ever been around," he said. "The reason being is because everyone created a way in which they had to do their work without ever having done it before. There was not model to reference. Teachers created the process of education, leveraging technology. Parents learned a whole new way of supporting their own children. There was a lot of faith and trust that was embedded in the whole process."
Kara Ryan, a middle school math teacher in Foxborough echoed this.
"It was a tough year," she said. "We had a lot of ups and downs, but we also had a lot of really bright moments with the kids."
Both Ryan and her coworker Alan Scharman said that parents came back with a greater appreciation for what they do on a daily basis. It was tough on everyone, Ryan said, including families who had to teach their students and balance work. That burst of gratitude was welcome, as was the invitation from the Patriots Foundation.
"I feel very honored by the Patriots. We're glad they were thinking of us. We think of them," Scharman said. "We love the Patriots here in Foxborough."
"And our kids do too. I think that they will appreciate knowing that we were here," Ryan said. "I think the kids will be like, Oh my gosh, those are our teachers. I think that's kind of a big deal to them is knowing that we were here."
For Mark Copithorne of the Mansfield Fire Department, being at Patriots training camp was a nice reminder to those who put themselves at risk throughout the pandemic were valued and seen.
"It's rewarding to feel like people do recognize that the front line workers were out there, putting themselves out there in potential harm's way," he said. "Especially at the beginning phases, nurses, doctors, police, firefighters, all of those people who were out there who had no ability to stay home. We're very thankful that they gave us this opportunity and recognize what we were dealing with throughout throughout COVID."
Copithorne and his fellow firefighters were going into people's homes to do their jobs and had to live with the fear they would bring COVID home with them. Unfortunately, that fear of being exposed to COVID and coming home became a reality for Copithorne and his family. Luckily, he, his wife and kids were ultimately okay, but everything that's come since March 2020 was and still is scary.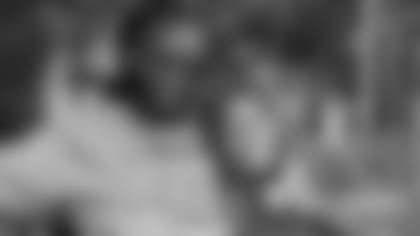 "It was a difficult time, especially in the beginning phases when we really didn't know what we're facing. And yet, we didn't have that option to stay home from work," Copithorne said. "It was a little scary going into work not knowing how it was going to affect me as an individual or the guys that I work with walking into these people's homes, as we do EMT as well, going in and out of hospitals, as well as coming home after a shift."
While Copithorne, Ryan, Scharman and Haviland chose careers that serve, there were also folks who volunteered their time to help those in need. Throughout the pandemic, the Massachusetts Military Support Foundation teamed up with the Patriots Foundation to provide meals for veterans and their families dealing with food insecurity. Day in and day out, volunteers packed up boxes of meals and handed them out to veterans in need.
Over the course of the year, the volunteers with Massachusetts Military Support Foundation grew close as a team, as well as with the veterans they serve. One volunteer, Chrissy Lantz, was getting married. On her wedding day, she still showed up to help hand out meals -- in her wedding dress.
"The vets wanted to see that. That's how we are. We don't just do food," she said. "We're all personal with each other. It's become a collective family between our vets and our team."
Though they have been working consistently with the Patriots Foundation since the start of the pandemic, it was another thing entirely to be invited to camp not to work but to just enjoy themselves.
"We don't expect recognition. We just go and we know that we want to do the very best we can for the people that have served. To be recognized is just really sweet," volunteer Lisa Zagura said. "You always get paid a million times back [when you volunteer] and the fact that it's by the Patriots is awesome. It's really cool to be acknowledged and to be appreciated in this way."