Shawn McCarthy has been a Patriots fan since he was old enough to understand the game of football. Though he has been rooting for New England his entire life and converted his wife and two kids into fans, Friday was the first time he has ever seen a Patriots player in uniform or seen the practice fields of Gillette Stadium.
The McCarthy family was able to catch a day of training camp before flying back home to the Naval Air Station Sigonella in Sicily, Italy, and the experience was a special one for the family.
Shawn and his wife Susan both grew up in military families, which meant bouncing around the globe and being taught at schools on base by Department of Defense employees. Now, Shawn and Susan are teachers themselves in the Department of Defense Education Activity system of which they were once students. 
Between Shawn and Susan, they have lived in Germany, Hawaii and Holland, just to name a few,  and with summers the only available time to travel, Shawn said he was never able to catch Patriots events, despite most of his family hailing from Springfield, Massachusetts.
He said he remembers growing up in Germany, staying up late to watch the team play, including the Super Bowl XX game against the Bears. Though Susan said her family never got into football, she has since come around to the Patriots side, and their children also don the red, blue and silver on game day.
Spending the day at training camp is something of a dream come true for Shawn, especially because to share it with his kids, Teven, 11, and Emmy, 13.
"It makes me feel like a kid again," Shawn said. "It's one of the great things of being a fan of any team, when you can pass it on to your kids because that becomes a tradition within the fan base and also within your family."
Each summer, Susan and Shawn bring their children to the United States to visit family and explore sites. This gives the family a chance to explore the culture of the country, even while they live overseas. From Comic-Con in San Diego to following the 2016 campaign trail, this summer's trip was about connecting the kids to American culture and giving them a tie to the country.
"That's what we try to do. We try to give them a full kind of breadth that an American kid might experience in a year to make sure that they're rooted in American pop culture and with their relatives," Shawn said. "A lot of kids don't get a chance to do, especially the pop culture things, so we try to bring some of that stuff back with us."
Living on base and away from American culture is difficult for many of the families overseas, as Shawn and Susan know from their own childhoods, as well as watching their kids and students. Many kids, he said, can feel lost when it comes to identifying a home.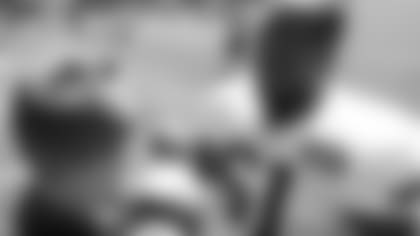 "Military and Department of Defense (DoD) kids are kind of nomadic. It's like you're adrift," Shawn said. "You know who you are but sometimes you don't know exactly where you're from, and that's one of the toughest questions you can ask a military or DoD kid living overseas. 'So where are you from?' It's the quintessential question that a kid cannot answer."
Being able to bring his family to Patriots training camp was a way to help clear up that question, at least when it comes to supporting an NFL team. This pride in New England sports has helped keep the family strongly connected to the region.
"My parents instilled in me that kind of connection to the Northeast, and with the Patriots and the Red Sox, I know it's been important to me throughout my life and it's cool that the kids get to have that same connection now too," he said. "It reminds you that you're American, and as an American someone will say, 'Well, who's your NFL team.' Our kids say 'Oh, well I don't really know,' or they can say, 'All my relatives are from Massachusetts. I went to Patriots training camp when I was little.' That makes it more real, more concrete and less abstract."
The McCarthy family recognizes they are lucky in this sense. Not every family is able to return to the United States and experience the culture and traditions firsthand, so they put it on themselves to share what they learn on each trip with their students and friends on base. Whether it is donating the football they had autographed by Jimmy Garoppolo, Tyler Gaffney and others at camp to a student or just sharing their stories, it is important for these families to feel connected to home, he said.
And from this trip alone, the McCarthy's will have quite a bit to share.
As Tom Brady walked out onto the practice field, holding his red uniform, Shawn trailed off, tapped Teven on the shoulder and pointed to the quarterback they had only seen on a television with a six hour time difference.
"That's …. That's cool," Shawn said. "Obviously, he grew up with me watching the Patriots, but I think now those roots are firmly planted in the grass at Gillette Stadium."
RELATED LINKS