FOXBOROUGH, Mass. – Heading into and then during their eventual Super-Bowl-winning playoff run a year ago, the Patriots ran the football most efficiently. As a team, the combination of lead back Sony Michel and complementary pieces James White and Rex Burkhead inflicted significant damage on opposing defenses. As a result, New England was able to extend drives and shorten games by draining considerable amounts of the clock, particularly in the early stages of games.
As both the calendar year and the 2019 regular season have drawn to a close, New England's ball carriers are once again hitting their stride at just the right time. With another postseason appearance on the horizon, the Patriots' backfield committee is once again carrying its weight.
Over the final six weeks of the regular season, New England as a team rushed for more than 100 yards five times and just missed doing so on the other occasion (they ran collectively for a total of 94 in the loss to Kansas City earlier this month). Contrast that with combined net rushing yards of 74, 79, 74, and 74 in the previous four games from late-October through mid-November.
Numbers and statistics can sometimes be misleading, but Patriots offensive line coach Dante Scarnecchia agrees that New England's rushing attack is in a better place now than it was earlier this season. Is this simply a byproduct of players executing their assignments better or more consistently?
"I think that's a big part of it," Scarnecchia replied, "and then confidence. 'Okay, this is going to be all right.' That's as much [a factor] as anything… [Having] early success in doing it [in games] and then continuing doing it throughout the course of the game, especially at the end, when you need to do it."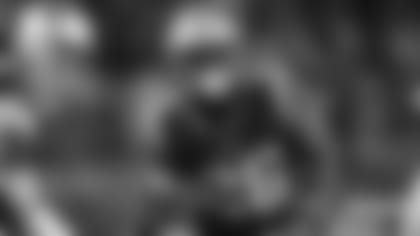 The longtime Patriots assistant coach also credited the overall general health of his offensive line, in particular right guard Shaq Mason, and the experience gained by left tackle Isaiah Wynn. Though technically in his second season, Wynn is essentially a rookie after missing all of 2018 with an Achilles heel injury.
"Sure, and [Wynn's] getting used to playing against the quality of players in this league every week. That's a big part in it," added Scarnecchia. "I'm glad we have him out there, glad he's setting in, being more comfortable, especially with [left guard] Joe [Thuney]. We need him to be the kind of player he can be on a consistent, every-down, every-game basis.
"[Mason] is moving better, and I think he's playing better. This guy's a really good player… We really like what he's doing over the last couple of weeks. He's playing the way we want him to play and need him to play."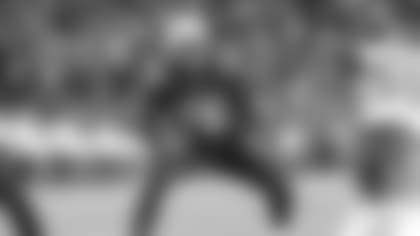 Another element to what's been a successful equation: the conversion of co-captain Elandon Roberts from linebacker to part-time fullback. 
Rewind for a moment to Week 2, when Pro Bowler James Develin's season abruptly ended due to a neck injury suffered in the win at Miami. The Patriots appeared to have a viable solution waiting on the practice squad in the form of International Player Pathway program participant Jakob Johnson. Yet, after only four games, Johnson's promising start came to a screeching halt when he, too, suffered a season-ending shoulder injury.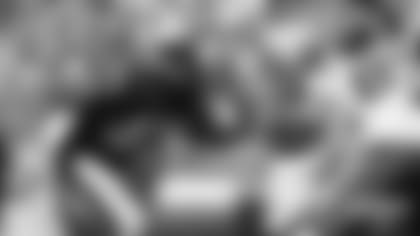 Develin played an instrumental role – along with New England's tight ends – in the Patriots' ability to run the football so well last season. That continued to be the case at the start of this season, as the Patriots rushed for 99 and 124 yards in Weeks 1 and 2. Behind Johnson, New England's ball carriers saw a brief dip in output before steadily climbing back over the century mark in games 5 (at Washington) and 6 (versus the New York Giants).
To his credit, Develin has remained a fixture in the locker room, in meetings, and on the sideline during games to assist however he can. However, with both Develin and Johnson unavailable to play, New England found itself in dire straits at the fullback position.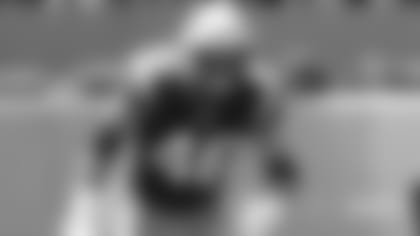 "We needed a fullback. We needed to be able to keep the scheme going," longtime Patriots running backs coach Ivan Fears acknowledged.
When someone on head coach Bill Belichick's coaching staff suggested Roberts, Scarnecchia recalled, "We all said, 'Why don't we just do that.'" He remembered doing something similar when he coached offensive line at Southern Methodist University during the early 1980s – a team that featured the dynamic "Pony Express" running-back tandem of Eric Dickerson and Craig James.
Scarnecchia and his then-colleagues at SMU decided to convert a talented-but-underutilized defender named Jerry Kovar to help open up holes for Dickerson and James.
Roberts' aggressive style of play as a linebacker seemed ideal to attempt an experiment at fullback.
"Elandon is great at going downhill and knocking the [stuffing] out of somebody. We were kind of excited to have him do it [on offense]," Fears explained. "If we could use that to help us, we were going to use it… he's there on game day, so, why can't we get a little bit more out of him? That's what we did.
"Most importantly, he was willing. He wanted to do anything he can to help. He really did. That made it a lot easier."
"Thank goodness for him," Scarnecchia continued, "because we like to have a fullback in front of our backs."
New England eased Roberts into the role, putting him in for three plays against the New York Jets in Week 7, the first game without either Develin or Johnson. Roberts then saw one snap, none, and seven in the following three games. Those were the games, coincidentally or not, when the Patriots rushed for their lowest collective totals of 2019, that aforementioned stretch of mostly 74-yard outputs.
Since then, Roberts has seen action at fullback on a more regular basis, with 10 and 21 snaps in Weeks 15 and 16, which saw Patriots ball carriers pile up 175 and 143 yards, respectively.
"He's a very fiery-type guy," said Fears. "He brings a lot of energy when he comes to the field, and he's excited about it. It permeates through the rest of the guys. Everybody's happy to see him out there. He gives everything he's got, which is very important for us."
"Bless his heart, he's doing everything we ask him to do," Scarnecchia raved about Roberts. "He's been so good about taking and embracing this job that we've asked him to do, albeit on a short, smaller scale than certainly Develin would have done, but we're happy that we have him. And he gives us a lift – the emotional side, desire to do well, and all that. We'll continue to use him, and it'll be very much in the same role."
MORE THAN A PASSING FANCY
Indeed, Roberts continued adding to his role during the Week 17 loss to Miami here at Gillette Stadium. Though Roberts saw action on offense for just seven plays that afternoon, two of those went for touchdowns. First, he helped lead-block for Michel's 4-yard run in the second quarter. Then, in the third quarter, Roberts veered out to the flat, where he was left uncovered on a pass play. QB Tom Brady threw to Roberts, who made an athletic 180-degree leaping turn to complete the catch. After eluding an oncoming Dolphin defender, Roberts kept his balance along the sideline and raced to the end zone for a 38-yard touchdown.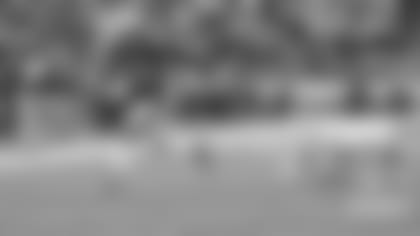 "For me, it's always good to help the offense out," Roberts remarked a few days earlier. "I'm 100 percent a defensive player. But at the same time, when it's this late in the season, and it's playoff time, and you're taking this game like a playoff game, all your players got to be used.
"I feel grateful enough to be able to go help the offense out. Wherever Bill [Belichick] and them guys need me, I'm more than open. Because at the same time, it's do or die. When I'm on the offensive side of the ball, I'm going to give 100 percent for those guys. My mentality is my mentality, it's not going to change. It's a do-your-job mentality. Physicality is a part of the game, so that's going to come with it, regardless."
When it comes to the Patriots' backfield, finesse is as much factor as physicality. In the final three games of 2019, Burkhead has seen more work as a ball carrier, getting the call a half-dozen times in each of those appearances. His lightning-quick moves to elude defenders have brought excitement to the running game, as he's averaged 8.8, 4, and 8 yards per carry.
Meanwhile, he and White have also contributed in the passing game as recipients of screen passes that offensive coordinator Josh McDaniels called more frequently toward the end of 2019.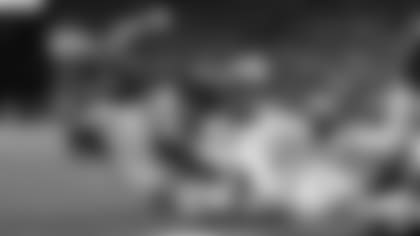 "I think we made a good improvement," White said of those particular plays. "Screen plays are team plays. It takes everybody for them to be executed, from quarterbacks, running backs, receivers, offensive linemen, tight ends. They can create a huge play for us. If Coach McDaniels dials it up, everybody has to be on the same page to get it done and it usually creates big gains for us. Those plays are called, you just want to try to create a big play."
Veteran Brandon Bolden had more of a role offensively earlier in 2019, yet he's still managed to run for three touchdowns this season while averaging a solid 4.5 yards per carry. Bolden has even started a couple of games (versus the Jets and at Philadelphia), though his primary role is as a special teams contributor.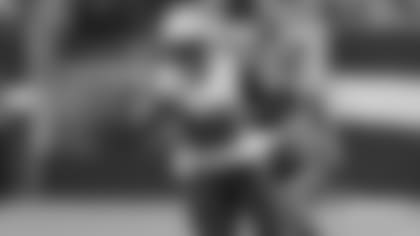 One rusher the Patriots haven't relied on much this season is third-round draft choice Damien Harris, and this is not altogether surprising. Despite a couple of weeks dealing with a hamstring injury, the rookie has mostly been a healthy deactivation on game days.
This is not, however, due to a lack of talent or effort, according to Fears, who explains that Harris' limited appearances (just two games, both against the Jets) are in part the result of a logjam on the depth chart.
"Everything's going well. We just haven't had the injuries we normally have at the position. You know, we've been very healthy. So, it's kind of hard to carry five backs to the game. We've got some guys that do a lot of work on special teams. Until he develops a role there, then he'll get a chance to be part of that game-day roster. But Damien's done a great job. Would love to see him [on the field]. I think he's got a great future. I really do. I think he's going to be a really good back in this league."
Like young Patriots ball carriers before him, Harris will get his opportunity eventually. As a rookie on the Super Bowl Champion 2014 Patriots, White appeared in just three games, ceding time to more experienced players like Shane Vereen, Stevan Ridley, LeGarrette Blount, and Jonas Gray.
In Vereen's rookie year of 2011, another Patriots Super Bowl squad, he had to wait his turn while the likes of Kevin Faulk, Danny Woodhead, and Benjarvus Green-Ellis saw the field. Vereen was active only five times that season.
"No, it's not [unusual]," Fears emphasized about Harris' current situation, "and Damien's done everything. He just needs an opportunity to get out there and show everybody else what he has. We see it in practice and we're very pleased with where he is. Really. I think the kid's got a bright future."
In the meantime, the Patriots enter this weekend's Wild Card duel with the Tennessee Titans that finished 2019 ranked 12th best in the NFL against the run, allowing an average of around 105 yards per game and four per rushing attempt. Those are roughly equivalent to what the Patriots offense produced on the ground over the course of 16 regular season games.
The ability both to run and pass the ball Saturday night at Gillette may be crucial to the Patriots' hopes of scoring enough points to beat the Titans.
"We like balance in our offense," Scarnecchia admitted. "Hopefully we'll be able to have continued balance in our offense this week."
"I'll put it to you bluntly: I only care about winning the game," Fears declared. "So, whatever it takes to get that done, that's what I'm looking forward to. I always think we can be better than what we are, and I think we can be better than what we did last week.
I think the guys did a good job, but we've got to find a way. Just find a way [to win]. Whatever it takes. Let's get it done for that game."
In the NFL postseason, that's really all that matters.