When it comes to navy, red and silver, we all know Patriots players can pull off the look. It's crisp, fresh and suits them.
But earlier this month, they proved they can look good -- fashionable, even -- outside of their typical get up. Matthew and Shahrzad Slater, David and Mackenzie Andrews, Duron and Christine Harmon, Lawrence and Andrea Guy, Jordan and Mary Richards, Ted and Rachel Karras and James and Skylar Ferentz all hit the stuff on the runway to raise money for a cause.
The Patriots and their families showed their fashionable sides for Christopher's Haven's annual fashion show fundraiser. **Christopher's Haven** is a non-profit that provides housing and a comfortable environment for kids who are undergoing treatment for cancer in Boston and their families.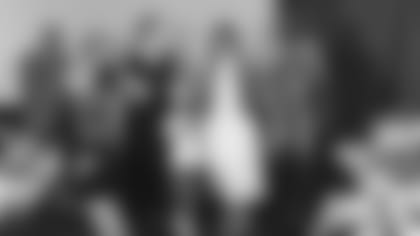 The event features Boston athletes walking the runway with their families, as well as current and former guests of Christopher's Haven. It's a night of fun, fashion and touching stories, and Lawrence said it was nice to be able to share it with his wife and young daughter.
"It's great, especially when I get to have my family here. It's special for all of us to be able to have the opportunity to do an event like this," Lawrence said. "To have [our families] with us shows everybody in the room we're all doing it together. It's not just me. It's a family thing, and it feels good."
Duron echoed that, saying it was a special moment for the kids of Christopher's Haven, who were the true stars of the show.
 "It means everything, not just to have my wife and kids here and walking down the runway, but for the event, raising money and walking with these kids," Duron said. "That's what it's all about, having them be able to walk down the runway as well and feeling special."
The Patriots weren't alone at the event either. Patrice Bergeron and Tuukka Rask both attended with their families, and while the Red Sox were playing a game that night, several of their families came out to support too.
Though most of the guys haven't spent much time on the catwalk, they were naturals. They smiled, waved and, in the case of Ted, added flare with a hat tip. While almost all of the Patriots opted for suits, the Harmon family opted for fun and casual summer style that stood out on the runway. Duron rocked a bright floral shirt with cutoff denim jeans to match Christine's white dress and his sons' hip summer look.
"That's about as good as I could get with fashion," Duron said with a laugh. "I think I have a bit of uniqueness to me."
You can check out the rest of the looks in the gallery below.
Patriots players, their wives and children hit the runway for Christopher's Haven.