On Thursday, 11 women were the definition of relaxed. There were manicures, massages, yoga and laughter, and while it may sound like a typical "girls day" getaway, it was much more.
These women enjoyed a stress-free day, something they haven't been able to do for weeks, months and, in some cases, years.
The Patriots invited the group, all of whom are battling cancer, for the third annual Day of Pampering. The women were picked up at their homes, had spa treatments at Gillette Stadium, did reiki and painted at Muse Paint Bar at Patriot Place. They were treated to healthy breakfast and lunch, and surprises were around every corner throughout the day. 
During lunch, where they were joined by Hall of Famer Andre Tippett, Michelle McCourty and Shahrzad Slater, Robert Kraft addressed the group and game tickets to Sunday's game to each woman and a guest. Mr. Kraft said it is important to have things to look forward to during this battle.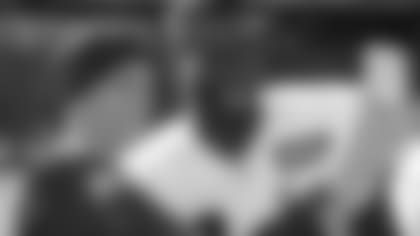 "I know when that's going on we all need little pick-me-uppers," Mr. Kraft said.
He was right, according to Lisa Rapoza of Foxborough. She was diagnosed with breast cancer in 2015 and has been battling infections for a year and a half, including a minor surgery just two days before coming to Gillette Stadium.
"I feel so carefree today, relaxed and happy, especially about going to the game on Sunday. I spent the Super Bowl in the hospital ... My brother got permission and brought a big screen TV into Tufts, and my husband was with me," Lisa said. "We watched the Super Bowl there, and a bunch of the nurses came in and watched with us. This is kind of my Super Bowl on Sunday night because I was in the hospital."
That wasn't the only pick-me-up of the day either. The event ended with a visit to the Gillette Stadium field, where all of their names flashed on the boards. As the smiled for a group photo, a few visitors made their way to say hello.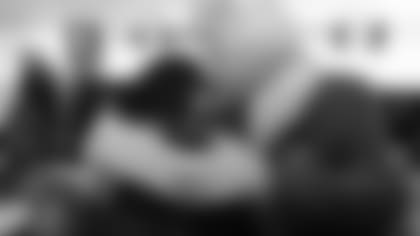 Devin McCourty, James White, Brandin Cooks, Nate Solder and Stephen Gostkowski signed autographs, took selfies and offered words of encouragement to the group, and while the day was already great, each surprise made it even better. 
Carol Hall of Stoughton, Mass., was diagnosed with ovarian cancer in April 2012, and she said it is important for her to stay busy. This day was a perfect way to do so.
"Any day that I can escape just the thought of what I've been going through ... I look for all kinds of diversions. I keep myself very busy. I'm always doing something so that I'm not sitting home and worrying about myself. I've got better things I want to do," she said.
Spending the day with other women who understood exactly what the other was going through made the experience that much sweeter. It was a chance to talk about the "stuff they don't tell you when you get diagnosed with cancer," Lisa said. 
And it was a reminder that they are not alone.
"I've already made arrangements to meet up with one or two of them come Monday when I go in for treatment," Carol said. "To be able to share things with someone that, up until now, I really haven't had anybody except for my caregivers, my family, and they have been exceptional. I couldn't ask for anything more." 
For more pictures from the Day of Pampering check out the gallery below.
FULL GALLERY
The Patriots treated 11 cancer survivors to a special "Patriots Day of Pampering" at Gillette Stadium on Thursday, Oct. 19, 2017. The women received manicures and massages and took part in relaxation yoga. They also visited with Patriots Chairman and CEO Robert Kraft as well as Devin McCourty, Nate Solder, Brandin Cooks, James White and Stephen Gostkowski.