…Another week, another potentially devastating injury for the Patriots. Left tackle Sebastian Vollmer (who's normally the team's right tackle, but has been subbing for Nate Solder since October) went down on the opening drive with a left ankle injury. It happened on 3rd-and-1 from the NE 39, when FB Joey Iosefa took the handoff from QB Tom Brady and spun at the line of scrimmage to try to gain extra yardage. He wound up falling on Vollmer's ankle in the process, along with a few Jets defenders. All that weight seems to have caused the injury. It's unclear at the moment just how severe Vollmer's injury is, but judging by the fact that a cart had to wheel him off, it's not encouraging.
…In Steven Jackson's debut as a Patriot, it was Brandon Bolden who got the start at running back and had an active opening stanza. He touched the ball five times, twice on carries, and gained 23 yards.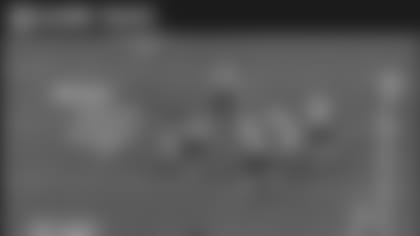 …Like its first, New England's second possession also ended in a punt when RB James White was thrown for a five-yard loss on a 3rd-and-3 screen pass. Looked like center Bryan Stork was late in recognizing whom he had to block. LB David Harris was that player, and by the time Stork realized this, Harris was in the backfield tackling White almost as soon as the back caught the ball.
…The Patriots were lucky not to have been down by more than three points after the first quarter. Jets QB Ryan Fitzpatrick overshot his receivers on deep throws several times in that quarter, and the Jets' backs were finding running room right up the middle of the New England defensive front.
…New England did a much better job defending the run when the Jets backs went outside.
SECOND QUARTER
…Jackson saw his first touch with New England in the early second quarter. Nice, hard run up the middle for five yards to pick up a first down. His second carry, on the very next play, might have gone for more than the minus-1 he got, were in not for pulling left tackle LaAdrian Waddle, who was supposed to be the lead blocker, but got in the way more than anything else. He slipped and fell in front of Jackson, forcing the ball carrier to change direction and run right into a Jets wall of defenders.
…New England ran a rare flea-flicker that very nearly worked. Brady's deep ball to TE Rob Gronkowski was just a shade overthrown, or the Patriots would likely have been set up with a 1st-and-goal from about the Jets' 5.
…Next play was a traditional reverse, with White giving the ball to WR Brandon LaFell and Brady lead-blocking on the other side. LaFell was taken down a yard short of the necessary first-down yardage.
…The play after that, the Patriots went into Wildcat formation, with Brady starting under center, then motioning to the right as a flanker. The direct snap went to Bolden, who didn't get anywhere, bringing up 4th down. With the Patriots missing WRs Danny Amendola and Julian Edelman, this three-play stretch was indicative of how creative the Patriots have been forced to get with their play-calling to generate yards recently.
…New England then went for it on 4th down and used a somewhat traditional play-action to White, which tempted the Jets to rush Brady, leaving White wide open to collect Brady's floater and get the 1st down.
…Tough day for CB Leonard Johnson, who seemed to concede nearly every pass thrown his way, no matter which receiver he was covering (Eric Decker, Kenbrell Thompkins).
…CB Logan Ryan was beaten by WR Brandon Marshall for the first Jets TD. He was in man coverage as Marshall motioned from right of formation to the left. Marshall took the pass in the flat,  but Ryan got slowed down by a semi-screen/pick play by WR Quincy Enunwa, who was covered by rookie safety Jordan Richards. Enunwa intentionally slowed his route down to get in Ryan's way without making contact. This gave Marshall the space he needed to corral the pass, turn, and reach the ball over the goal line. Hard to fault Ryan for not getting there in time.
THIRD QUARTER
…Brady's INT at the start of the third quarter, during what was shaping up to be a potentially successful opening drive, looked to be a case of not being on the same page with his intended receiver, Gronkowski. The tight end was running a post pattern and it appeared Brady was expecting either an out or a curl and threw it significantly behind Gornk. CB Darrelle Revis received a gift of an INT.
…Ryan struggled into the second half with Marshall. One pass he surrendered, Ryan was in perfect position and had his hands right where they needed to be, but the taller Marshall was able to hang on to the back-shoulder pass. However, on the second Marshall TD, Ryan had safety help from Duron Harmon. As a result, Ryan appeared to allow Marshall to get by him and was trailing in coverage, which ultimately made the difference in the play. Fitzpatrick's ball was a bit underthrown and Marshall made a nice adjustment on Harmon at the goal line, putting a swim-like move on him. Ryan was still a few steps behind, but had he been covering closer, he'd have been in position either to knock the ball down or pick it off.
…Brady was sacked on 3rd-and-8 on the ensuing possession. He was getting pressured up the middle and from his right, which forced him to step up in the pocket, directly behind Waddle, who was engaged with OLB Lorenzo Mauldin. The defender ripped under Waddle's outstretched arms and dove for Brady's legs. Brady tried to pull out of Mauldin's grasp and fell to the ground in the process.
…The Patriots finally got in the end zone, thanks to their defense. DE Jabaal Sheard made it happen by bull-rushing Jets RT Breno Giacomini. Sheard had better leverage and got Giacomini to turn sideways, leaving Sheard a clear path to Fitzpatrick. Just as Fitzpatrick was uncorking his pass, Sheard reached out with both arms and grabbed Fitzpatrick's right arm, causing the ball to pop free. After rolling around on the ground for a couple moments, the ball eventually found its way to LB Jamie Collins, who scooped it up and raced 14 yards to the end zone. Marshall tried to tackle Collins, but the linebacker gave him a perfectly placed shove to the chest and continued on his way to the end zone.
…Enunwa was the beneficiary of some sloppy tackling by the Patriots on his 21-yard reception at the end of the third. Should have been a short gain at best. Foreshadowing of things to come for Enunwa. 
FOURTH QUARTER & OVERTIME
...Brady was sacked a second time at the beginning of the fourth quarter. TE Michael Williams was doing a decent job of fending off DE Sheldon Richardson, but then Brady stepped up so far in the pocket that he was ahead of Richardson. Meanwhile, Waddle was again having difficulty with his man, who was applying pressure in front of Brady, which caused him to hesitate and try to duck away. Richardson then abandoned Williams and chased Brady down from behind.
…Waddle was hurt on the next possession on a seemingly innocuous running play. He just seemed to block down; didn't seem like anything unusual occurred, but Waddle clearly did something to his left shoulder and couldn't finish the game. Cameron Fleming came in for the remainder of the contest.
…Another fourth-down conversion by New England was the result of a wonderfully executed criss-cross route. White was the flanker left, Gronk in the slot. At the snap. White ran a slant, Gronk and underneath cross. White didn't make contact with Gronk's defender or even slow him down, but Gronk is such a mismatch with any defender that he was able to get open just enough for Brady to find him for the short gain that picked up the 1st down.
…New England tied the game on this same drive with another great route run by White. Coming out of the backfield to the left, and Harris, the linebacker, came over to cover him. White planted his left foot when Harris arrived around the Jets 10, as if he was going to turn outside, but quickly cut inside. Harris overpursued, running right past White, who now had nothing but green fake grass between him and the end zone.
…That tied the game, but the Patriots nearly had a chance to win it when the Jets got the ball back. On 2nd-and-4, Fitzpatrick was in the shotgun and looked to pass to his left. DE Rob Ninkovich, in an unconventional position at middle linebacker, rushed up the middle, but then went to the outside, to his right (Fitzpatrick's left). As Fitzpatrick threw, Ninko jumped up and raised his arms. The ball hit is arm, then his helmet, and flew straight up in the air. Collins was the closest Patriot to the ball, but was just too far from it to get there before it hit the ground. New England would have at least had the ball just outside the Jets red zone with about a minute-and-a-half to play. That would have likely won the game.
…New England nearly got the ball back two plays later, but CB Malcolm Butler was called for pass interference on Decker on 3rd down. Butler definitely had his right hand on Decker's body, but it was a close call on whether it actually impacted Decker's ability to make the catch. Tough break for the Patriots. The Jets eventually did punt, but not after gaining more yards and draining more time off the clock, leaving the Patriots with virtually no chance to mount any sort of meaningful drive.
…There was no confusion about the decision to kick off in overtime. New England wanted to do so, as Bill Belichick and his players clearly stated afterward. The confusion, on co-captain Matthew Slater's part, stemmed from his not realizing that he couldn't choose more than one thing at the coin flip. If he chose to kick, he couldn't then choose which side to defend. That's when he started to protest with referee Clete Blakeman. Not because he wasn't sure about whether to kick or not.
…In overtime, Enunwa was again the recipient of a bad play by the Patriots defense. Backup safety Tavon Wilson, trying to come across and defend the receiver, inadvertently ran into Johnson, his fellow defensive back, which gave Enunwa the open space he needed along the sideline to turn up-field and gain nearly 50 yards on the catch-and-run. That play essentially sealed New England's fate.
…The final play was Fitzpatrick's touchdown to Decker, who just ran a simple corner route from the right slot. Other than his PI call, Butler hadn't surrendered a pass all day. On this play, though, he never got a jam on Decker at the line and was trailing the whole way. Fitzpatrick tossed a precise pass over Butler's head and into the waiting arms of Decker for the easy pitch-and-catch.