Patrick Chung can defend the best receivers in the NFL, but when he went up against 15 fierce student competitors on Wednesday, he didn't stand a chance. With a line of students tossing footballs over his outreached hands at Harvard Stadium in Cambridge, Patrick was all smiles.
Patrick, Jimmy Garoppolo and Devin Lucien helped lead football drills with the Harvard University football team on Wednesday with students from AccessSportAmerica. The organization is dedicated to "inspire higher function and fitness for children and adults of all disabilities through high-challenge sports and training," according to its website, and the morning pushed each athlete to give his or her all with the help of the Patriots and the Crimson.
While Patrick was busy showing the athletes how to defend, Jimmy ran a throwing station and Devin challenged the athletes with an agility station. The clinic is an annual event with the Patriots, Harvard and AccessSportAmerica, and Jimmy said it's one of his favorite New England Patriots Charitable Foundation outings.
"This is my third year in a row doing this, and it's one of the most fun things we do," Jimmy said to the athletes after the event.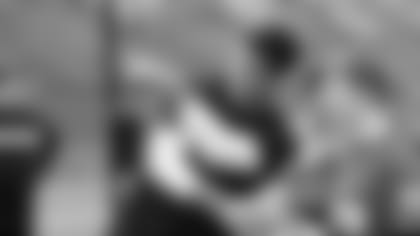 Patrick said events where the players can team up with organizations like AccessSportAmerica and spend time with young athletes are great opportunities.
"It's fun. The guys that come out here care about kids, care about everybody and [we can] show the world that we're just not football players," Patrick said. "We have a heart too, and it feels good to come out here and have fun. Some of these kids are hilarious."
This sentiment was echoed by Harvard's captain Luke Hutton. The team participates in the event every year, and Luke said it is a foundation of their  program to give back to the community. Days like this, he said, are simply rewarding.
"I can't even come close to understanding what they've gone through, and if we can give them some sort of happiness just something to make their day or week go by a bit better then I think that's mission accomplished," Luke said.
Ross Lilley, the president of AccessSportAmerica, said while he loves seeing the smiles on the athletes' faces, he likes to see their serious game faces the most. AccessSportAmerica runs in-school programs at six Boston schools, and a chance for the students to hit the field at Harvard is an opportunity to show off their hard work.
"It's the opportunity to put people front and center who we think are compelling athletes. Many of our athletes are in the shadows, and for what they do, in a relative sense, it's an amazing accomplishment. We measure everything against what people live with and their challenges and their abilities," Ross said. "During the year we see what we think are remarkable accomplishments every day, but we're kind of in the shadows in small gyms and things like that. To have everybody come out and celebrate this today, especially to have people from the Patriots come out, it really means the world."
For more photos from the event, check out the gallery below.
FULL GALLERY
Jimmy Garoppolo, Patrick Chung and Devin Lucien led a football clinic with the Harvard University football team for AccessSportAmerica on Wednesday. The organization aims to "inspire higher function and fitness for children and adults of all disabilities through high-challenge sports and training."