Joe Thuney, Brandon King and Ted Karras were the definition of focus Tuesday afternoon. Though they were not at practice, they still were taking the task at hand seriously. 
Along with kids from the Jordan Boys and Girls Club, the Patriots used their imaginations and got creative with new playground equipment. In a partnership with the Patriots Foundation, CarMax and KaBoom!, the kids helped to unveil their brand new Imagination Playground. 
The equipment isn't a typical playground. The bright blue pieces are portable and can be used to build just about anything that the kids can come up with, and Joe said they did not disappoint. 
"[There were] a couple of engineers, a couple of architects. They're building some cool stuff. I had to get out of their way because they were just taking the bull by the horns. It was really fun though it was great," Joe said.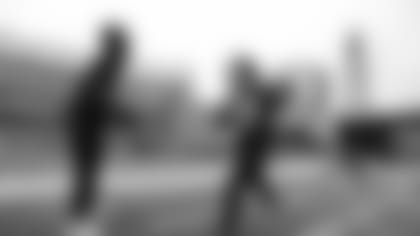 Together they built forts and towers, and though the windy day made stability a challenge, they laughed the whole time. Afterwards, the Patriots ran football drills for the kids on the Gillette Stadium field. It was a day giving back to the community that the players look forward to the most, Joe said. 
"It's definitely great. You see so many people in the stands and the support in New England," Joe said. "Most of the time we're here working or practicing, so when we get the time, it's nice to actually meet some of these people and some of the fans, especially kids."
Check out more photos in the gallery below. 
FULL gallery
The CarMax Foundation and the New England Patriots unveiled its new Imagination Playground with special guests from the Boys & Girls Club of Boston at Gillette Stadium on Tuesday, Oct. 24, 2017. Patriots players Ted Karras, Joe Thuney and Brandon King helped the kids test out the new playground and guided them through exercise stations.