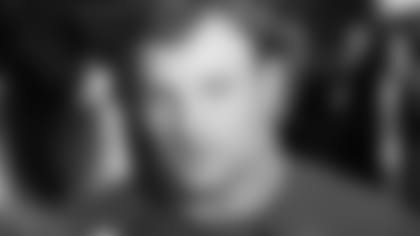 (On if the week has been productive)**
"I think we've had a good week of practice and guys have been really focused in and making sure we're doing everything necessary to play well this weekend. That's our goal and we've made a good head start to do that."
(On losing early in the playoffs during last two seasons)
"It's nothing you look to try and do. You work so hard to try and get to a certain point and then to lose like that. The last two years are the last two years and we've moved on from it. We're looking forward to this new season and this new playoffs and we're just trying to move forward from that."
(On what he thinks Denver has improved on since last matchup)
"They've gotten after the quarterback pretty well and they have really good rushers and the guys are covering real well and tackling a lot better and getting off the field on third down and holding teams to field goals, things like that. Across the board, they're doing a lot of things well and we're going to have to be on top of everything to make sure we come away with points at the end of our drives."
(On all the attention that Tim Tebow receives)
"He's done a great job. You've got to credit the guy. He's played really well and has done a lot of good things and it's been unorthodox for what teams are used to, but it works. You've got to tip your hat off to the guy, he's done well."
(On Denver's defense including Chris Harris controlling him last game)
"They do a good job collectively on defense and playing really well together [whether] it's linebacker help, safety help, or anything else and they use that help really well and across the board. They've got great DBs and they do a great job back there and we've got to make sure we're on top of everything and do a good job against them and hopefully come away with a lot of points."
(On an emphasis on tackling this week)
"It is, even though he [Tim Tebow] can throw the ball, he has a strong lower body. He breaks a lot of tackles - you saw that in the first game. That's one of the things we worked on this week and hopefully we get it done on Saturday."
(On being more comfortable now that he's seen the Broncos' offense once)
"To be honest with you, I feel a little more comfortable this time around than the first time. You really don't know what to expect the first time you see the option offense. Even though the whole offense isn't option, there are certain looks that you haven't seen since college, pretty much. I feel more comfortable this time around; hopefully we get it done."
(On if the Broncos are making their offense more complicated)
"He can throw the ball. He's still a quarterback in the NFL. What happens is, sometimes you get lulled to sleep a little bit and then he'll hit you with a bomb. Most of those passes were big plays in the game and that's one thing you have to limit."
(On the motivation from losing at home in the past)
"To be honest with you, I wouldn't be human if I didn't think about it in my head but at the same time, this is a different team, a different year and we're focused on this week. I think about it but at the same time I think we're prepared and ready to go."
(On if it's nice to see everyone out there at practice)
"It is and that's one thing about getting the bye week and having that home field advantage - getting guys healthy and playing in front of our own fans."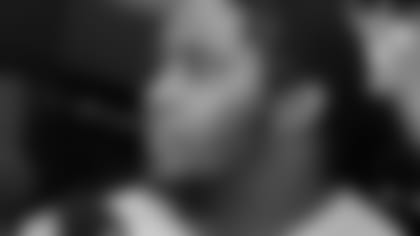 (On being excited to be back in the playoffs)**
"[We're] really not trying to look back to what happened in the past season; just trying to look forward and playing hard and taking it one game at a time. The Broncos are a tough team and we've just got to bring it and play hard."
(On if it helps to have previously played the Broncos)
"It makes a big difference to play them again because their tempers are going to be flaring, our tempers are going to be flaring and we're just going to have to go out there and play hard because they're going to bring their 'A' game because they want to win too. It's definitely going to be a big game."
(On the difference from this team's mindset to previous years)
"Everybody just wants to win and as me being a young guy, I want to win for the older guys, the guys who don't have rings. I want to win for those guys. I feel like that's the difference."
(On the key to setting a good defensive tone early)
"It's just trying to get to him [Tim Tebow] and not letting him out of the pocket and putting a little pressure on them and stopping the run, definitely stop the run number one. We didn't do a great job of it in the first half of last game we played them, so definitely that's going to be our main focus."
(On being a high energy guy on the field and if the team feeds off him)
"We feed off each other, all 11 guys out there. If we see a guy make a play, we rally to the ball and we all get excited. I get excited when I see other guys get excited. It's the same difference if I get excited, everybody gets excited off me." 
(On whether all the media attention surrounding Denver is extra motivation)
"I can't speak for everybody. I can just speak for myself and I can say that it does for me. It gets to the point where you're tired of hearing about it. You just really have to keep the TV off if you don't [want to hear it], but I love to hear it actually. It just makes me want to play harder."
(On what sticks out about the Broncos)
"Right now we have to focus on us and we know they're a good team and we have to be prepared so now it's just a preparation game."
(On what he's learned about himself in his rookie year)
"There's so many. Obviously I'm a rookie and it's been a huge learning process every week. There's too many things; a lot of things."
(On how the New England coaches have helped him improve in his rookie year)
"Coach [Dante] Scarnecchia is an amazing coach, all the coaches here are amazing. The guys that I play with, I couldn't be more fortunate."
(On the number of ticket requests he's gotten from family and friends)
"I'm going to get one for my mom and my dad and everybody else that wants to come, that's going to be on them. I just thought that was the fairest way to go about it."
(On his reaction to being in the same huddle as Tom Brady and Wes Welker)
"Like I said, I have fantastic teammates. It's a privilege to be here and everyone I play with, it's amazing."