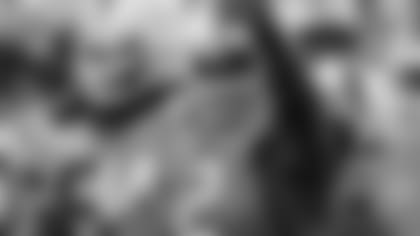 Jon Beason, LB Miami (6-0, 237)** – When we came back from the Combine and did our first mock draft, we had the Patriots selecting Beason with the 24th pick in the draft. That set off a floodgate of e-mails asking if we had lost our minds. One e-mailer even declared that Beason wouldn't be drafted on the first day. Well, Beason isn't only going to be picked on the first day, he may not even be on the board when the Patriots select.
At the Combine we heard the Patriots had a lot of interest in Beason and since then, they've done nothing to make us think otherwise. New England worked Beason out down in Miami and he's scheduled to visit Gillette Stadium this month. Add all this up and Beason is a definite possibility to become a Patriot on draft day.
On the surface, Beason looks like a Tampa 2 outside linebacker but that's not necessarily the case. He has the toughness and physical ability to move inside and play the MIKE in a 3-4 scheme. That would give the Patriots the luxury of grooming Beason behind Tedy Bruschi and using him on passing downs as a rookie because of his good coverage abilities. Beason is also a big hitter and solid special teams player. He would have an instant impact on the Patriots defense and add some much needed youth and athleticism to an ageing position.
Cornerback is also a possibility here, especially if things don't improve between the Patriots and Asante Samuel.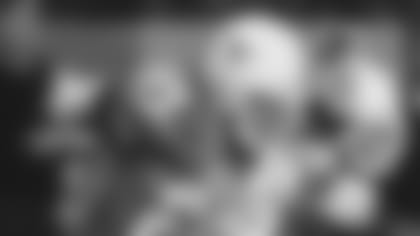 Michael Griffin, S Texas (5-11, 202)– This is a close call between Griffin andBrandon Meriweather** but I'm giving a slight edge to Griffin because of his physical play around the line of scrimmage. Right now Griffin is the better overall player between the two in my opinion, but it's not by much.
Griffin is one of those safeties that can do it all. He has the speed to cover the deep middle of the field and he's a big hitter. Griffin does a good job of separating receivers from the ball and is a force against the run.
Another reason to like Griffin is that he's a special teams demon. He plays on punt coverage and has a knack for blocking kicks. Like Rodney Harrison, Griffin may not be the biggest guy in the world but he punishes people and plays with a real chip on his shoulder. He would be a great addition to the Patriots defense and could take over Harrison's role as the enforcer in the secondary once the veteran retires.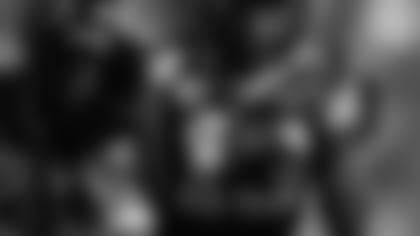 Daymeion Hughes, Cal (5-10, 190)** – Hughes was once considered to be a possible first round selection but that went out the window after he ran poorly at the Combine. Here's the thing about Hughes. He's not blazing fast but his football speed is better than his timed speed. Plus, he's extremely intelligent and has some of the best instincts of any corner in this draft. Hughes really has a good grasp of the receivers he plays against and what kind of routes they like to run. That allows him to break on the ball and make a lot of plays, despite his lack of speed. Watching him on tape, many times Hughes would beat the receiver he was covering to the ball because he knew where the pass was going before the intended target did.
These are the kinds of players the Patriots usually hit big with in the middle rounds. Hughes is a smart guy who can come right in and contribute to an NFL team. He may not ever be a premier corner but he has the ability to be a steady No. 2. While a lot of guys are track stars in shoulder pads, Hughes is a football player who understands the game. Getting a player like Hughes – who had 13 interceptions in his last two years at Cal – in the third round is good value and would help add some depth at cornerback for the Patriots.
Zak DeOssie, OLB Brown (6-4, 250)** – If the draft unfolded exactly like this (And I can guarantee it won't) Patriots fans should be ecstatic. Getting DeOssie here means New England would have added depth to four different positions on defense with players who can come in and contribute as rookies.
DeOssie has good size and speed and he did exactly what a player of his caliber at Brown should do: dominate. He finished his career with 308 tackles 36.5 tackles for a loss, 10.5 sacks and four interceptions, while playing both inside and outside linebacker.
After graduating from Brown and having a father in the NFL, no one is going to question DeOssie's intelligence on the field. He needs to get better at beating blockers and covering quicker tight ends but DeOssie has all the intangibles the Patriots seek in a player. DeOssie should have a solid NFL career once he gets adjusted to the speed of the pro game. In New England, he could learn behind some great linebackers and be groomed to become a starter in two or three years, while being used on special teams and as a situational pass rusher until then.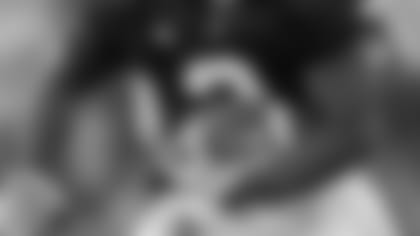 Darius Walker, RB Notre Dame (5-10, 206)– After solidifying the defense with its first four picks, New England can now look to fill some holes on the offensive side of the ball. The Patriots will probably want to add another young running back into the mix but the problem is this class of runners isn't very deep. After you get byTony HuntandLorenzo Booker** – two backs that could be selected in the second round – it's slim pickings at running back.
Walker probably won't be an every-down back in the NFL but he's a guy who does a lot of things well. Walker is a solid blocker, effective on draw plays and one of the best receiving backs in this class. Actually, when you watch him he almost looks like a younger version of Kevin Faulk.
If the Patriots don't go after one of the few highly rated backs early on in the draft, Walker is a definite mid-round possibility because of his versatility, intelligence and work ethic.
Desmond Bishop, ILB Cal (6-1, 239)** - Bishop is one of the better run-stuffing linebackers in the draft. He's not blazing fast and won't wow anyone running the 40, but when you see him on the field he just makes plays. Bishop led the Pac-10 with 124 tackles last year, so he's proven to be a force against the run.
Bishop is that big, physical linebacker the Patriots haven't had since Ted Johnson retired. He's very productive playing in the box and Bishop has the size to take on bigger offensive linemen. He trimmed down to 239 pounds so he could improve his speed for pro scouts but his natural playing weight is closer to 245 pounds, with the frame to carry 250. Bishop played some 3-4 at Cal but still needs to improve in coverage. At the Combine he said his favorite thing to do is take on big guards and throw them off to the side before making a tackle. Sounds like the kind of linebacker that would be a good fit in the Patriots scheme.
Chris Denman, OT Fresno State (6-6, 315) – Denman is the kind of late-round project the Patriots coaching staff loves to get its hands on. He began his college career at Fresno State as a defensive end. Since then, Denman has gained over 100 pounds. He's a big, physical tackle who excels in the run game. Because he's such a mauler, some people believe Denman will play guard at the pro level.
Denman is a raw prospect with upside and that's something teams look for in the later rounds of the draft. Because he isn't very quick, Denman may be better suited at guard in the Patriots system but he has the ability and upside to be a valuable reserve if the right coach (Dante Scarnecchia) gets a hold of him.
C.J. Wilson, CB Baylor (6-1, 196) – Wilson is a guy who really stood out to us when we watched all the defensive backs. He's a versatile player who can line up at both safety and corner in the NFL. Wilson was a real playmaker Baylor and showed good ball skills on tape. Bill Belichick has selected a lot of players from Baylor during his coaching career. Wilson is a guy who can come in and play special teams, while adding more depth at defensive back. At this point in the draft a team is looking for a playmaker with some upside, and I think Wilson possesses both of those qualities.
Ryne Robinson, WR Miami (5-9, 180) – Robinson is a late-round receiver I really like. He's coming into the draft under the radar but Robinson was very productive in college and has impressive physical skills. As a junior, Robinson caught 75 passes for 1,119 yards and eight touchdowns. He had an even better senior season, finishing with 91 receptions for 1,178 yards and eight scores. He finished his career at Miami, Ohio averaging 14.3 yards per catch.
On tape, Robinson showed he's fearless going over the middle and racked up a lot of yards after the catch. He has great hands and is also a crisp route runner. He's not very big but Robinson is a tough guy who breaks a lot of tackles for his size. He's a dangerous deep threat, although he turned a lot of short receptions into long gains as well. Robinson is also an explosive kick returner because he gets upfield quickly. In my opinion, Robinson is a big-time sleeper and would be a great selection by the Patriots in the later rounds of the draft.
Jeff Rowe, QB Nevada (6-5, 226) – I think with four sixth round selections and a seventh, the Patriots will pick a young quarterback in this draft. Who that quarterback will be I have no idea, but Rowe is a nice player that could still be on the board in Round 7.
Rowe was the MVP of the East-West Shrine Game and was productive as Nevada's starting quarterback over the last three years. In his last two seasons, Rowe connected on 63 percent of his passes, while throwing 38 touchdowns and 18 interceptions in Nevada's "Pistol" offense.
Rowe has a long way to go before he's ready to step on the field in the NFL but he's accurate, throws a nice ball and moves around well in the pocket. If the Patriots decide to go with a quarterback late in the draft, Rowe – along with Central Missouri State's Toby Korrodi and Idaho State's Matt Gutierrez – could be possible targets.
*Note: PFW will be doing a draft blog, starting a few days before the draft kicks off. We'll be posting our thoughts on everything draft related, including all the bad picks made by the Detroit Lions. Fans are welcome to participate by posting their opinions as well. The blog will be updated non-stop during the draft, so be sure to check it out. A link to the blog will be on Patriots.com, so everyone will be able to access it easily.
*