The Patriots held their second OTA workout of the week earlier today, and first with the media in attendance.
The workout took place on the training camp practice fields behind Gillette Stadium with players wearing helmets and plain blue (defense), white (offense) or red (quarterbacks) jerseys, as well as shorts or sweats. The lack of numbers on the shirts made observations of practice and specific player's work rather difficult, especially with the bulk of the action taking place on the field farthest from the media.
But based on the tiny numbers on the back of players' helmets or on their shorts, here are a few notes and observations from one man that should be taken with a similar margin of error as pre-elections polls:
--The voluntary session included 86 of the 90 players currently on the New England roster. The only four players not seen on the field by the consensus of media in attendance were Rob Gronkowski (forearm surgery on Monday), Julian Edelman (reported walking boot this spring), Brandon Spikes and Brandon Bolden.
A larger group of players were in, as Bill Belichick would say, "various degrees of participation" at the workout.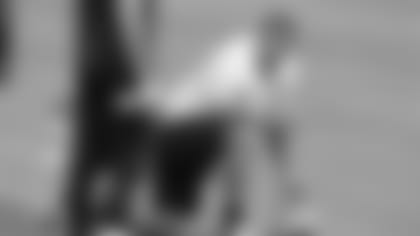 ](/node/46001) Aaron Hernandez (shoulder) did some work on the side with the medical staff, as did Sebastian Vollmer. Rookie receivers Mark Harrison (foot) and Josh Boyce (foot) rode the stationary back. Rookie receiver T.J. Moe did a lot of running and drills on his own. Devin McCourty (shoulder) did not practice fully, although he was on the field with teammates at times.
Others apparently seen doing rehab-type work included Ryan Wendell, Nate Ebner, Kanorris Davis, LaVelle Hawkins and Niko Koutouvides.
--ESPNBoston reported over the weekend that Spikes has not been working out in New England this offseason, and that continued on Tuesday. The reason for Bolden's absence was unknown.
--Veteran receiver Michael Jenkins didn't make a great first impression. With a reputation as a slow-footed route runner, Jenkins also struggled mightily with his hands in the practice. That said, he did get behind the secondary for a long completion during one team drill.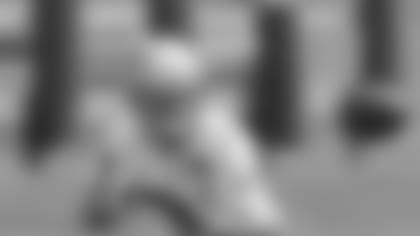 ](/node/46001)--Jenkins and big-money free agent addition Danny Amendola spent a lot of time working with Tom Brady and the quarterbacks, especially when the rest of the team was working through special teams drills on the other field.
--Amendola looked very quick and shifty in his route running, and caught the ball well in his first step toward replacing slot pass-catching machine Wes Welker in New England.
--Leon Washington looked very quick returning kickoffs during special teams work, as the free agent addition looks to add a boost to New England's lackluster return game. The next returner in line (beyond his high socks, I couldn't tell who he was) didn't fare as well. He was bobbling and fumbling the ball all over the place.
--Josh McDaniels was quite active in the practice, even working as a right defensive end pass rusher to give Nate Solder a look in one drill. McDaniels got the edge on Solder on one rep, but his bull rush was less successful on the next snap.
--Patriots Director of Player Personnel Nick Caserio was on the field taking a very hands-on, coaching-like role in the workout.
--Brian Daboll – an offensive assistant whose role with the team is rather undefined despite his credentials as a former offensive coordinator with three different teams – seemed to be working with the offensive line, and maybe the tackles in particular.
--Unlike the last two years, Chris Simms, a coaching and scouting assistant with the team the last two seasons, was not seen on the field during the offseason workout.
--Former Patriots linebacker Don Davis was on the field observing and chatting with strength coach Harold Nash, according to reports.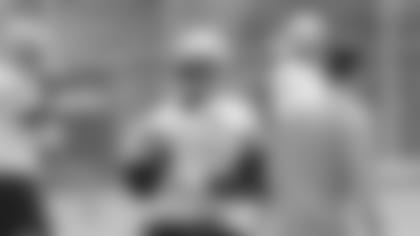 ](/node/46001) --There was a lot of work with the running backs early in practice, both in handoffs and the screen game.
--LeGarrette Blount is a big dude.
--Jake Ballard was on the field participating fully as he comes back from the ACL injury suffered against the Patriots a year ago last December. The tight end did appear to have a little bit of a limp to his gait, although he did not have a brace or any sort of wrap on his knee. Ballard also spent extra time with a trainer getting his leg worked on in between drills at one point.
--Heading into his third season, Ryan Mallett still seemed to be fighting some of the issues that have dogged him the last two years. He had trouble getting through his reads quickly enough at times, and also had a number of really inaccurate throws.
--Rookie receiver Aaron Dobson made a nice catch in traffic at one point, although it was tough to pick him out too often otherwise throughout the session.
--Practice concluded with a pretty good stint of conditioning running and form running for the Patriots under pretty sunny, warm conditions in Foxborough.
--After practiceVince Wilfork, Amendola,Aqib Talib and Dane Fletcher spoke with the media. Neither Belichick nor Brady addressed the media this week.
--The media's next access to OTA action will come a week from today, on May 28.