Around the country, around the world, people are staying home. In the wake of COVID19, it is the best thing to do to flatten the curve and limit the exposure and spread of the virus. These trying and unprecedented times can leave people feeling helpless as the world shifts in unpredictable ways.
But last week, more than a dozen Patriots players were able to provide a little help -- and a little hope. Teammates banded together, pooling donations to buy grocery store gift cards to families in Boston so they were able to fill their refrigerators, cabinets and pantries.
"This is a unique situation as far as what families are going through and what we're all going through. We know the kind of struggles families go through, mainly because we've all come from that type of background or we know someone from that type of background," Ja'Whaun Bentley, one of the 13 Patriots players to contribute, said. "We just kind of treat this as everything else, and try to make an impact in any way that we can, by us just being there. Us being there [physically] obviously is not a great thing for anybody right now, so we just try to make a footprint as far as financially as a way that we could reach out and let families know that we're here with them. We're being supportive and they're not in it alone. I know this is a dark, interesting time for everybody."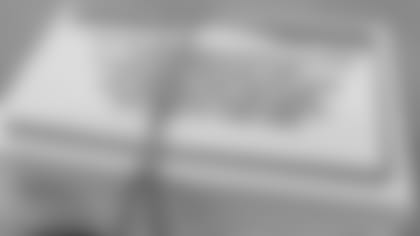 In addition to gift cards, the money donated by this group of Patriots went to two free lunch initiatives in Roxbury, Boston Healthcare for the Homeless, an emergency fund to support students and families at a local high school, and stipend checks for mentors and students at Boston Uncornered.
The core of this idea is based in the NFL Player Social Justice Funds, where players can donate money to benefit local organizations. While this kind of giving back is something Patriots players try to do throughout the year, James White said it is especially crucial now for everyone to look after one another in whatever way they are able.
"I just hope it lifts their spirits. I hope it gives everybody a spark to help those in need," White said. "It's not just about athletes doing it. I think it's a thing that everybody in our society should do, just help those who are less fortunate. I'm sure it's more meaningful for them than we'll ever know."
Bentley echoed this, saying the hope is that they can ease some of the burden families are facing right now.
"Kids are out of school right now and parents are out of work. It's kind of us just trying to lighten the load in a way, as much as we can. This is just a little token from us, but we just try to lighten the load as much as we can for the parents. Some of them might be overwhelmed," Bentley said. "This is a completely different thing. Kids out of school in March. I guarantee the parents are overwhelmed by it. You just try to lighten the load on them. Hopefully this is just the start of us doing something with the families."
While we may be alone, physically separated from one another and our respective communities, this gesture serves as a reminder that we are in this together, and Bentley said now, more than ever, people need to lean on each other.
"We just look to come together and walk each other through it. Being all together physically is not the best thing, but us being apart as a group and staying at home and letting the virus kind of subside as much as we can," Bentley said. "I have nothing but respect for the nurses and the doctors that are doing their jobs because obviously they're in a tough predicament. We have nothing but respect and love for those people, and I hope they're being safe. Hopefully this bring us all together. We just need to help each other through it. I know it's stressful, but we need to come together and build up each other where we might be lacking right now."