When fifth grade students at Elm Park and Goddard schools in Worcester walked into their respective brand new technology labs, their eyes went wide and their smiles were contagious.
The excitement wasn't just because they got out of their normal class schedule for a school-wide assembly or even because Patriots Geneo Grissom, Jonathan Jones and Lawrence Guy were on hand to celebrate the unveiling.
What used to be rooms like any other in their schools were now vibrant spaces that will be used for interactive learning for years to come. 
The Patriots teamed up with Southern New Hampshire University for the third year to give not just one but two schools new computer labs. With $25,000 grants, both schools were completely outfitted with what they needed to succeed. The rooms were decked out in Patriots gear, and each included 75 Chromebooks, a Smart TV with Chromecast, new furniture, printers and whiteboards. 
"This is unbelievable," Goddard School Principal Dr. Karrie Allen said. "We're trying to really get the physical environment welcoming for kids, so this is just an added bonus. The rest of the building needs a lot of work, so for the kids to come in and see this done for them, it's great. It's clean. It's painted, colorful welcoming and motivating."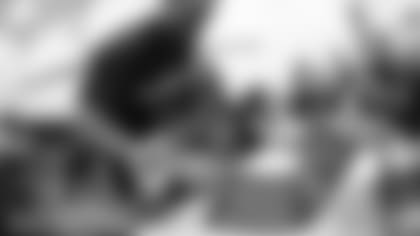 After assemblies for both schools, fifth grade classes broke off and got to break in the new labs with the help of Geneo, Lawrence, Jonathan, Pat Patriot and cheerleaders. They were tasked with an online scavenger hunt, using the brand new Chromebooks to find answers to trivia questions.
"They got to explore the internet a little bit. Look at these questions they gave us. It was a surprise to them that Nate Solder is 6 feet 8 inches," Lawrence said. "They were like, 'There's no way he's that tall.' It was great to see the smiles on their faces."
"It was a lot of fun. It's not every day you get to relive your childhood and get back in the classroom and hangout with the kids," Geneo said. "The kids say the silliest things and they're cracking up, you're cracking up so it's good." 
Geneo spoke to both schools during the assemblies, and he drove home the idea that education was the most important thing for students of all ages. These new technology labs will only help the students of both Elm Park School and Goddard School develop habits that will last a lifetime, he said. 
"[Education] is extremely important, and the habits that you're learning in school are going to follow you for the rest of your life in terms of being able to learn and retain. If you have a deadline, making sure things are done on the deadline, so it's a pivotal part of life," Geneo said. 
Creating these habits now will also build confidence as these students grow up. Steve Thiel, Senior Director of Strategic Partnerships for Southern New Hampshire University, said the technology lab, the Patriots name and the presence of a college in their lives will plant seeds in the minds of the students. 
"Right now some of these kids live in neighborhoods where maybe they'd be the first person to go to college in their family or they might not be thinking about higher education," Steve said. "But you see this computer lab, you see the other college banners on the wall, and it starts to really normalize that for them. That's really helpful. Almost certainly these kids will end up being in job that relies on technology every day. The earlier they're exposed to that the better prepared they're going to be."  
For Elm Park Principal Ellen Kelley, the new technology lab signified a happy and motivating start to the new school year. 
"I keep promising them that if they work hard this can be a great year, it's going to be a new start," she said. "This is just such an awesome way to kick it off. They'll work harder. This experience will impact them for the rest of their lives." 
For more pictures of both technology labs, check out the gallery below. 
FULL GALLERY
The New England Patriots Foundation and Southern New Hampshire University teammed up to unveil new, state-of-the-art technology labs at the Elm Park School and the Goddard School, both in Worcester, Mass., on Tuesday, Sept. 19, 2017. Geneo Grissom, Lawrence Guy and Jonathan Jones helped the students solve math problems using their new Chromebooks.