FOXBOROUGH, Mass. (Sept. 28, 2018) - Eight years ago, the Kraft family and Patriots Foundation introduced Celebrate Volunteerism, a season-long initiative focused on recognizing community volunteers and promoting the importance of giving back to the community through service. 
Throughout the 2018 season, the foundation will continue its Celebrate Volunteerism initiative by teaming with nonprofit organizations to educate fans about the need for volunteering, highlighting deserving volunteers from across the region and seeking to inspire Patriots fans to become lifelong volunteers. The foundation will present a weekly "Patriots Difference Maker of the Week" award, which recognizes deserving volunteers who go above and beyond to support their New England communities.
"We originally started the Celebrate Volunteerism initiative as a tribute to my sweetheart, Myra," said Patriots Chairman and CEO Robert Kraft. "Over the past eight years, it has become the heart and soul of the Patriots Foundation, just like Myra was. We enjoy shining the light on local volunteers that are committed to improving the lives of children and families across the region and we hope that this inspires our fans to get more involved in their communities."
Kathan Pierce from Medford, Mass. was selected as this week's 2018 Patriots Difference Maker of the Week for her commitment to the FRAXA Research Foundation.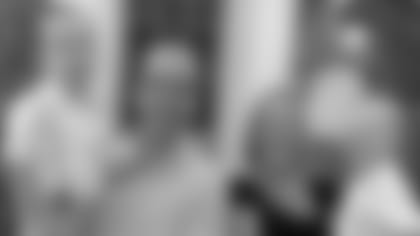 Kathan and her husband, Michael, have two young boys with fragile X syndrome, a genetic condition that is the most commonly inherited cause of intellectual disabilities and autism. Since their diagnoses, she left her full-time position in the corporate world to focus on the well-being of her two sons, raise money to find a cure and to spread awareness for this disability.
Kathan's family foundation, The Pierce Family Fragile X Foundation, has raised over $200,000 through its fundraising efforts and donated all the proceeds to FRAXA Research Foundation to fund the most cutting-edge research. Her commitment to FRAXA's mission earned her a seat on its Board of Directors in which she partners on strategic focus, development efforts and research grant selection. 
"Change will only happen when people become actively involved in turning dreams into reality," said Kathan. "We knew very early on that our tears were not going to solve this problem. "
Kathan and her husband, Michael, have been true advocates, traveling across the country to speak with congressmen and senators to advocate for more government funding. She also volunteers to speak with newly diagnosed families in greater Boston and at the Boston Children's Hospital Fragile X Clinic. Kathan offers her support following their diagnosis and assures them that they are not alone. 
"By supporting FRAXA through our fundraising efforts, it has allowed us to turn those tears and sorrow into hope," said Kathan. "And hope is what keeps us going in our search for a cure for Fragile X Syndrome."
Fifteen individuals will be named Patriots Difference Makers throughout the season. The outstanding volunteers will be recognized on the Patriots website and in print materials, including Patriots Football Weekly and Patriots GameDay magazine. They will also be honored during a special ceremony at the Patriots final regular season home game against the New York Jets on Sunday, December 30. 
Fans are encouraged to nominate a local volunteer for the Patriots Difference Maker of the Week award by visiting www.patriots.com/community.