FOXBOROUGH, Mass. (Oct. 26, 2018) - Eight years ago, the Kraft family and Patriots Foundation introduced Celebrate Volunteerism, a season-long initiative focused on recognizing community volunteers and promoting the importance of giving back to the community through service.
Throughout the 2018 season, the foundation will continue its Celebrate Volunteerism initiative by teaming with nonprofit organizations to educate fans about the need for volunteering, highlighting deserving volunteers from across the region and seeking to inspire Patriots fans to become lifelong volunteers. The foundation will present a weekly "Patriots Difference Maker of the Week" award, which recognizes deserving volunteers who go above and beyond to support their New England communities.
"We originally started the Celebrate Volunteerism initiative as a tribute to my sweetheart, Myra," said Patriots Chairman and CEO Robert Kraft. "Over the past eight years, it has become the heart and soul of the Patriots Foundation, just like Myra was. We enjoy shining the light on local volunteers that are committed to improving the lives of children and families across the region and we hope that this inspires our fans to get more involved in their communities."
Richard Rocheleau from Lincoln, R.I. was selected as this week's Patriots Difference Maker of the Week for his commitment to Special Olympics Rhode Island.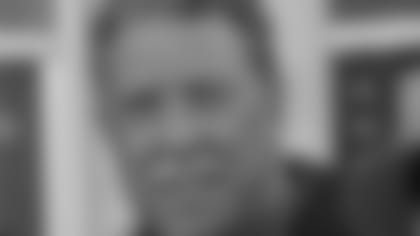 Richard first became involved in Special Olympics more than 30 years ago while working at Fleet National Bank - now Bank of America - through their employee volunteer program. He assisted with the annual Summer Games event and quickly fell in love with the organization. Richard is currently employed by Citizens Bank where he continues to inspire and motivate employees to volunteer for Summer Games.
Over the years, his level of involvement continued to grow as he accepted additional roles and levels of responsibility. Richard has played a significant role in their major fundraising events, including their fashion show, golf classic and holiday auction. He has also served on the marketing and communications committee, offering valuable input to further advance the nonprofit's mission.
"I thank Special Olympics Rhode Island for nominating me for this award," said Richard. "I am honored and privileged to receive this award from the Kraft family and the New England Patriots Foundation as I know how much they value volunteerism in the community."
Richard also works closely with the Athlete Leadership Programs committee to empower athletes to develop leadership skills and utilize their voices and abilities to undertake meaningful leadership roles, influence change in the Special Olympics movement and create inclusive communities around the world.
Ten years ago, Richard accepted the volunteer position of Games Director for the State Summer Games. In this role, he oversees a management team of more than 2,000 volunteers to ensure that 1,500 athletes have a great experience. He actively recruits friends, family and co-workers to get involved in the organization and many of them follow his lead, continuing to volunteer year after year.
"As Winston Churchill said, 'We make a living by what we get, but we make a life by what we give.' Volunteering is important as it not only provides some type of service to others but also provides an additional sense of value to our own lives," said Richard. "I am so privileged to be involved with the athletes of Special Olympics - the greatest athletes in the world that never fail to be an inspiration to me." 
Fifteen individuals will be named Patriots Difference Makers throughout the season. The outstanding volunteers will be recognized on the Patriots website and in print materials, including Patriots Football Weekly and Patriots GameDay magazine. They will also be honored during a special ceremony at the Patriots final regular season home game against the New York Jets on Sunday, December 30.
Fans are encouraged to nominate a local volunteer for the Patriots Difference Maker of the Week award by visiting www.patriots.com/community.