Rookies Tony Garcia, Conor McDermott, Derek Rivers and Deatrich Wise all stand at more than 6 feet 4 inches tall, but when they passed a young patient in a stroller between rooms at Boston Children's Hospital on Monday morning, they didn't hesitate to get down to her level, sitting on the floor of the hospital hallway for an impromptu play time.
The rookies gave her a new book, Patriots gear and, as she nodded her approval, helped decorate a football with stickers. With the simple gesture, Tony, Conor, Derek and Deatrich fully immersed themselves in an important facet of their new organization: community.
Monday's annual rookie hospital visit with the New England Patriots Charitable Foundation is traditionally the first chance for the new Patriots to learn about the team's commitment to the New England community, and the 2017 rookie class, from the start of the visit, went all in.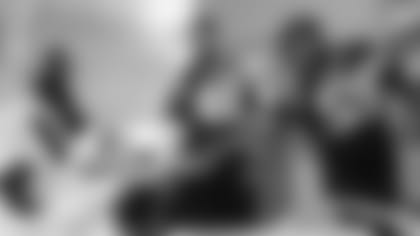 Austin Carr and Cody Hollister both brought acoustic guitars to play for patients and their teammates quickly jumped in to sing along with the music. Harvey Langi picked up a set of playing cards and dazzled kids with magic tricks. Andrew Jelks, David Jones and Max Rich even jumped into a game of "Heads Up" in Boston Children's Hospital's Seacrest Studios.
Deatrich said that while he used to volunteer and give back to the community in college, this first trip to Boston Children's Hospital was special.
"Just look at the kids, seeing them smile, seeing how when we walked in the room their faces lit up, it made me smile," Deatrich said. "It made our group smile. I hope we touched some lives today and made people feel better."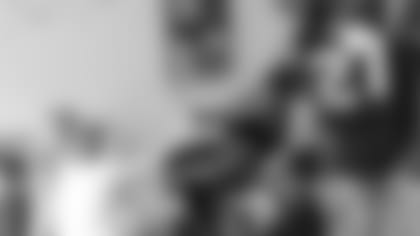 Austin echoed this sentiment, especially after a particularly touching moment with a family from Italy. When he walked in the room with his instrument, the patient's father said he used to play for his daughter. It would, without fail, make her smile, but his guitars were back at the family's home. Austin passed his over to him, and as he played, his infant daughter beamed.
"Those little special moments, they almost feel magical because with a baby, you can't just tell her to smile. She didn't know to," Austin said. "She was just smiling because Dad played some guitar to her. It was just a sweet moment that again puts things into perspective for me."
Austin said being able to share the day and these special moments with his teammates made the day even more memorable.
"You get to share your own stories with one another; you get to share where you came from. A lot of us in our college careers were able to go on similar visits like this, and it really bonds us together as brothers," Austin said. "It puts everything in perspective because we're all facing the same kind of adversity in making the team and whenever you have an experience like this, it really bonds us together."
Check out more photos from the visit in the gallery below.
FULL GALLERY
As part of an annual tradition, the newest members of the New England Patriots made a group visit to Boston Children's Hospital on June 19. The incoming rookies helped to brighten the day of the children and provided them with Patriots themed gifts.