The Patriots Super Bowl LIII banner made its debut last September, as it was unfurled in front of a sold-out Gillette Stadium crowd. Just months later, a miniature version of that same banner would be unpacked in the most unexpected of places – the International Space Station [ISS].
What happened next was less of an unfurling and more of a gentle floating, as the Super Bowl banner was suspended in the Cupola, an observation port on the ISS, with Earth 254-miles in the background.
That Patriots memento just happened to hitchhike its way to space with someone who was about to make world history.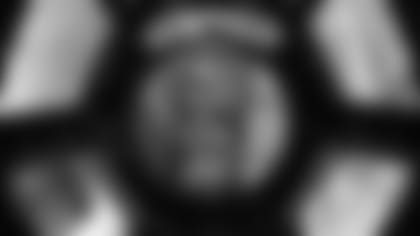 When astronauts Jessica Meir and Christina Koch left the ISS in October of 2019, they became the first all-female spacewalk, but in that moment, Meir was not thinking about history or legacy. She was simply trying to do her job.
That's a common refrain around Foxborough, but even in space, the idea rings true.
The initial spacewalk occurred just two weeks into Meir's very first mission, making this a moment of historic and personal significance. Since she was 5 years old, Meir dreamed of making a trip to space, and everything in her career, every choice, made that dream a reality last fall.
Having grown up in Maine and attended college in Rhode Island, New England played a significant role in Meir's path, and over the course of her seven-month mission, Meir did what so many astronauts before her have done – paid tribute to the people and places who helped her achieve her goal. 
When the Patriots organization sent Meir a Super Bowl LIII banner, she made it a point to snap a few pictures to represent her hometown team. Meir said it was one of her "important mission objectives" to share this achievement with as many people as possible.
"NASA, we're a tax dollar funded agency. We're a federal agency, and we are representing everybody. I'm the one that gets to be up there in space, but it's everybody that helped me get here that are really pivotal in making that come true," she said. "I grew up in New England … New England and the Northeast in general are so special to me. This was something that just really touched me to be able to share that with all the people that helped make it happen in some special way."
While she was thinking of those back on Earth, the world's attention turned to what she and Koch accomplished. There is no guarantee that an astronaut on a mission will participate in a spacewalk, Meir said, so when it became clear she and Koch would need to venture out, their entire focus shifted to getting the job done safely.
The reaction was overwhelming and immediate. People around the world watched livestreams of the event, and just this week, Meir and Koch were included on the "Time 100 Most Influential People of 2020" list.
"It was actually quite overwhelming for me to see the whole outpouring really of enthusiasm and support that it generated. I certainly didn't expect that. I really didn't," Meir said. "A lot of times, people don't have any idea what's happening at NASA, let alone are they tuning in to watch a spacewalk, but for whatever reason, this touched so many people. That was really humbling and inspiring for us."
Despite the attention and accolades, Meir said she owes this moment to those women and minorities who fought for decades for a seat at the table.
"That to me is the most important part is really recognizing those women that came before us to get us where we were," she said. "Our hope is that they were able to really revel in it as much as we were."
Milestones aside, Meir said getting the opportunity to spend months in space after a life of working to get to this point was surreal in its own right. Spending months floating, she said, gives everyone onboard a "sense of levity and childlike play."
"Being there was even more incredible than I ever imagined, which is kind of saying a lot when you've thought about it your whole life," Meir said. "I was smiling for pretty much the entire seven months."
Meir returned from her mission in April of 2020, and though her feet are firmly planted on the ground for the time being, one of her goals is to further the reach of NASA's work by stoking interest in unlikely places – like an NFL fanbase.
"For me, I always think it's important to reach different audiences too. We know we have our space enthusiast crowd all the time, but I think it's also important to get the fashion magazines, the football players and the football fans," she said. "I think it's great to have that connection."