Regardless of Rob Gronkowski's immediate future in Foxborough, the Patriots certainly could look to add young, impact talent to the tight end position this spring.
Even with his huge contributions to win in the postseason, Gronkowski is coming off a down season and once again indicated that retirement could be a consideration this winter as he approaches the age of 30.
Beyond the future Hall of Fame talent, New England has little on the depth chart that includes veteran Dwayne Allen, oft-injured second-year player Jacob Hollister, practice squad call-up Stephen Anderson and Ryan Izzo, a seventh-round pick who spent his rookie season on injured reserve.
It certainly would not be surprising to see the Patriots target the position in the 2019 NFL Draft, especially considering it's one of the more talented groups available. Much of the top talent also just happens to come from two programs – Iowa and Alabama – that are led by former Bill Belichick assistants Kirk Ferentz and Nick Saban, respectively.
Many project Haweyes junior T.J. Hockenson as the top tight end, maybe a guy who could go as high as in the top half of the first round. His Iowa teammate, fellow junior Noah Fant isn't far behind in the pre-draft rankings, himself declaring that he hopes both go in the first round.
Not only was does Kirk Ferentz have a long relationship with Belichick dating back to their time together with the Browns, but current Iowa offensive coordinator Brian Ferentz spent four seasons with the Patriots, the final year as the team's tight ends coach.
So Hockenson is quite familiar with the way things work in New England and the success Gronkowski has had at the position.
"Rob's a great player. He's so…I mean, he's been in the league so long he can do it so well," Hockenson explained. At the beginning of this last season I watched a few people and he was one of them. The way that he finishes the catch, he uses his body to get in position is really special. That's something I try to emulate in my game. Nowhere near him, obviously."
Hockenson had a breakout final season for the Hawkeyes, more than doubling up his previous best production with 49 catches for 760 yards with six touchdowns. He also made it quite clear how much pride he takes in his blocking and his scouting report as a "complete tight end."
Hockenson got choked when talking about what the Ferentzes meant to him and how his time has prepared him for the next level, whether that be in New England or elsewhere.
"I can't say enough good things about the Ferentzes. They've put me in this position. I love them to death. Coach Brian Ferentz has taught me a lot," Hockenson said, holding back tears. "Coach Kirk Ferentz is a mentor of mine, the person I strive to be. Just being part of that program is really special to me. They definitely talked about Coach Belichick in the same culture. The culture that they've built at Iowa is so special.
"We all look up to the Patriots. Obviously they are the highest level and they are doing what they do at the highest level. Any team that I'm able to go to that's what I'm going to be looking for is do things at the highest level as a team, as an organization. So there are obviously a lot of good things that come out the Patriots."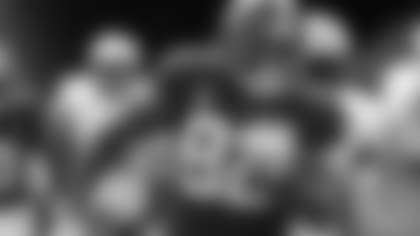 Alabama's Irv Smith Jr. is expected to go at least as high as the second round, though he strives to get into the first round as his father did as a Saints draft pick in 1993. The elder Smith caught 183 passes in 95 games over seven NFL season. Smith Jr. hauled in 44 passes with seven touchdowns last fall for the Tide.
Smith Jr. moved around the Alabama scheme but also emphasized his desire to be seen as a complete tight end.
"I'm a physical player. I like to get down and dirty," Smith Jr. said, having played some wide receiver in high school. "With my talent and just being versatile, it helps out a lot."
Like Hockenson, Smith Jr. is well aware of what life as a New England tight end might be in part thanks to Saban's relationship with Belichick as well as a year working under offensive Brian Daboll (now with the Bills), who spent more than a decade as an offensive assistant with the Patriots including three seasons as tight ends coach.
"We actually watched a lot of film with the Patriots tight ends at Alabama," Smith Jr. said. "Just seeing how they run routes and how they block and their schemes and stuff, it's special. And we did a lot of that at Alabama so it would translate well.
He's excited to prove himself a unique tight end weapon at the next level.
"I feel like Alabama is one of the closest things to the NFL," Smith Jr. said. "I feel like just having that approach that we've been built like that. I'm comfortable."
Clearly the Patriots should have good insight into some of the best tight ends in this year's draft as they consider investing with an obvious need at the position. Now, the question is whether the chips fall in a way that might land one of the talented young tight ends in New England.