FOXBOROUGH, Mass. – For their steadfast commitment to protecting the health, safety and careers of their players on a daily basis, the New England Patriots athletic training staff has been named the 2016 Ed Block Courage Award NFL Athletic Training Staff of the Year, the team announced today.
The annual award, named for the longtime head athletic trainer for the Baltimore Colts who demonstrated an untiring dedication to helping others, recognizes an NFL staff for their distinguished service to their club, community and athletic training profession. The honor is voted on by members of the Professional Football Athletic Trainers Society and will be presented at the 39th annual Ed Block Courage Awards on March 9 at the Renaissance Hotel-Inner Harbor in Baltimore.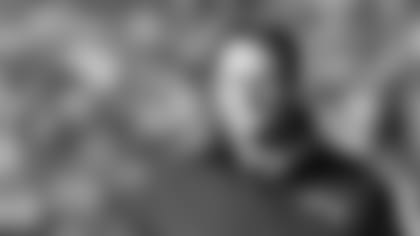 Leading the daily efforts in ensuring the best evaluation, care and treatment for New England athletes is Patriots head athletic trainer Jim Whalen. Whalen began his professional career as an assistant athletic trainer for the Patriots in 1992 before going on to spend time as a member of the training staffs at the University of Miami, Kansas State and the Tampa Bay Buccaneers. He returned to the Patriots in 2002 and has held his current role with the team since that season. 
Patriots assistant athletic trainer and director of rehabilitation, Joe Van Allen has been a member of the New England staff since 2001. He is responsible for the physical therapy and rehabilitation of injured players, and also works closely with other members of the staff on all aspects of the club's training program.
Whalen and Van Allen are joined by assistant athletic trainer Daryl Nelson and physical therapist Michael Akinbola. Nelson joined the Patriots training staff in the summer of 2016. After completing his master's degree at Ohio State, Nelson spent time as a graduate assistant at the university before serving as an intern with the Patriots for the 2013-14 seasons. He later went on to work as an assistant athletic trainer at the University of Louisville and returned to New England this past offseason. Akinbola also joined the Patriots in the summer of 2016. He received his bachelor's degree in Sports Medicine from DePauw University in Indiana before earning his doctor of physical therapy degree from the University of Delaware.