Patriots players aren't the only ones who get out into the community and celebrate volunteerism. Members of the Patriots Women's Association, made up of the wives and significant others of Patriots players and coaches, often roll up their sleeves and get to work, and on Thursday, that's exactly what they did. 
The Patriots Women's Association and Patriots cheerleaders paid a visit to Bridge Over Troubled Waters in Boston, an organization that helps homeless, runaway and high-risk youth transform their lives. The organization offers shelter, meals, showers, educational opportunities, counseling and medical treatment for young people who may feel uncomfortable or put in danger at adult shelters. 
The group included Shelby Waddle, Shawna Barker, Hayley Grissom, Marissa Van Noy, Regina Najarian, Vanessa Soto (girlfriend of Eric Rowe), Mackenzie Dempsey (fiancée of David Andrews) and Emily Stratton (girlfriend of Ryan Allen). 
The women delivered and donated 100 Empowerment coats. The winter coats can be folded into a sleeping bag or a tote, and the New England Patriots Charitable Foundation has worked to collect money to purchase these coats for three years. With each coat costing $100, the foundation has been able to purchase about 800 Empowerment coats, which have been donated to those in need throughout New England. Hats, gloves and scarves were also donated.
Bridge Over Troubled Waters Executive Director Elisabeth Jackson said these coats and winter essentials will make a huge difference in the lives of their clients. 
"Some of these will be used for sleeping bags on the floor because we don't have enough beds for everybody," Elisabeth said. "It's nice out today, but when it gets really cold out they have nowhere to sleep and they have nothing to keep them warm. The basic things that we have, they don't have those opportunities, and this helps us tremendously to provide those things for them."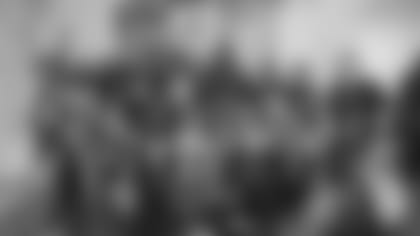 After the Women's Association dropped off the Empowerment coats, they made a trip up to the organization's day program, which Elizabeth called the "living room." Here, kids can come in, eat lunch, take a shower, do laundry and relax. The Women's Association lent a hand in the kitchen, helping to cook and serve up lunch and then got to know some of the kids.
"I felt a little giddy inside. One of the kids was like, 'Thank you so much. Thank you, thank you,' and he really appreciated that I spoke Spanish. He said I understood him, and I said, 'I understand your language. I don't know if I understand you yet,'" Vanessa said. "Then he told me about himself and [said], 'This beanie means a lot to me. I'm a fan, but I'm cold most nights. I let my hair grow so I can keep warm, but I now I have a beanie.' It almost made me cry." 
Hayley often attends events with the Patriots Women's Association, and she said giving back with the organization just makes sense. Days like this make it even clearer. 
"All these kids here, they're Patriots fans," she said. "Without them our husbands wouldn't be as successful as they are, so coming here today is a no-brainer because literally without them we wouldn't have the great experiences that we've had in our lives." 
Jorge Rivera, 22, has been coming to Bridge Over Troubled Waters for about three months, and he said in that time he's felt a transformation. He said he's been more outgoing and more focused on finding himself, and visits like this one help push him.
"They do stuff like this. They put you in so many situations where you get to see the benefits of being outgoing, being alive and being part of something," Jorge said. "I'm hoping after this to go somewhere in Boston and find myself, but here is where it starts. You're getting your legs ready and warmed up so you can take those big steps."
For more photos from the visit to Bridge Over Troubled Waters, check out the gallery below.
FULL GALLERY 
Wives and significant others of Patriots players and coaches joined Patriots cheerleaders to deliver 100 Empowerment coats to Bridge Over Troubled Waters in Boston on Jan. 12, 2017. The specialty coats serve as both a winter coat and a sleeping bag for people experiencing homelessness. The special guests also helped to prepare and serve a meal to those in need.