As the Women's Lunch Place on Newbury Street in Boston filled in before lunch was served, the guests realized it wasn't a typical Monday. 
The Patriots Women's Association spent time helping the staff and volunteers at the Women's Lunch Place cook and serve lunch, lead activities and craft with the guests, as they have done annually for the past decade.
The Women's Lunch Place serves women who are homeless or who need assistance by providing hot and healthy meals, a place for them to do laundry, shower, nap, get help with job and housing applications and much more. The bright colors, flowers and artwork create a safe and comfortable environment where they are treated with dignity and respect. 
And the volunteers with the Patriots Women's Association, including wives and girlfriends of players and cheerleaders, only enhanced the energy this week. Christine Adams, Mackenzie Andrews, Jiali Harris, Linda Holliday, Briannon Lepman, Laura McDaniels, Shannon Ossenfort, Kathleen Ryder, Vanessa Soto and Emily Stratton delivered food to tables, ran a game of bingo and decorated masks with the women who came through the center Monday morning.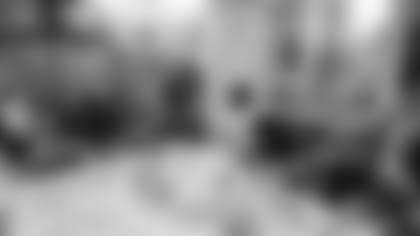 Though the Patriots Women's Association makes a trip to the Women's Lunch Place every year, this was the first trip for Briannon. New England is new for her and her fiancé Brandin Cooks, but Briannon wasted no time jumping in to volunteer. 
"It's always hard to come in and see people in these situations, but they don't let it bring them down. They're really happy – happy to be here and talk to us," Briannon said. "It's something us women can do for other women. A lot of the things involve the men, and this is something that's just our own. We can help them and related to them on another level."
It was also the first time at the Women's Lunch Place for Laura McDaniels.
"It's just nice. It always meaningful to come and make someone else's day that I don't know," Laura said. "I think it's always important to be a part of something bigger than yourself." 
The Patriots Women's Association did more than volunteer their time. They presented Executive Director Elizabeth Keeley with a check on behalf of the Patriots for $25,000. The money will go towards the Women's Lunch Place's annual spaghetti dinner, their annual fundraiser.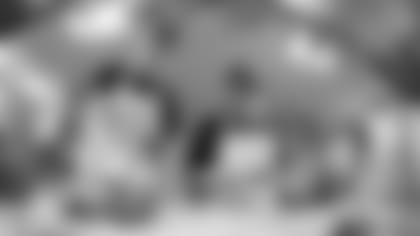 Elizabeth said volunteers spending time with the guests, as well as financial contributions, are a reminder to these women that they matter. It restores confidence and dignity.
"The dignity and feeling worthy of being treated well and with respect, so many of the women who have walked through this door have not experienced that for a very long time. A recent study indicated that 78 percent of women who are on the street or using shelters like the Women's Lunch Place have suffered incredible loss and abuse in their life – whether it's physical or sexual," Elizabeth said. "They've been so diminished. They've been reduced to not having self-worth or self-value. We want to help restore that. Once they feel better about themselves and get a regular meal and so on, they're willing to make those changes that they need and make those choices to get their life back on track. Dignity does matter."
You can check out more pictures in the gallery below.  
FULL GALLERY
The Patriots Women's Association and the Patriots cheerleaders visited The Women's Lunch Place in Boston on Monday, Oct. 2, 2017, where they prepared and served meals to women in need. The Patriots also donated a $25,000 check to go toward The Women's Lunch Place Spaghetti Dinner, the shelter's annual fundraising event.