Every year on Aug. 3, Patriots Nation rejoices, coming together to celebrate the day its quarterback was born. With Tom Brady turning 40 on Thursday, Patriots fans brought their best signs and warmed up their "Happy Birthday" singing voices to make sure the birthday boy felt the love.
While this has become an unofficial tradition of sorts at training camp, fans were also surprised to see a few onsite additions. Block letters welcoming fans to camp typically spell out "Patriots." Instead, fans found the photo opp updated to say "GOAT." Members of the media were also treated to both avocado and zucchini cupcakes courtesy of Cupcake Charlie's and avocado ice cream.
And then there were the goats. Yes, real live goats.
Patriot Place hosted five goats (Brady, Gisele, Blizzard, Paris and Venice) to celebrate Tom's day.
But still, the highlight of the day is always seeing how Patriots fans celebrate and thank Tom. One family in particular had an extra special message for the quarterback.
Chrissy and Gene Deroches of Uxbridge, Mass., brought their two children, Kelsey and Kameron, to Patriots camp for the first time. While they didn't plan to be at Gillette Stadium for Tom's birthday, the family was happy it worked out that way. Kelsey carried a sign that read, "Thank you Tom Brady for supporting special needs," a message the Deroches family felt compelled to relay.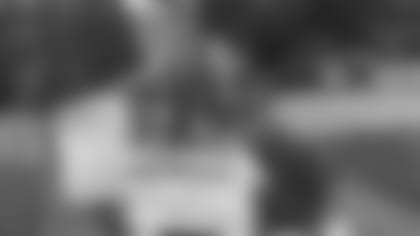 Before Kelsey was born, she was diagnosed with microcephaly, and Chrissy said the work Tom does with the special needs population through his efforts with Best Buddies makes them appreciate him even more.
"We just like the fact that he puts a name out there for other people and lets the world know that everyone can make a difference. I personally feel like he's an all-around good guy," Chrissy said. "My kids are very into football, and it's amazing what he does for the community and other kids, putting things that people don't normally think about out there. It's an inspiration for us, and Kelsey adores him."
You can check out the other signs Patriots fans brought to camp in the gallery below.
FULL GALLERY
A look at the best fan signs at training camp wishing Tom Brady a happy 40th birthday.