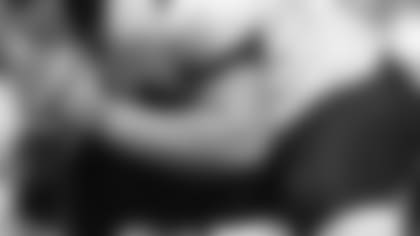 ]()There are few certainties regarding the draft, especially when it comes to New England. Bill Belichick's sixth go 'round in charge of the Patriots may have been the most surprising of them all, particularly at the start.
After not having selected an interior offensive lineman on the first day in any of his previous five drafts, and just one (Dan Koppen, fifth round, 2003) in any round, Belichick and his personnel chief Scott Pioli opted for Fresno State's Logan Mankins on the final selection of the first round on Saturday.
Mankins played his entire collegiate career at left tackle but many scouts project him as a guard in the NFL. He played inside at the Senior Bowl and in front of coaches and scouts during the week of practices leading up to that game.
But that doesn't necessarily mean Mankins will line up at guard exclusively during his time as a Patriot. Belichick mentioned his position flexibility several times during his press conference following the first round. While he refused to be backed into a corner regarding Mankins' future Patriots home, it was fairly obvious from listening to the coach that Mankins will have an opportunity to show the New England coaching just where he fits best.
"I think we'll have to take a look at how he fits into our system and watch him as we ask him to do different things in mini-camp and training camp," Belichick said. "We'll see how that unfolds and how he is performing at them and take a look at the overall line situation as the other players perform. Ultimately, we want to get the best five players out there."
It would be hard to imagine Mankins not being among that group of five based on his first-round status. With last year's starter at left guard, Joe Andruzzi, now in Cleveland after signing as a free agent, the rookie should have every opportunity to win a job.
Stephen Neal emerged as the starter at right guard last year and settled in nicely, particularly as a run blocker. Russ Hochstein starter in place of the injured Damien Woody during the 2003 postseason but did not win the job when Woody bolted to Detroit as a free agent last offseason. Hochstein remains in the mix, as does Gene Mruczkowski, who spent 2004 as a backup interior lineman.
Mankins will likely enter camp with a chance to supplant both and win a starting spot at guard. Whether his future lies at tackle remains to be seen, but either way the Patriots hope to have bolstered their depth in an area that was badly in need of it. They just did so earlier in the draft than most expected.
Belichick and Pioli returned to normalcy from there when they opted to trade down rather than make their pick on the last selection of the second round. Baltimore took New England's spot at No. 64 and gave the Patriots its third-round pick (No. 84), sixth-round pick (No. 195 overall) and a third-rounder next year.
The Patriots selected Iowa State cornerback Ellis Hobbs III, which is a position most felt the team would target. Hobbs is a bit undersized at 5-8, 188, but the former Cyclone doesn't believe his diminutive status will hinder him as a pro.
"I've been dealing with [being labeled too small] all my life," Hobbs said. "I've been playing for 16 or 17 years now and everybody told me I'm undersized. I love that underdog mentality. It just puts the fire under me to just go out and prove to everybody, you know what, I'm better than you think. Size really has a benefit factor, but at the same time the game is about technique and knowledge also. I'm not out to win any height contest. I'm the type of guy … I just want a chance. I don't care about who's in front of me or who's behind me."
Hobbs will enter a crowded field for jobs in the Patriots secondary. Asante Samuel and Randall Gay closed out 2004 as the starting corners while Rodney Harrison and Eugene Wilson return at safety. Also, corner Tyrone Poole is returning from knee surgery and will attempt to win his starting job back. And newcomer Duane Starks should get strong consideration for a job after being acquired via trade from Arizona.
Hobbs also has experience as a kickoff returner, which is a common trait for most Patriots draft picks at the skilled positions.
The long day ended with the Patriots taking another offensive lineman, Toledo's Nick Kaczur, with the second to last pick at No. 100 overall. Many scouts also consider Kaczur a guard in the NFL, but the 6-4, 319-pound Ontario, Canada, native provides Belichick with another versatile option up front.
Kaczur did not attend college immediately out of high school, instead opting to join the workforce initially. At 26, he would instantly become the Patriots second oldest offensive lineman behind Stephen Neal, who is 28.
"We didn't really have a lot of expectations coming in," Belichick said. "We're happy with the three guys we took. I don't think it was the greatest draft in history or anything, but we feel we added some depth to our team."
The trade with Baltimore left the Patriots with seven picks on Sunday, but Belichick doesn't anticipate using them all. At the end of the day he indicated the desire to package some of those selections to acquire more picks in 2006, much as the team did in the trade with the Ravens. The Patriots first pick on Sunday is scheduled for 32nd in the fourth round, No. 133 overall.