In high school, he just wanted to be "cool."
A tattoo could accomplish this, he assumed, because he admired his older brother for having gotten one. That's how 15-year-old Malcolm Butler found himself in a chair at a Mississippi tattoo parlor. He chose something simple, yet meaningful.
"I got a cross with my initials on it," the cornerback recalls.
Born on St. Patrick's Day, Lawrence Guy easily remembers the precise date of his first body art experience: Mother's Day 2007. He was 17.
"It was literally one of those things that popped into my mind," he explains. "I said, 'I want to get this,' and she said, 'Cool! OK, let's go.'"
Guy's mom drove him to the nearest studio so he could get her name, Susan, inscribed on his left wrist. When he decided on a second tattoo, she offered to take him again.
"She didn't mind," the defensive lineman adds with a gap-toothed grin, "because she had a tattoo herself."
Like Guy, cornerback Stephon Gilmore first allowed a needle to inject his arm with ink at age 17, shortly after his maternal grandfather died. His chosen image, a pair of hands pressed together in prayer, along with depictions of his mother and granddad. 
"Now I always have them with me," he smiles softly as he admires the artist's handiwork.
The reasons Patriots players decide to adorn themselves in the first place are as diverse as the designs they choose. Death, though, is a common catalyst.
"I got my initials on my triceps and my middle name across my back: C, Lee, and M," reveals defensive end Cassius Marsh. "My grandfather's name was Lee, and he had passed. So, I wanted to do something for him. I always liked the initials-on-the-triceps look."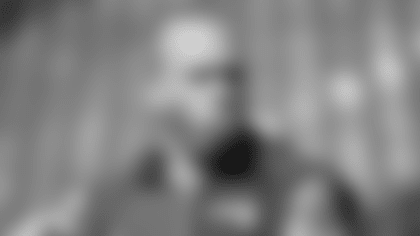 Former Patriots running back D.J. Foster memorialized his late sister with his first tattoo. Her portrait, on his left pectoral, has been there since he was 16 years old. She died at age 15.
"I always wanted to have her face on me so I could remember her for the rest of my life," says Foster, who was claimed off New England's practice squad by his hometown Arizona Cardinals earlier this year. "That gave me the motivation. It always keeps her on my mind and in my heart." 
Tattooing can prove too addicting to stop after just one. Guy's body, for example, is nearly covered with them, and he plans to add more. Ditto for Marsh. Both of Gilmore's arms are full sleeves of artwork. He loves them all, but insists he's not getting any more. 
"Yeah, I'm done. They actually hurt. The longer you wait to get them, the worse they hurt," he laughs. "That's why once you get one, you have to keep getting them."
"I got another one when I was about 18. After that, I wasn't into the tattoo thing anymore," Butler acknowledges. "Today, you see everybody with a lot of tattoos. I just choose not to do it because once I did it the first time, I lost interest.
"If I could go back, I wouldn't get anything, but I'm not mad about it. No, I don't regret it. I was just young and wanted to see what it was like."
Other players have no desire ever to find out.
BUMPER STICKER ON A FERRARI
---
Rob Gronkowski is fond of disrobing. 
He's frequently photographed in the offseason, partying shirtless. The tight end also famously appeared in a magazine photo shoot with a swimsuit model, both of them clad in nothing but their birthday suits.
Yet, as much as he enjoys showing himself off, nowhere on Gronkowski's body will you find a tattoo.
"I'm not against them… I think some are sweet, for sure," he maintains. "I don't know, I just never got into them. Never thought about getting one."
Some players, like Marsh, are fond of saying that their bodies are temples. Rob Ninkovich considers his a luxury sports car.
"Have you ever seen a bumper sticker on a Ferrari? Man, I'm not putting a sticker on me," explains the now-retired defensive end.
"There could be a stage in life when you're 18 and want a tattoo, and when you're 28, you wish you didn't have it. There's give-and-take on that. I never really wanted to put anything on myself. Especially including needles, where they have to stick it in between a layer of skin. I'm not a big fan of needles.
"If I was ever going to have a tattoo," he allows, "it would have to be a picture and crystal clear. Something that looks realistic. I've seen some where I don't know what that is."
Ninkovich concedes that body art – on others – can be an alluring form of self-expression. His good friend and former teammate, defensive end Chris Long (now with the Philadelphia Eagles), covers much of his body with elaborate, colorful tattoos.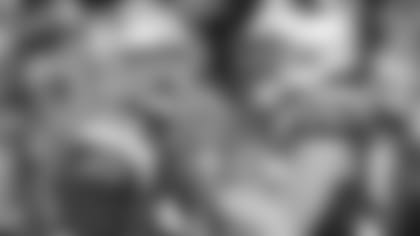 "Chris has some really interesting tattoos," adds Ninkovich. "Very good tattoos, as far as the artwork and detail. It's unbelievable. His tell a story in his own way. You can kind of tell, through his tattoos, what type of dude he is: unique and a little bit all over the place."
ARTISTS OF CHOICE
---
The second overall pick in the NFL Draft by the then-St. Louis Rams in 2008, Long found himself at a crossroads when the Rams released him in February 2016. A month later, he signed with the Patriots and helped them win their fifth Super Bowl last year. 
During that four-week layoff between jobs, on the cusp of joining New England, Long revisited his favorite tattoo parlor to get a new design on his right arm. It features a large sailing vessel churning through dark waters on a cloudy, moonlit night.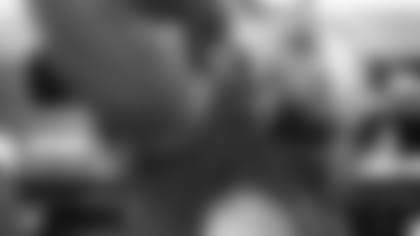 The full moon, he later revealed, signifies his wife and son, who serve as his "guiding light" during the sometimes challenging life of an NFL player who struggles "to stay above water." He says he often looks at it to remind himself to persevere through whatever difficulties he faces.
Some of Long's other tattoos are more obvious, like the University of Virginia-themed image (his college alma mater) and his mother's name. As Long is reluctant to divulge many details, most are up for interpretation, such as his first tattoo, a large lion on his back, and his second, the King of Hearts. There's also a depiction of Mexico's annual Day of the Dead celebration.
What Long will talk about at length, however, is where he goes to get his work done: Ben Around Tattoos, in Charlottesville, Virginia.
"Oh, yeah. My tattoo artist, I use the same guy for everything. I only didn't use him on one, and I got that covered up. [Ben Miller], he does all my stuff.
"Generally, once you get an artist you like, half the battle with good tattoo artist is understanding how a certain tattoo fits into a space and the bigger plan, how it fits on your body. I had all this work done by one person and the other person wasn't really on the same page."
Marsh is as evangelical about his tattoo artist of choice, Tony Adamson, from A Minds Eye Tattoo in Boise, Idaho. He's worked on Marsh since the player first entered the NFL, and even features one of Marsh's tattoos on his website gallery.
"I've been loyal. Haven't worked with any other artists," Marsh declares about his relationship with Adamson. "He's extremely talented, does really, really, really clean, detailed color work. He also is one of my good friends. He's just a good person. I love his wife and him and his family. They're like family to me."
It helps to have such a strong bond with the person you entrust to tattoo your body, the players point out, because of the amount of time often necessary to complete these magnum opuses. 
Long enjoys sitting in Miller's chair for what can be 8-10 hours at a time, because it gives the player time to relax. One of their sessions lasted half a day, a full12 hours. 
"Yeah, you just chill, listen to music, that type of stuff," Long continues. 
"We do a good job of brainstorming ideas and creating something that's different and things that mesh well together," Marsh says of Adamson. "I just trust him. It's always a great experience. I'll have ideas written down, what I might want, and then I go in there with him and discuss how realistic it is for that to be done, what he thinks about it color-wise. 
"Sometimes," he admits, "I go in there thinking I'm going to get something and I get something totally different. I come prepared, but I also never know what to expect."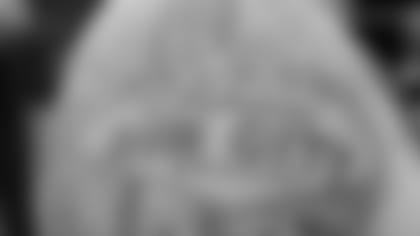 Guy's philosophy toward artists is different. He prefers to come up with an idea of his own, then find an artist who he believes is the right person for the job. 
"If your vision is the same as the artist's vision, then you're good. If not, you have to find someone else," he contends.
"The sleeve took a couple of years to figure out. Once I figured it out, I had to find an artist to do it. Once I found the artist, it came together.
I'm from Las Vegas. There are a lot of great artists out there. I went to New York and got a tattoo by JonBoy. He's a great tattoo artist. I went out there just to see him. I got wings and a wedding band [in Roman numerals]. 
"After those two, I haven't gotten tattoos in a while. I have to find the right artist [for the next one]. Until then, I wait. You can't just pop into any artist and say, 'Tattoo me.' When you get a tattoo you don't enjoy, you have to see it for the rest of your life."
THE BIGGER PICTURE 
---
"I always wanted tattoos, for as long as I can remember," Marsh muses. He insists that he gets his ink to please himself alone, not to draw attention to himself.
"My body is my temple, extremely important to me, on and off the field – my health and overall wellbeing, which is being in the best shape I can possibly be in. Tattoos are a look I've always loved. It's important that all my tattoos mean something to me, not just something small. The tattoo process is a very sacred thing for me."
"Tattoos are all a representative of yourself and how you feel," Guy concurs. "It's not what I want to tell people, it's about what I want to see myself. Art is about what you want on your body, not what everybody sees."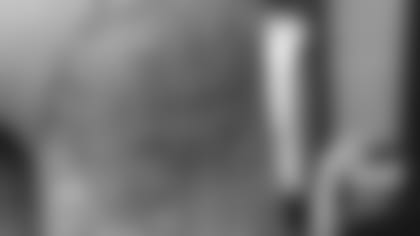 Mostly throughout college, Gilmore filled both his arms with his life story in tattoos, which he enjoys sharing. 
"Where I'm from [in South Carolina], the NFL logo, "Faith" with a heart, the year I got drafted, 'Tenth overall,' Got this when I was younger. It's supposed to show my skin opening to show a machine underneath.
"That's a scripture verse, one of my favorite quotes. My mom gave it to me as a kid and it's stuck with me ever since."
Gilmore is the oldest of six children. His favorite design is a literal family tree, with the names of his mother, father, and siblings on its various branches.
After the portrait of his sister, Foster decided to honor other loved ones while they're still alive. 
"Right here, I have the tiger and a yin-and-yang face that says 'Like Father, Like Son.' It's dedicated to my father. I'm just like him. We're kind of twins.
"I have Jesus. I'm a big Christian. I got baptized a couple years back and it changed my life. Then I have my mom here on my right pec, and it says "Momma's boy" because… I'm a momma's boy," Foster smiles shyly. "Everything really has to do with family. That's my tattoo journey."
Ultimately, the players agree that tattooing should be a thoughtful exercise.
"That's the key. Don't rush it just because it's 'cool,'" Guy advises. "Get something you're going to enjoy, something that's going to bring you some type of feeling in the long run. When you have grandkids, you can explain why you got it." 
"Kids one day, maybe. Unless more family comes along," he replies. "That's really it."
"I don't know at this point. I'm waiting to experience more in life, have some children," Marsh concludes. "I've been getting tattooed for a long time. Now I feel it's more important to put something on me that matters and is quality over quantity. My newest tattoos always tend to be my favorite at the time. Then I get another new one and that one becomes my favorite. They're all very significant to me."
"Oh, yeah," adds Guy. "Happy about all of them."