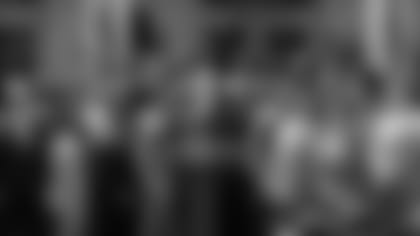 ]() WASHINGTON, D.C. – Power was prevalent Monday afternoon when President George W. Bush greeted the Super Bowl XXXVIII Champion New England Patriots in the White House Rose Garden for the second time in three years.
"Welcome back. The mighty New England Pats have returned just like [they] told me they would," opened President Bush, who was one of just two men on stage named by Time Magazine as one of the world's 100 most powerful and influential people. Patriots Head Coach Bill Belichick was the other, and he was flanked by one of sports' most powerful owners, Robert Kraft, and the NFL's most powerful team in 2003.
"Bob Kraft is an owner who knows how to win. Congratulations on winning the Super Bowl," President Bush added.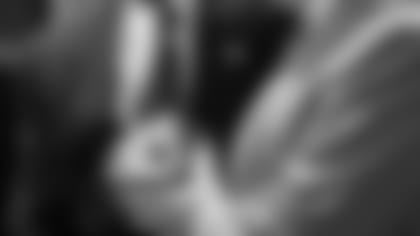 ]() The President arrived in his motorcade from a meeting at the Pentagon and greeted the Patriots in hot, humid conditions, but the heat didn't diminish his sense of humor.
"You never lost a game at home. That's really good marketing," he joked, referring to the Patriots undefeated 10-0 record at Gillette Stadium in 2003. "That's a smart way to do it. Fill up your stadium and have your fans go home happy every game."
He later turned to Belichick and said, "I appreciate the coach. I don't know what it's like in the locker room, but I remember when you were here two years ago and you said you were going to say a few words and you said like four words."
"I got carried away," Belichick quickly replied, not to be outdone.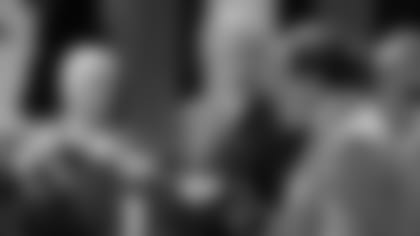 ]() Belichick, after saying his requisite four words again this time, presented the President with a personalized Super Bowl XXXVIII game ball just after Kraft handed over a Patriots jersey donning the No. 1 with "Bush" scrolled across its back.
Belichick laughed off the President's barbs after the ceremony and expressed his appreciation. "It's not every day you get to do this. It's a great reward for our team," he said before adding jokingly, "Short speeches make long friendships. And I could have fired back, but that wasn't the place."
Belichick actually has a previous connection to the President's family from his high school days in Andover, Mass.
"When I was at [Phillips Academy] in Andover, Jeb Bush was in my class along with [Rhode Island Senator] Lincoln Chafee. George [H.W.] Bush spoke at our commencement. So I've been around this and may not be as awestruck as others. Growing up in Annapolis, though, I have an appreciation for the government and it's nice to see it from the inside."
The players, even those on hand for the second time in three years, still seemed in awe of President Bush as they stood behind him on stairs leading back to the West Wing offices.
"He's a class act," left tackle Matt Light said. "This is something you don't miss. These are the perks that go with winning a championship."
Some of Light's teammates did not make the trip to the nation's capitol, but 34 players were on hand, including five players who aren't currently on the roster – Ted Washington, Jamin Elliot, Dedric Ward, Rick Lyle and Brian Kinchen.
Two-time Super Bowl hero Adam Vinatieri was one of the 34 present and one of two Patriots, along with Tom Brady, singled out by President Bush.
"I'm really impressed with how cool you are under fire," President Bush told Vinatieri in front of an estimated crowd of about 200, including Navy Rear Admiral John Stufflebeem, who addressed the team last summer during its preseason trip to Washington to play the Redskins.
"The second time was better than the first," Vinatieri countered. "He referenced some of the fellas by name and he said my name, which was pretty cool. You don't get invited to the White House unless you win so it's a validation of your accomplishment. And the President is a sports fan so it's probably neat for him as well."
The lightness of the moment was certainly not lost on the President, who jokingly confirmed Vinatieri's thoughts, at least when it came to Brady, "I'm especially glad to see Tom Brady. I'm trying to figure out what it's like to be around a real celebrity," he said.
President Bush went on to commend the Patriots for their community service, noting that the team committed 1,000 hours to the community last year.
"That's a lot of hours for people who spend a lot of time practicing and reading play books. That's an unbelievably important example for champions to set for others. I really want to thank you for that," he said. "It's one thing to be a champion on the field, and obviously, that's what every player strives for. But to be able to be a complete person like you have been is really important."
He then used the forum to applaud the men and women in the military.
"There are fans that are rooting for you who wear the uniform of the United States military – a lot of Pats fans who are scattered around the world doing everything they can to defend us and protect us. I can't tell you how important it is for them to see the action from home, to see great players performing on the field of play.
"We've got unbelievable troops, fantastic men and women who understand that they're serving something important, security for our country, and peace and freedom around the world."
Before departing the Rose Garden, the President congratulated the Patriots again. And since only championship teams receive the White House invitation, the Patriots obviously hope to return next spring, but President Bush, perhaps ironically, is wishing for the same thing.
"My hope is that I'm back to see you here next year," he said in reference to November's Presidential election."
Some of New England's elected officials also were on hand, including New Hampshire's John Sununu along with Ed Markey and Jim McGovern from Massachusetts. The President also said that his chief of staff, Holbrook's (Mass.) Andy Card is a Patriots fan.
"He's constantly reminding me how great the Pats are, on a Sunday-by-Sunday basis."
Card certainly had bragging rights for 15 straight Sundays last fall and winter.
< body="">