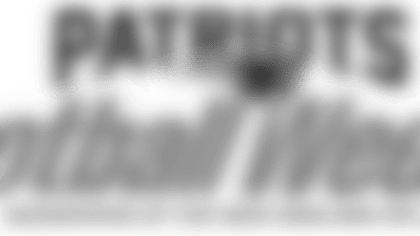 *This article came from the June 2016 issue of Patriots Football Weekly. To subscribe, click here. *
Springtime has come and gone (what was the rush, by the way?!), and with summer now having officially arrived on our northern hemispheric calendars, we can turn our attention to an abundance of the season's lazy days.
For youngsters, school is out (rejoice!), while many of us adults will be taking sporadic long weekends and extended vacations from work. The NFL is no exception. In fact, these next six glorious weeks are the only true "offseason" in pro football, and those of us in the industry do our level best to enjoy every minute of them - particularly when the weather is as cooperative as it's been this past week in New England. Even Bill Belichick skips town for a while to seek solace on the golf course or his boat in the waters off Nantucket.
Alas, our NFL summers go by much faster than the average person's. If spring felt like it sprang too fast, summer will streak by like a comet, I can assure you. It always does. The surest sign that it is transitioning into autumn will be when training camp commences at the end of July. We'll barely have digested our 4th of July barbecues when footballs start flying once again around Foxborough.
So, before we hit the beach, while I'm still in the frame of mind, I want to share some thoughts on this Patriots roster. After a full free agency period, the annual NFL draft and organized team activities and mini-camp practices, I'm starting to get a sense of where this team is strongest and where it might be most vulnerable. 
RUNNING BACK
Let me start with the most positive development of the spring: Dion Lewis' return. It was great to see him on the field at the final OTA, moving around at nearly full speed in drills and some group work with the offense. I thought for sure he'd be a likely candidate to start the summer on active PUP (physically unable to perform list), and perhaps the regular season on reserve PUP. His somewhat surprising appearance gives hope that he can be in uniform at Arizona for the opener.
Even if he is, however, it remains to be seen if he'll be the jitterbug we last saw making defenders look silly. It may take a while for him to get back to that level of elusiveness, and the club did little to assuage my concerns during free agency. The player I most coveted for this offense, to complement Lewis, was Matt Forte, who wound up signing a relatively inexpensive deal with the New York Jets after revealing that New England's interest in him was mild at best. Overall, I was happy with the Patriots transactions this offseason, on both sides of the ball, but that was the one glaring missed opportunity that would have solidified my belief that this offense might just be unstoppable.
CORNERBACK
Aside from Pro Bowler Malcolm Butler, there's a lot of uncertainty at corner, and a lot of newcomers. The potential exists for this to be an improved position, but until I see it play out on the field, I'm holding my breath.
OFFENSIVE LINE
Youth, injuries and communication breakdowns were the hallmarks of the 2015 offensive line, but Dante Scarnecchia is back to coach the position, the wounds are mostly healing and the young players along the interior have a year of experience with each other and in the system. Newcomers Jonathan Cooper (a veteran) and draft choice Joe Thuney will provide depth and competition, which will only serve to improve the five-man group overall. The line has nowhere to go but up in 2016.
DEFENSIVE END
Long before it happened, we at PFW predicted that Chandler Jones would be traded, and from both a business and football perspective, it was the right move. Is Chris Long the answer? Not sure yet, but my hunch is that the defense will survive without Jones and his inconsistent play.
TIGHT END
Rob Gronkowski sat out most of the spring, but when he returned at the last practice, he looked like he never missed a snap. I'm not going to lie, free agent Martellus Bennett makes me nervous every time he slowly returns to his feet but in the spring, he always bounced back and looked great catching the ball and darting through the defense (albeit without pads). New England will have the most dangerous two-tight end attack in the NFL, and it won't even be close.
QUARTERBACK
You might be surprised to learn that I'm not all that worried about this position. With nothing other than my instincts on which to base this, I predict that, like last autumn, Tom Brady won't serve any suspension time again this season. I just have a feeling that his legal team will find a way to stall until 2017. If I'm wrong, then it will be up to Jimmy Garoppolo to navigate the Patriots through the first month of regular-season play. The opener might be the toughest of the four, and with the next three at home, it's conceivable the club could be 3-1 when Brady returns. 
AND FINALLY...CONTRACTS
I'm a little surprised that New England's front office hasn't yet addressed the contract situations of Butler or linebackers Jamie Collins and Dont'a Hightower. I would hate to see any of those players hold out for any portion of training camp (those are always the ugliest stories to cover). Butler was the only one of the three who addressed the topic with reporters in any detail this spring (Hightower prevaricated, while Collins avoided speaking altogether), and appeared to hint that he would show up on time and not cause a scene. I'm not so sure about the other two. Regardless, all three situations need to be resolved sooner rather than later.
But there will be plenty of time to ruminate over all this gridiron business soon enough.
If you're planning on putting a trip to this part of New England on your summer vacation wander-list, you picked a great year to do it. The 2016 Patriots training camp promises to be one of the most exciting ever, with not one, but two preseason opponents - the Saints and Bears - coming to visit for joint practices in consecutive weeks. Training camp is never more interesting or thrilling than when two different teams share the field. Competition is at its best, and it makes our job as analysts much easier. It's as close to a game-time atmosphere as you can get - sometimes even more than the preseason games themselves - and what's more, it's free for fans!
Until then, I've got new swim trunks to christen, new T-shirts to show off and comfy old flip-flops to flop around in. Summer's here, and I'm determined to take it slow.