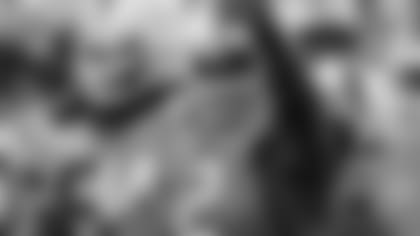 Jon Beason, LB Miami (6-0, 237)** – When we came back from the Combine and did our first mock draft, we had the Patriots selecting Beason with the 24th pick in the draft. Actually, I believe we were the first ones to predict Beason to the Pats. That set off a floodgate of e-mails asking if we had lost our minds. One e-mailer even declared that Beason wouldn't be drafted on the first day. Well, Beason isn't only going to be picked on the first day, he may not even be on the board when the Patriots select.
At the Combine we heard the Patriots had a lot of interest in Beason and since then, they've done nothing to make us think otherwise. New England worked Beason out down in Miami and he also visited Gillette Stadium this month. Add all this up and Beason is a definite possibility to become a Patriot on draft day.
On the surface, Beason looks like a Tampa 2 outside linebacker but that's not necessarily the case. He has the toughness and physical ability to move inside and play the MIKE in a 3-4 scheme. That would give the Patriots the luxury of grooming Beason behind Tedy Bruschi and using him on passing downs as a rookie because of his good coverage skills. Beason is also a big hitter and solid special teams player. He would have an instant impact on the Patriots defense and add some much needed youth and athleticism to an ageing position.
Michigan's David Harris is also a strong possibility with this pick, as is a defensive back.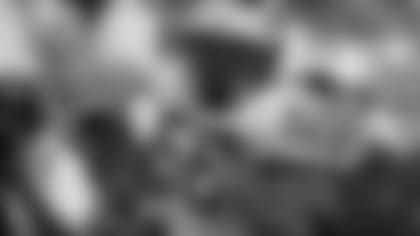 LaMarr Woodley, Michigan (6-1, 268)** – I really think the Patriots are going to trade down from this spot and acquire a second round pick but if they stay, New England has the luxury of taking the best player available. In my opinion, that player would be Woodley.
Let me start off by saying that I think there is going to be a big run on defensive backs in the first round. I don't believe Michael Griffin, Reggie Nelson, Brandon Meriweather, Leon Hall, Chris Houston or Darrelle Revis will be on the board at this point. If one of those players is available, they will certainly be a strong possibility with this pick.
I think Woodley is one of the best "football players" in the draft and will be a future stud at the pro level. I keep hearing about his size and questions about where he's going to play in the NFL but when you watch him on tape, he's a monster that does a lot of things well. His style of play is very similar to a guy the Patriots just paid a lot of money to acquire this offseason.
Woodley is a tremendous athlete, versatile, extremely quick and works his tail off. When you're talking about value at the end of Round 1, there will be very few, if any, players left on the board more talented than Woodley. He could be a pass rushing terror in New England's defense for years to come. A coach like Bill Belichick could do wonders with a player of his ability. With Woodley, Adalius Thomas and Rosevelt Colvin rushing from the edge, Peyton Manning will have a lot of sleepless nights.
Like I said, I see the Patriots moving down from this spot and getting a second round pick, which they could then use on a running back like Tony Hunt, Lorenzo Booker, Brian Leonard, Kenny Irons or Michael Bush. There are going to be a lot of backs that go in Round 2, so New England needs to get a pick in that area if there's one in particular they're eyeing.
Josh Gattis, Wake Forest (6-1, 206) – If the draft unfolded this way, Gattis would be a steal for the Patriots here. Gattis weighs 206 pounds, although he has a thick build and really unloads on ball carriers. He's a smart player who's rarely out of position on the field. Gattis does a good job of covering the short middle of the field, something a lot of safeties struggle with.
A couple of reasons why Gattis doesn't get a lot of national publicity are because he played for Wake Forest and he's not a "wow" player. What I mean by that is when you see LaRon Landry play he wows you with his vicious hits and incredible speed in coverage. Gattis is more of a lunch pale-type player. He may not be flashy but Gattis is very consistent and reliable. He's a leader on the field and a guy I believe can step right in and contribute as a rookie because of his intelligence.
Gattis is also a good special teams player. In 2005, he led the ACC with 15 special teams tackles. Gattis shows great instincts on the field and was the leader of a very good Wake Forest defense last year. We get a lot of e-mails referring to certain prospects as being a "Patriots-kind of player". If you're searching for a Patriots-kind of player (Intelligent, tough, versatile, team-first attitude), then look no further than Gattis. He reminds me a lot of former Bronco Steve Atwater with the way he plays. Gattis should be a quality starting safety in the NFL for the next 10 years. I think most teams would take that.
Aaron Rouse, the bone-jarring safety out of Virginia Tech, would be another good selection in this spot.