Danny Amendola and his teammates spent Monday night running around but not in their usual way. Instead of wide receivers, tight ends, quarterbacks or defensive ends, the Patriots made up a roster of servers as part of Danny's annual Celebrity Waiter Night at Towne Stove and Spirits.
The fundraiser benefits Danny's foundation, Catches for Kids, which works to improve the lives of low-income families in New England through opportunities, support and life-changing experiences, according to the organization's website. 
Tom Brady, Rob Gronkowski, Julian Edelman, Chris Long, Brandon Bolden, Jimmy Garoppolo, Chris Hogan, Martellus Bennett, Ryan Allen and Joe Vellano were all put to work as waiters for the night. Danny said he couldn't promise there would be no spiking from a certain waiter (cough, cough Gronk), but he was happy to have his teammates support the cause.
"They get out and give wine, serve food and salads and they suck at it and they're messy. It's fun, but to see the interaction between my teammates and the people who support this foundation and love the team and love the Patriots is awesome," Danny said.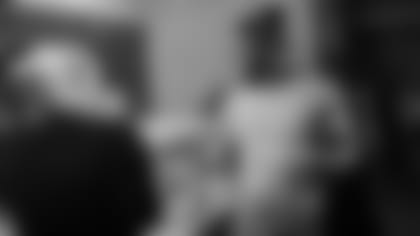 Danny has been working in the community with Catches for Kids since his time with the Rams, and it is the sixth time he has hosted a Celebrity Waiter Night in either Boston or St. Louis.
He also became involved with Chris Long's organization Waterboys while they were both on the Rams and played two-hand touch at Tom Brady's Best Buddies Football Challenge earlier this month. Supporting each other's initiatives, he said, is crucial to creating bonds on and off the field.
"We do a lot for each other, whether it is on the football field … or in Boston giving back to each other's foundations," he said. "We love to support all we can, and that's ultimately why we play here, so it's a big night for us."
And a big night it was. Catches for Kids raised more than $210,000 to support its programs for New England children and families, and that's why Danny and his teammates do it.
"The most rewarding part is to see the kids' faces when they get to meet my teammates or come to training camp or when we go to Walmart and get them supplies," he said. "It's rewarding to meet the kids and to know that we can actually help them."
For pictures from Danny's Celebrity Waiter Night, check out the gallery below. 
Patriots WR Danny Amendola hosted the third-annual Celebrity Waiter Night in support of his Catches for Kids Foundation on Monday, June 13. He and his teammates served tables at Towne Stove and Spirits in Boston.