After the Patriots claimed him off waivers late Thursday, Martellus Bennett was back in a Patriots practice uniform on Friday, prior to the team leaving for Colorado. The veteran tight end took part in his first workout with New England since he suited up for Super Bowl LI this past February. Bennett (6-6, 275) donned the same jersey number 88 that he wore during his previous stint with the Patriots last season.
Last Wednesday, the Green Bay Packers, the team for whom he played just seven games, released the 30-year-old because they claimed he failed to disclose to them an unspecified medical condition. Packers head coach Mike McCarthy later told Packers beat reporters that Bennett came to him on the Tuesday following Green Bay's Week 8 bye and informed him that he has been dealing with a shoulder issue this season.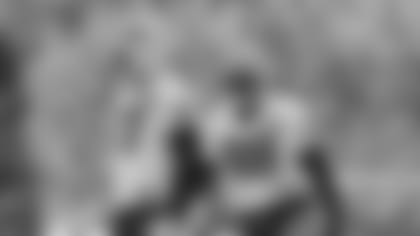 "I advised him to get second opinions," added McCarthy. "He did that and he went to a number of them. The last medical conversation I was involved with in regards to Marty, they were talking about scheduling surgery."
As a result, McCarthy said the Packers chose to part ways with Bennett, who was then reclaimed by New England. Subsequent media reports indicated that Bennett is suffering from a torn rotator cuff and a torn labrum.
By appearing at practice, however, Bennett apparently passed his physical examination with the Patriots. It remains to be seen, though, if Bennett accompanies the Patriots on their upcoming 10-day road trip to Colorado and Mexico, and if or when he appears in a game again for New England.