Ten-year old Trevor Angland spent the past several months standing outside local retail stores, knocking on neighbors' doors, and requesting donations from family and friends.
Sunday morning, the Mansfield, Mass., native sat ready, draped in a black barber cape with almost $5,000 raised for childhood cancer support, waiting to shed the smooth blonde locks atop his head for the 2016 Kid's Cancer Buzz-Off at Gillette Stadium.
As his hair began to fall to the floor, Trevor turned around to see an unusual stylist – Rob Gronkowski, who also did away with his "do" at the event
"It was so awesome to see him here," Trevor said. "To know that he knows how everyone else feels...kids have been dying but he wants to raise money and shave his head just to be like them."
Gronk has been involved in the One Mission Buzz-Off for the past six years and said it is one function he is always sure to make time for amidst a busy training schedule.
"It's an honor to be here," he said. "Every single year I put it in my calendar to make sure I'm here at this event...I definitely feel like there's a correlation with the kids looking up to me, and then coming here and buzzing my hair off. We all feel like we have something in common at the moment."
The annual event is put on by One Mission, a Massachusetts-based pediatric cancer foundation that sponsors various programs and services focused on lifting the spirits of children and adolescents who have been diagnosed with the disease. Each June, Buzz-Off participants pledge to raise money and shave their heads in honor and support of kids with cancer to show patients that they are not alone.
Gronk said it's great to see a high turnout year after year.  
"It's heart-warming to see all these kids," Gronkowski added. "It definitely means a lot and it puts things into perspective, but it's also a great feeling seeing everyone put smiles on their face. That's just what we're all trying to do here today."
Trevor, who participated for his third year, was the second highest kid fundraiser at the event, and he said he was happy to do it.
"It just makes you me really happy to see how many people are realizing how much this means to kids and parents," Trevor said. "I want to help because I feel very lucky to have … just my life. Life is awesome, you know?"
Gronk wasn't the only Patriot representing the organization. Eleven members of the Patriots' End Zone Militia, normally spotted in tri-cornered hats and waistcoats firing celebratory musket shots after a touchdown, joined in on the buzzing efforts Sunday.
"We've been here for 20 years doing what we do, but this is just something more, " said Militia member Geoffrey Campbell, who had been growing out his long, braided hair since 1992. "One of the things we've always done is reach out to kids when we see them at the games, but when you talk about kids and their families who are obviously suffering because they are sick, that really hits home."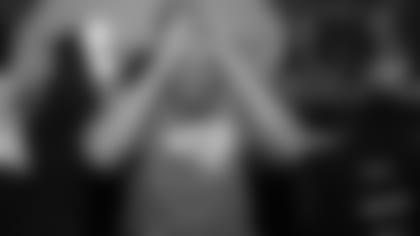 Trevor, the Militia and Gronk were just a few of the 1,000 participants in this year's Buzz-Off which raised nearly $1 million for the cause. Among them was 10-year old Haylee Winget of Foxboro who, prior to Sunday, sported a thick blonde ponytail falling almost to her waist. Haylee was diagnosed with ulcerative colitis at the age of six, and although a non-cancerous condition, she spent months in and out of the hospital, undergoing treatments and surgeries.
"She saw a commercial [for the Buzz-Off] on TV, looked at me and said, 'I want to do that,'" her father, Mike recalled.
"I just wanted to help because I know what the kids with cancer feel like," Haylee said. "I've been in the hospital for a long time as well."
Also taking part in the buzz were sisters Nicole and Maggie LaRosa of Weymouth. Like many, the girls noted how fortunate they felt to be in good health and wanted to do something to help kids just like them who are forced to spend their time undergoing treatments.
"I thought this was a good cause," said Nicole LaRosa, 11. "It makes me feel sad for the kids, but at the same time, it makes them feel good because the money that people raise gives them things like pizza parties or decorations for their hospital rooms, and it makes them smile."
Starting this week, Maggie LaRosa will walk through the hallways of her high school completely bald, but the 15-year old said that doesn't faze her.
"I don't really care," she said. "I'm in high school and I don't care what people are going to say about me. I'm happy I did it for a good cause."
For more photos from the event, check out the gallery below.
Full gallery
Patriots TE Rob Gronkowski took part in the fifth-annual One Mission Kid's Cancer Buzz-Off at Gillette Stadium on Sunday, June 5, 2016. During the event, participants, which included the Patriots Militia, shaved their heads in support of kids with cancer.